Crispy fried green tomatoes are a perfect summer side

It's been a pretty sweet week here on Table for Two so I thought I'd switch it up and give you something savory and fried, haha, not exactly helping your diet much but at least you can appreciate not having a cavity, right? You can just worry about your cholesterol now ;) just kidding. I'm so mean. But, I cook what I love and won't cook any other way. I try to cook healthy every now and then but I seriously love indulging. I believe that if you appropriately portion control, you can eat whatever you want. That's just my philosophy.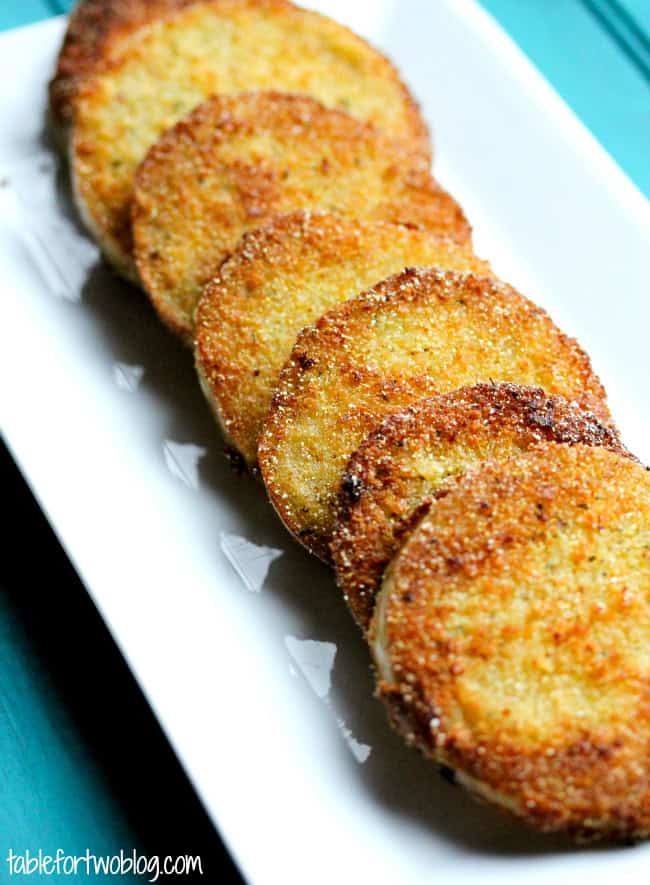 This whole stack needs to be in your mouth, except you might burn yourself so maybe let's just do half a stack.

So Jason and I were driving into work on Wednesday and there's so many things wrong with drivers in my area, and probably every where else that's a major city. It's pretty much a rant that everyone can relate to but I'm just actually noting it on here cause I'm pretty sure a ton of you can relate to this. I'd also like to mention that I fall into the category of perfect driver so clearly, I'm exempt from everything I'm going to say below ;)
I seriously can't stand people who don't let you merge. Like, the right lane is ending and you gotta merge into their lane cause there's a huge sign that says RIGHT LANE ENDS, MERGE. You have NOWHERE else to go except the guard rail and down the hill, but they STILL insist on not letting you merge into their lane. They act as if you're cutting them off. IT'S A MERGE. And from what I recall, it's also EVERY OTHER. It's as if letting me in will get you to work faster…..in bumper to bumper traffic. Losers.
Let's talk about the jerks who see that your turn signal is on to switch lanes (be GLAD I even have my turn signal on cause 99% of the people in the DMV don't even know what that is), they speed up and cut you off from switching lanes. Seriously? Seriously. What gratification does that give you? Oh, you get to be one car ahead of me now? You're SO cool.
Hey, left lane hugger, get the eff out of the way of those who are driving 70mph while you're putting along at 45mph.
Rain. Let's drive like Mario Kart. And have amnesia about driving correctly.
Ok, lastly, I'm not sure if every city has this but in Northern Virginia, we have HOV lanes and on a stretch of I-66, it's HOV all lanes going East (into DC) from 630am-9am and then going West (out of DC) from 4pm-630pm. If you have a hybrid and the clean fuel license plate, you can ride in HOV without penalty/getting pulled over. THIS IS THE DUMBEST THING I'VE EVER HEARD. HOV means HIGH OCCUPANCY. People buy hybrid cars around here just so they can single handendly ride into the city and back during rush hour by themselves, they don't care about the environment. This completely defeats the ENTIRE purpose of having HOV lanes. You might as well just open it up to everyone cause every freakin' person up here basically has a hybrid anyway just to take the interstate into work instead of local roads.
I'm going to go eat my weight in fried green tomatoes now cause driving blows.
Fried Green Tomatoes
Recipe type:
Appetizer, Side Dishes
Ingredients
3 large green tomatoes, sliced into 1″ thick slices
½ cup panko breadcrumbs
1 cup Italian breadcrumbs
½ cup cornmeal
2 tsp. kosher salt
2 tsp. pepper
1 cup buttermilk
2 eggs, beaten
4 cups vegetable oil
Instructions
In a shallow dish, mix together both kinds of breadcrumbs, cornmeal, salt, and pepper. Stir to combine.
In another shallow dish, mix together buttermilk and eggs.
Line a baking sheet with parchment paper.
Dip a green tomato slice in the egg wash mixture then cover with breadcrumb mixture, lightly pressing it onto the tomato. Shake off excess and gently place on prepared baking sheet. Continue until all slices have been coated.
In a deep pot, bring vegetable oil to 350 degrees using a thermometer.
Fry two to three tomatoes at a time, you don't want to crowd the pot too much. Fry each side 3-4 minutes on each side, until golden brown, then flip over and fry the other side.
Place on a plate lined with paper towels to let excess oil drip off. Repeat until all tomatoes have been fried.
Serve hot with your favorite sauce. We created a mayo and ketchup based sauce.