This pumpkin spice sheet cake is moist and has the most delightful flavors of Fall. Topped of with a creamy cream cheese frosting layer, it can be paired perfectly with your cup of tea or coffee!
I went to the eye doctor yesterday and you know the little puff of air they do to test your eye pressure? Oh my gosh, how many of you hate that machine? I literally scream NO when they tell me it's time for the air puff machine. The anticipation of when that puff of air is going to come out of that machine is what kills me every time. I'm like squinting and scootching back in my chair and blinking fiercely – pretty much doing everything you should not do during this test. And then, the technician is the one sitting behind the machine getting ready to press that button the one second you forget to blink. I bet they think it's so funny watching you squirm and anticipating that puff of air! Those sneaky people! ;) Just thinking about it freaks me out!
It makes me wonder why they made me suffer so long with that puff of air when there were EYE DROPS that do the same thing without the puff of air. They put two drops in your eyes (it STINGS but I'll take stinging any day over that puff of air) and then you wait 2 minutes and then they shine blue lights into your eyes (yes, I'm very technical here) and bam, you're done. They can figure out your eye pressure from that. No more puff of air. Gah!! Why didn't they tell me this earlier? I bet they secretly like watching me squirm like a 2 year old :) just kidding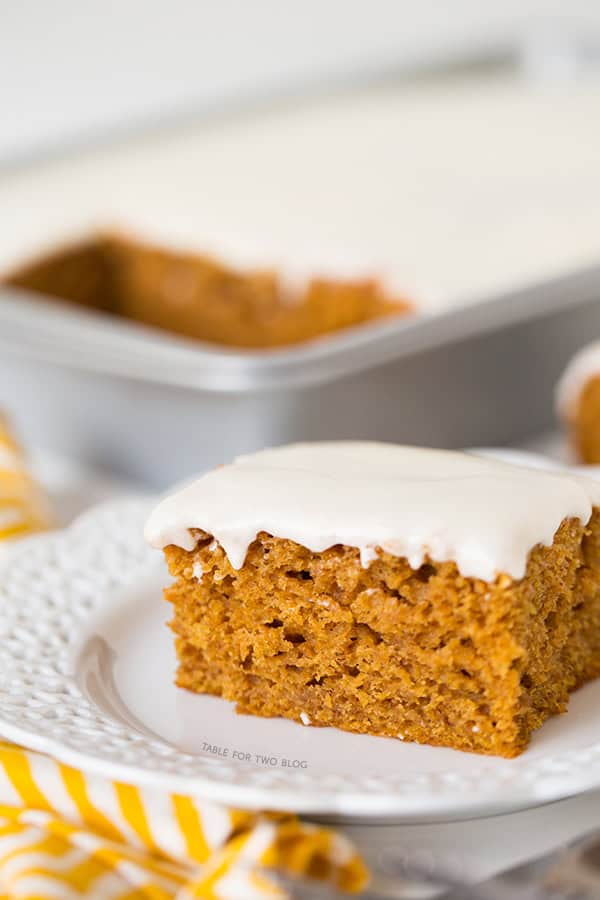 This pumpkin spice sheet cake recipe was given to me by my mother in law. The first time ever had it was at Thanksgiving last year. It was just non-chalantly sitting on the counter and it was getting to be the "omg I'm craving something sweet" hour so I decided that I would have a slice of this cake.
Um, it was like the most amazing pumpkin sheet cake I've ever had. It was literally a melt in my mouth, I wanted to consume the entire pan, kind of cake. I think during the course of our five day visit, I ate about 6 slices. The first night I had it, I went back for seconds and I very rarely go back for seconds for dessert. I loved the cream cheese frosting, too. It wasn't too powerful but you could definitely taste the subtle cream cheese flavor that pairs so perfectly with this pumpkin spice cake.
Later, I found out what really made this cake so moist and I was like "woah" so when I made this cake at home, I substituted the vegetable oil for Greek yogurt. The texture is a little different with Greek yogurt. It makes the cake more sponge-like. If you prefer a moister cake that's softer, I would use the vegetable oil, if you want to go healthier and don't care much about the texture, I'd use Greek yogurt. Either way this cake is phenomenal so however you make it, it'll be just amazing!!