PW Wednesday's: Fried Chicken Tacos
Take your tacos to a whole new level with fried chicken tacos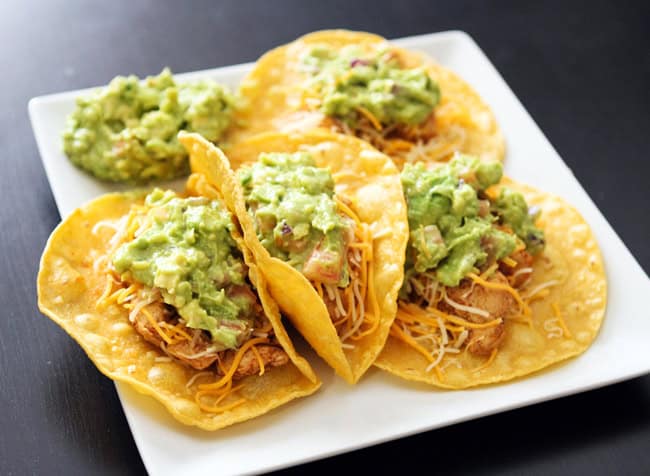 Welcome to the first installment of the PW Wednesday's series! In other words, Pioneer Woman Wednesday's! I had this idea of cooking out of Pioneer Woman's new cookbook and decided to throw the idea out there to see if anyone would join me and the lovely ladies, Gina, Megan, Rachel, and Tina decided to hop on the tractor and cook out of the book with me too! Every three Wednesday's we will each be posting a recipe we chose out of the book. This first week was my week to choose something and boy, did I choose a fun dish.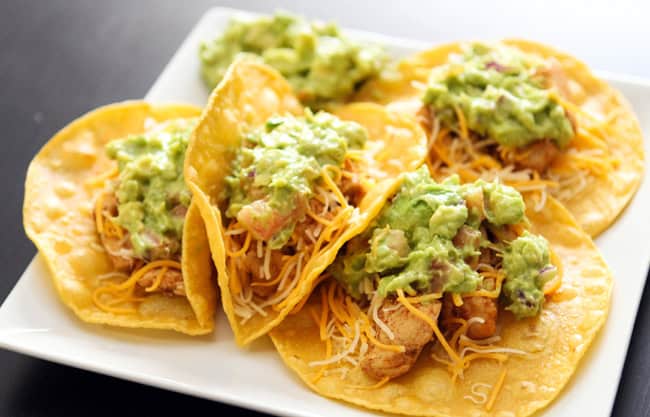 Disaster would be an understatement in this week's recipe choice. I think we all had issues with frying up these babies. They tasted amazing (I mean, c'mon, it's Pioneer Woman, she wouldn't put a yucky recipe in her book!) but man, they were definitely challenging to cook. Oh, and I had a disaster of my own. My nose felt like someone lit a lighter and put it under my nose for 15 minutes. I was making guacamole (which I included the recipe below in case anyone wants it — Jason said it tasted like Chipotle's so I was pretty proud) and the entire time I was de-seeding the serrano chili, I kept saying over and over again in my head, "don't forget to wash your hands, you don't want to rub your eyes after this." What do I do? Forget to wash my hands and RUBBED my NOSE. Oh my god. The heat was soooo bad. It wouldn't stop burning. I even had a ziploc bag of ice to my nose at one point. Jason wasn't home when this happened, but shortly after, he walked through the door & thought something had happened because I was tearing up so bad and my nose was bright red and I had an ice bag to my nose. Hahaha, yeah……lesson learned.
Anyway, so cooking the chicken part was easy-peasy, but when it came to frying them; that is where the fun began ;) You had to fill the chicken inside the tortilla shell and then clamp it shut with tongs and dip them in the oil and then let go to let them fry on both sides. The first time I did this, my tortilla shell tore. Got a new tortilla shell, warmed it up a little in the microwave, then proceeded with the necessary steps, and all my filling came flying out of one end of the tortilla and was frying in the oil too. Hahaha, god. I never got this step down so I just decided to fry each tortilla on its own and stuffed them after. Some came out to be open-faced tacos and some were still pliable to be taco shells.
The results, regardless of method, still tasted super delicious and wonderful. It's a really easy recipe, just the frying part could take some time if you don't fry things often. I even debated just baking them or skillet searing them, but I liked the frying challenge and the crunch of the tortilla shells just give it a much better texture.
The recipe is below. Be sure to check out everyone's posts!
Megan – Wannabe a Country Cleaver
Julie Wampler
Yields 14-16
PW Wednesday's: Fried Chicken TacosHomemade Guacamole
5 minPrep Time
5 minCook Time
10 minTotal Time
Ingredients
1 tsp. chili powder
1 tsp. ground cumin
1/2 tsp. salt
1 cup plus 1 tbsp. canola oil
1 1/2 pounds, boneless, skinless, chicken breasts, cut into cubes
2 4-ounce cans diced green chiles
14-16 small corn tortillas
1 1/2 cups finely grated cheddar or cheddar-jack cheese blend
2 avocados
1 Serrano chili, de-seeded and diced
1/2 red onion, diced
1 medium tomato, diced
1/2 tsp. salt
Juice of 1 lime
Instructions
In a small bowl, mix together the chili powder, cumin, and salt. Set aside.
In a large skillet over medium heat, heat 1 tbsp. of canola oil and add the chicken and chiles. Saute for about 3-5 minutes or until the chicken has lost its color.
Sprinkle in the spice mixture and saute the chicken until all is cooked through. Remove the pan from heat and set aside.
In a separate skillet, heat up 1 cup of canola oil. Drop in a small piece of your tortilla to see if the oil is hot enough. It will sizzle as soon as it hits the oil.
Spoon about 1/4 cup of the chicken into the tortilla then grasp the tortilla shut with tongs.
Gently lay the filled tortilla in the hot oil, holding down the top half of the tortilla so it remains closed.
Cook one side until golden brown, 30-45 seconds, then flip the taco over to fry the other side. Cook the other side until brown and crispy.
Remove each taco from the pan, allowing the excess oil to drip out one end. Wrap in a paper towel and gently shake it to remove excess oil.
While the tacos are still hot, gently stick some cheese inside then add whatever toppings you like to add to your tacos.
In large bowl, mash up the avocados with a fork then add the Serrano chili, red onion, tomato, salt, and lime juice. Mix the ingredients together until well-combined.
Notes
There's a wide array of toppings you can use for these tacos: sour cream, diced tomatoes, lettuce, guacamole, hot sauce, etc. Anything you top your tacos with!

From The Pioneer Woman: Food From My Frontier by Ree Drummond
http://www.tablefortwoblog.com/pw-wednesdays-fried-chicken-tacos/
All photography & content © 2011-2016 Table for Two, LLC & Julie Wampler, unless otherwise noted. All Rights Reserved. Table for Two is a registered mark owned by Julie Wampler.
Posted on April 04, 2012