Cheddar Bacon Green Onion Biscuits so flavorful, they are the perfect side for every meal!
I'm back! I know I have been pretty MIA this week but I've seriously been so freaking busy.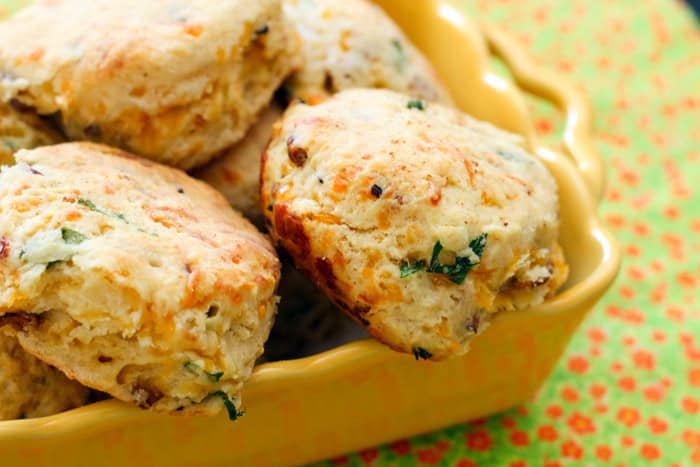 But these cheddar bacon & green onion biscuits make up for that, right?
No hard feelings, kay? I'm giving you lots of butter and bacon and that should make almost anyone happy as a…biscuit?
Great recipe for Friday because you can roll out of bed and make these tomorrow or Sunday for brunch!
I love biscuits. I love the buttery and flaky texture of it and I love that after I eat one (or two), my hands are so greasy. It sounds so disgusting, haha, but it's so good. Who doesn't love that guilt every now and then?
Biscuits for me as a kid were a staple breakfast item on the weekends. My mom would always get the Grands biscuits in a can and the buttery flaky layered ones. Omgosh, waking up to that smell was glorious. And with eggs and bacon on the side, what more could a little girl want on a Saturday or Sunday morning??
I hear a lot about Red Lobster's cheddar biscuits. You might hate me for saying this but, I've never had one. I don't think I've ever even been to a Red Lobster. I know, I should go cower in a corner and get scolded at. So, since I have no way to compare these biscuits to the Red Lobster version, I'll just have to talk about these biscuits compared to the canned ones and you can probably already guess that I'm going to say they're 10 times better. They're flaky, buttery, moist, and the bacon and green onions added in just makes it even better. A whole 'nother level of goodness. Oh, and you save the pan drippings from the bacon and you bacon grease up the bottom of your baking pan AND use the pan drippings to brush the tops of the biscuits. HELLO, HEAVEN!