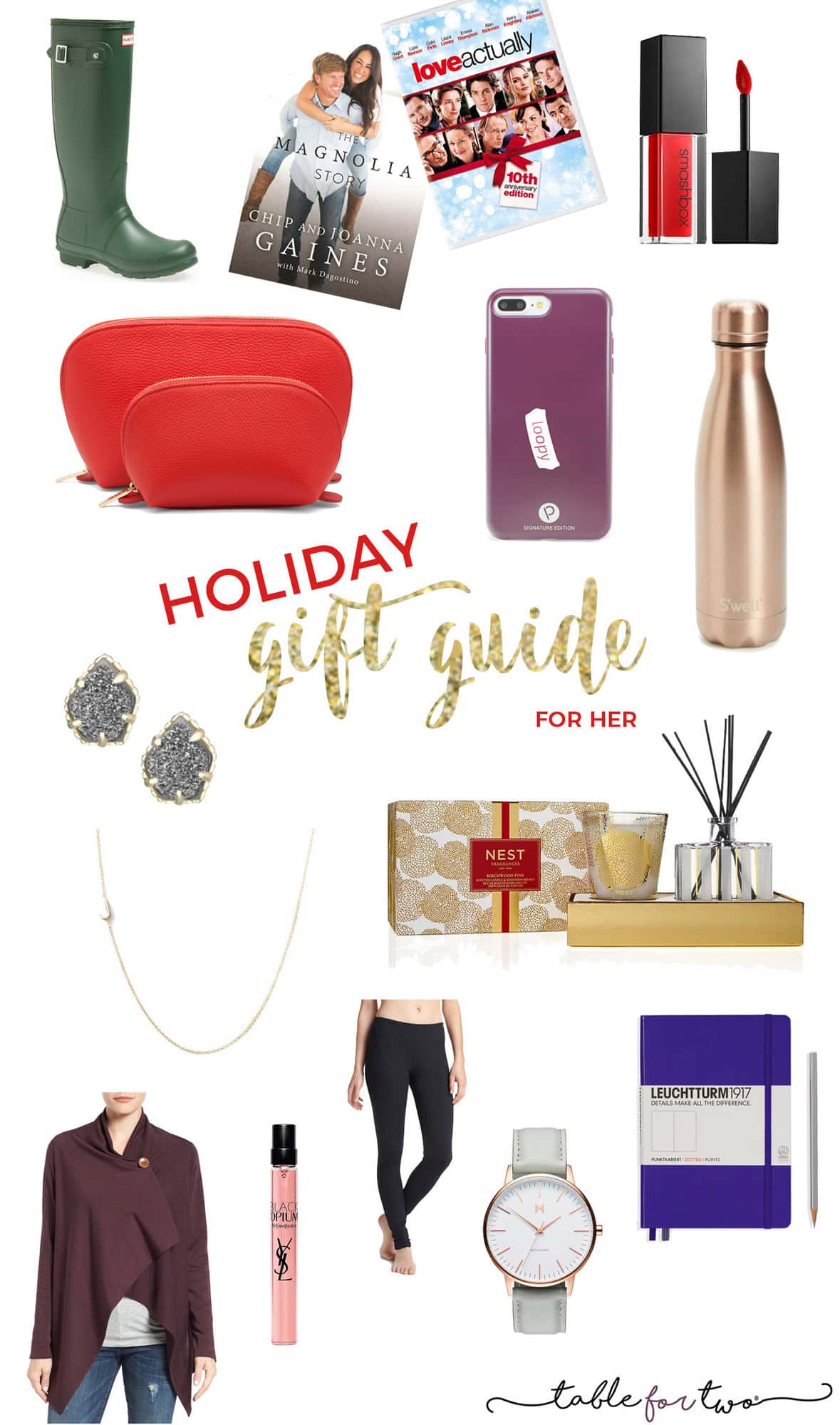 Here is a gift guide for all the ladies! Maybe it'll give you some ideas to give your significant other ;) if you missed it earlier this week, I posted a holiday gift guide for the cooks! A holiday gift guide for HIM is coming soon, too! I feel like they're the hardest to shop for ;) Anyway, enjoy the ideas for her, below!
1. Hunter rain boots – I love my Hunter rain boots. They even sell them at Costco now! I bought mine in bright red because in dreary weather, they make me happy and are a pop of color. I love how tall they are and they're roomy so I can wear super thick socks in the winter when I want to walk around in the snow with them :)
2. Magnolia Story – Chip and Joanna Gaines. Quite possibly the cutest couple on HGTV. I love their show Fixer Upper but I love their relationship more. This book dives deeper into their relationship and gives you an inside look into their past and present! This book is for anyone that loves the show Fixer Upper!
3. Love Actually – my FAVORITE holiday movie. I just watched it on Monday and I can see me watching it 3498573 more times before Christmas. Since it's on Netflix, I haven't actually bought it on DVD yet but it's definitely on my list!
4. Smashbox Always On Matte Liquid Lipstick – so, when I first bought this, I hated it because it dried my lips out a lot. BUT then I started using it more because of its lasting power and I found that it's actually not that bad and I absolutely LOVE it. It stays on ALL night, even through eating and drinking.
5. Cuyana Leather Travel Case Set – you can get these embossed with your initials! I totally did it and these are my favorite bags to use when I travel. The large one is HUGE and has a little pocket on the inside. The small one is perfect for all my little trinkets and/or eyeliners, mascara, eyebrow pencil, lipstick, and more!
6. Loopy Cases – I love my Loopy cases!! I get so many questions on them and I recently bought their newest color, Wine. You truly cannot use another case after you have used a Loopy case. It is the BEST.
7. S'Well water bottle – I am a water bottle hoarder. I buy water bottles all the time but this one is my current fav. It keeps cold liquids cold for 24 hours and hot liquids hot for 12 hours. They come in the cutest colors and styles!
8. Kendra Scott 'Tessa' earrings – My MIL got me these earrings last year for Christmas and I love them! They're the perfect little sparkle for any outfit and they won't break the bank.
9. Maya Brenner letter necklace – my favorite necklace that I own and wear every single day. It's so dainty and light that you hardly know you still have it on. I never take it off (14K gold) and it's a great layering necklace. They're strong and they won't break with sleeping it. I have J and W on mine. Sure, they're my initials but Jason and Winston also have names that start with my initials ;)
10. Nest Birchwood Pine candle and diffuser set – my absolute favorite scent around the holidays. It's like having a forest in your house but better. I love burning the candle in the living room and I have the reed diffuser in the foyer. It's perfect.
11. Bobeau Fleece-Wrap Cardigan – when I was on a cruise last month, I saw a ton of ladies wearing a similar wrap. They looked so comfy! Apparently this one on Nordstrom is super popular. I bought myself one in black and I absolutely LOVE it. I want more colors! It's sooo soft and I love that you can wear it unbuttoned or buttoned up to keep yourself warm. It's on sale right now, too, so stock up! I bought two for gifts this year ;)
12. YSL Black Opium perfume – my favorite scent this year. It's kind of seductive (at least to me) and it just smells amazing. I don't know how to describe it. You'll have to go smell it in stores or trust me on this one. It's great to wear for date night!
13. Zella Live-In Leggings – I have far too many black leggings to ever admit but my favorite brand of leggings is Zella. They're all so soft, high-quality (no see-through BS), and they have last me for three years so far! They're called "live-in" leggings for a reason! I literally wear them all day long.
14. MVMT Beverly Watch – I have been looking for a new (won't break the bank) watch for some time and I have seen a lot of people with the Daniel Wellington watch but for some reason, I wasn't really drawn to it. The MVMT brand popped up in my Instagram and I hopped over to the site. I ended up buying the light grey & rose gold combo and I wear it often. It's not too bold and not too understated. It's perfect for any occasion.
15. Leuchtturm1917 notebook – the notebook for bullet journaling! Or just writing things down. I love bullet journaling and while your gift recipient may not be a bullet journaler, I still think that this notebook is fabulous to have on hand for jotting down notes. It's hardcover and the pages are thicker than normal notebook paper so it won't have too much bleeding (depends on the pens you use).
There are affiliate links within this post.