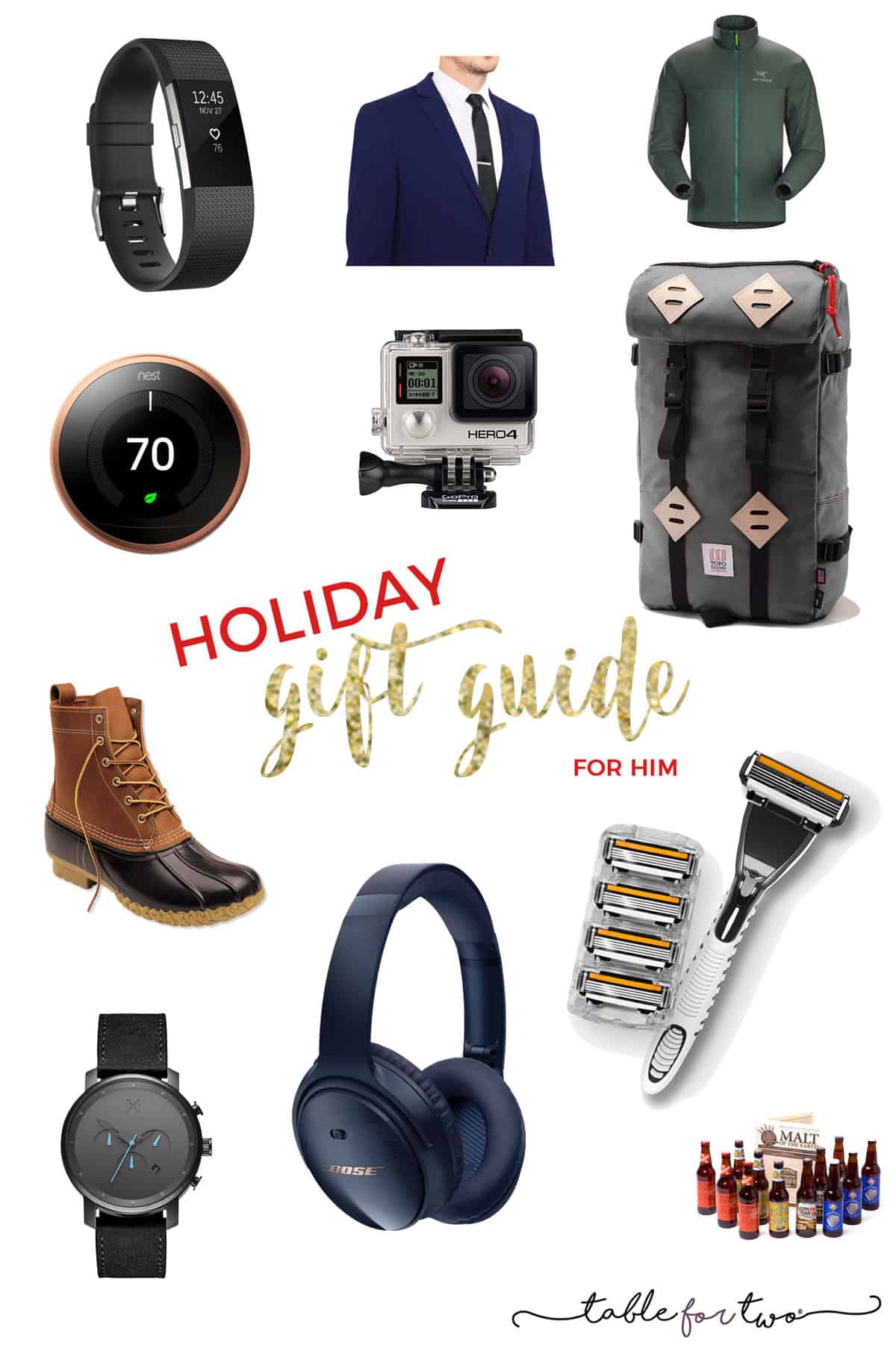 Quite possibly the hardest gender to shop for. At least I think so! And if you think the same then hopefully this gift guide will help you out this year. If you missed my other gift guides, the one for cooks is here and the one for her is here.
Fitbit Charge 2 – Jason loves his Fitbit! He got one courtesy of his company (for encouraging people to get out and move) and he really liked that he could track his heartrate and how often he moved, etc. This new one looks awesome. I love the digital screen.
Combatant Gentlemen – Jason gets all his suits from here. They're high quality and are a STEAL of a price. They look super dapper too.
Arc'Teryx Atom Jacket – we both bought this same jacket last year when it went on sale at the end of season. Suuuuper lightweight (I was able to roll mine up into a tiny ball for our Iceland trip) and it's deceiving because you wouldn't think it'd be warm but it's SOOO warm. This brand knows cold weather gear!
Nest Thermostat – we love our Nest cam but when we move to our new house we want to get the Nest thermostat. I love how sleek it looks and the tech nerd in me gets giddy. Any guy that loves tech would love tinkering with this.
GoPro Hero 4 – speaking of tech…this little guy would be awesome to get the man in your life – especially if they love to do adventure travel or just travel in general. It's so rugged and you can buy this little encasement for it to be waterproof too. Great way to document life.
Topo Designs Klettersack – you know how much we love Topo Designs around here. This backpack would be a great start to your collection.
Bean boots – Jason and I both bought bean boots a couple winters ago. Nonslip bottom and the perfect shoe to wear when shoveling and/or out in the rain.
MVMT men's watch – I love MVMT and have a women's watch from them (it's over on the 'for her' holiday guide) and I think their men's watches are so modern and stylish.
Bose Wireless Noise Cancelling Headphones – for ANYONE (really) working in an office environment or one that commutes or one that travels or just one that wants to jam out in their own little space. I love everything Bose – the sound quality is the best in the industry – and these would be a pretty sweet gift.
Subscription to Dollar Shave Club – we started using Dollar Shave Club a couple years ago and love it. It's so much cheaper than buying razor refills in stores. You pick how often you want them to send you refills and you're never going to be using a dull razor again.
Beer of the Month Club subscription – Jason is really into craft brews and this subscription box is awesome for any guy that loves beer. They have a variety of different packs you can subscribe to and it's a great way to try different beers!
There are affiliate links within this post.