BBQ Chicken Quesadillas with Mushrooms, Onions & Peppers a quick and easy snack or the perfect lunch.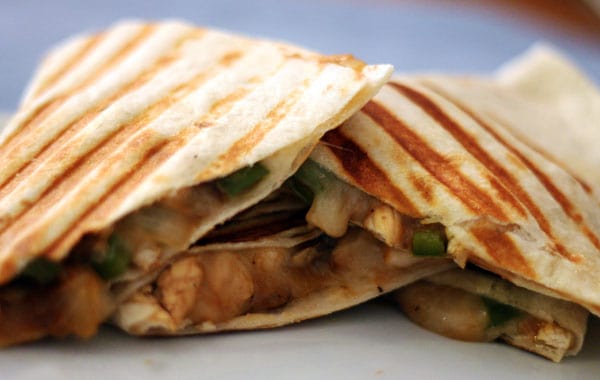 I love BBQ sauce on anything and everything. It's my go-to dip for french fries, chicken tenders, you name it. I also love Costco's frozen quesadillas and had a random craving for them. However, I haven't bought them in a long time because of the health aspect of them. They have a lot of sodium and it's processed food so I try to stay away from frozen entrees a lot of the time due to the processed nature of them.
With regards to my love for BBQ sauce and my craving for quesadillas, I came up with the recipe below. I used basic ingredients that you probably already have in your fridge and just threw it all together and it turned out superb, if I do say so myself. It was really flavorful and the BBQ sauce gave it a nice sweet kick. I have leftovers for lunch that I can't wait to sink my teeth into. This is definitely a dish that I'm sure I'll be making over and over again, with different variations since it's so easy to substitute ingredients in this.