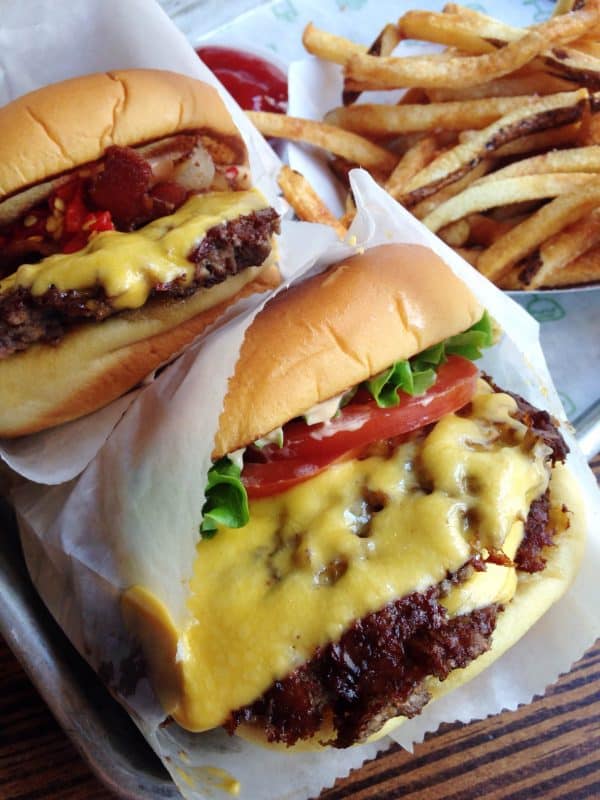 I went to Shake Shack for the first time this week and OH MY GAWD it is so good and the hype is the real deal, y'all. I can't decide whether or not I like it more than In N Out but I swear Shake Shack is like the east coast's version of it since we're deprived of In N Outs. I'm really glad that there isn't a Shake Shack near my office because I probably would go there every day just to try their custard of the day. And get myself some fries. And probably a burger. And then I'll have consumed more than my daily caloric intake soo there's that.
Justin Timberlake's new song, Not a Bad Thing: can't stop listening to it and it reminds me of boy band songs back in the N*SYNC/BSB days.
I feel really old because on Wednesday (June 25), it was the 10-year anniversary of when The Notebook was released in theaters. Yeah..10 years!!
Last weekend, when we were cooking mussels and clams, I almost had a breakdown in the kitchen cause I felt so bad we were steaming them to death. I made Jason clean them and he would show me how they were alive by tapping their shells and then they'd close up. I then felt HORRIBLE that we were literally putting them into a hot water bath to DIE. Now it makes me think that I could never do lobster.
The Husband's Secret was SO good. I devoured it in two days. It's a story about three families and they're all eventually tied together as they each have some affect or part in each other's lives. The main storyline is Cecilia and her husband, John-Paul. John-Paul wrote a letter to Cecilia confessing a deep, dark secret and she wasn't supposed to find or open the letter until he died, but well, she found it and it's SHOCKING! I literally had my jaw wide open after reading the letter. This book was a page-turner. You'd think she'd open the letter immediately after finding it, but no, she waits and you have to wait! Ahh I was dying. And then, after she reads the letter, you'd think you'd lose interest in the book but you don't 'cause you find out how everyone deals with this confession, including his family. You HAVE to read this. Buy it for a great beach read!! It's only $5.99 right now for Kindle!
I was so looking forward to Emily Giffin's new book, The One & Only. I bought it the day it came out and saved it for my plane ride to Scottsdale and it was such a letdown. All her other books have been really good so I don't know what happened with this book. It was totally off the mark. I stopped reading a quarter of a way through and I wish I never spent that $12. Too much football talk (and I like football) and too many creepy instances of her and her friend's dad.
I'm currently reading One Lavender Ribbon. It was a Kindle First so I was able to snatch it up for free before its release date on July 1! So far, it's a really touching story about a young woman who is recently divorced finding WWII love letters in the attic of her new home. That's about as far as I've gotten but I think the WWII love letters between the soldier at war and his love back home will rekindle something in the recent divorcee who has sworn off love. The love letters that I've read so far are sooo sweet and really does make you think about all those who made a sacrifice for us.
I've been looking for a new carry-on suitcase for some time now 'cause the one I currently have fits nothing and is really poorly padded. More than half the time, they make me gate-check the bag because there's no more overhead space and when I get to my destination, I always keep my fingers crossed that nothing has broken. So yeah, need to rectify that situation. I've been doing research on luggage brands and jeez – I feel like a pro now. I know the top of the line ones to the ones that have low ratings. It's crazy that buying a simple thing like a suitcase you need to do that much research as if you're buying a car! Or maybe that's just me. Anyway, I ended up with a pretty purple one (I mean, duh) that's got a hard external shell and it looks super deep so I can fit some good outfits into that baby.
Starbucks had a 50% off shaken teas special yesterday from 2-5pm and I've been wanting to try their new blackberry mojito tea lemonade. It's really refreshing and not horribly sweet! You can definitely taste the mint in there too – next, they need some tequila, haha kidding – sort of. I'll probably still stick to my iced passion tea lemonade but the blackberry mojito tea lemonade comes to a close second :)
Just a note that there are affiliate links within this post! xo