My personal review on the Canon 40mm STM Pancake Lens and Eye-Fi SD Card! My new favorite lens and memory card to walk around with. These might be your new BFF's and you might fall in love too!
Say hello to my new favorite walk-around lens. The Canon EF 40mm f/2.8 STM Lens. It's also called a pancake lens due to its size! Isn't it cute? It's so teeny tiny and Canon was barely able to fit the AF/MF switch on the barrel of the lens; that's how tiny this lens is! Oh, and it's a prime lens so you "zoom with your feet."
You're asking me, why did you buy it?
First, if you're like me, I'm always wanting to carry my camera around. I always feel like there is a photo opportunity and I yearn for crisp, high-quality images. The iPhone camera is wonderful but there is really no comparison to DSLR quality photos.
Second, the two lenses I have are the Canon EF 24-70mm and the Canon EF 100mm Macro. These two lenses are my BABIES. I use them in all my food + travel photography and they're expensive. They're also pretty heavy. After carrying around the Mark III body AND the 24-70 lens, my shoulders and neck start to hurt. Plus, they're way more susceptible to damage by carrying them around all the time. I just don't have the ability to take that risk. They're my work lenses and I'd rather prefer to honestly keep them at home for only my professional food + travel photography than carry them around. Of course, if I'm traveling for press, I will definitely still bring my L-lenses along.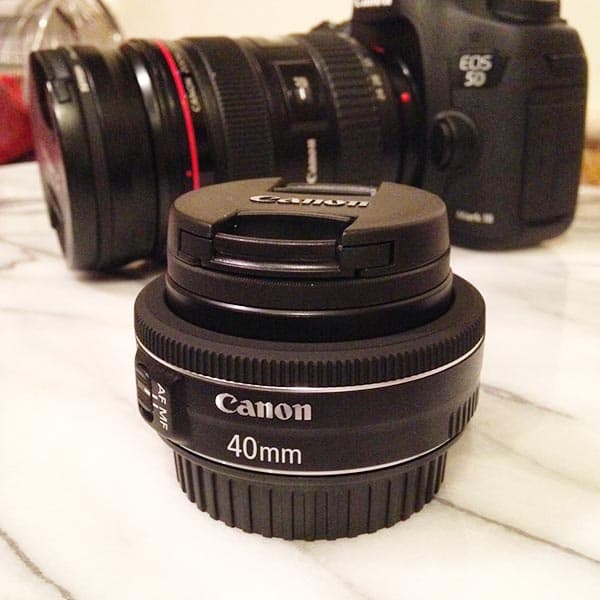 The 40mm lens is extremely high quality and has solid results when it comes to image quality. I've had this lens for several weeks now and have been really pleased with the photos I've been able to take. I will say, though, this lens is probably better for those who have a full-frame camera rather than a crop-sensor. On a crop-sensor, you're looking at about 64mm focal length rather than the 40mm, which 64mm is ok, but that won't give you the max amount of focal length you're looking for and the full potential use of this lens.
I love being able to carry my camera around everywhere and since the lens is so small and light, having this camera in my purse is no big deal. I'd like to say on non-press trips and if we were to just head out of town and go on vacation or something, I'd probably bring this lens along so walking around with it won't be annoying either. I also like the fact that I won't have to worry about my expensive lenses sitting in the hotel room in a lock box. I mean, they're pretty good, but I just don't like that there could be the off-chance that something bad could happen to them. Having this 40mm lens is a great alternative.
The 40mm STM uses a motor technology called a stepper motor. It's a new design of focus motors which, along with a new iris mechanism are designed to eliminate auditory noise during video recording.
So you're wondering how much this lens is going to run you. Well, what's really surprising is, for the build quality and image quality of this lens, this lens actually runs pretty cheap. It's $130 on Amazon right now. Yes! $130! It's amazing! Seriously, just cause it's on the cheaper end doesn't mean you're sacrificing quality or anything of that sort.
**Note, it does NOT come with the 52mm UV filter that I have on mine. You have to buy that separately.
When it comes to having a walk-around camera and lens, I've always wanted somehow to get my DSLR photos quickly onto my phone to share on social media or share with friends. This Eye-Fi SD card does just that. It turns your camera into a wifi device and wirelessly transmits the photos onto your phone. There's an app for iPhones and Androids that you download and it literally takes 2 minutes to get this thing going. You insert this card into your SDHC slot in your camera, activate it on your camera and phone, and you can instantly start transferring your photos you've taken onto your phone.
How cool is that?! I've often times run into a circumstance where I'm out with friends and I have my nice camera on me and we take a cute picture and they're like, "oh! can you send that photo to me?!" or "let's take one with the iPhone too so you can text it to us." It's all about instantaneous these days and this Eye-Fi card gives you that ability to do it.
The Eye-Fi card plus my 40mm lens is a dream come true! I have loved every moment of having both of these. They're basically my new best friends :)
This was not a sponsored post. I was not compensated in any way, shape, or form, nor was I given product for free. This is simply a review of what I think others will love as well! There are affiliate links within this post. If you click on an affiliate link, you help by giving me a little bit of credit and we all know that just means more fun reviews!