chocolate nutella cookies
Chocolate Nutella Cookies are the perfect little sweet for after dinner to for dunking in milk!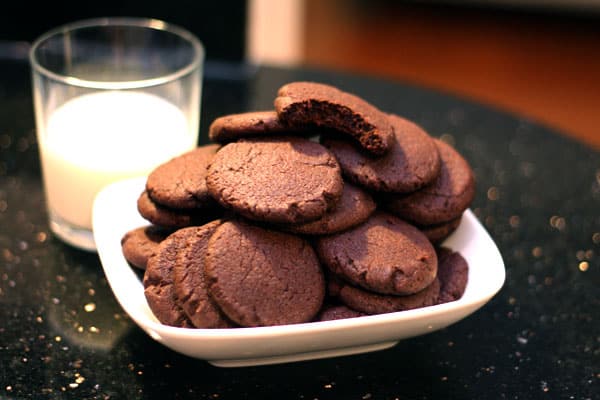 These were the cookies that I had intended on making for my cookie swap matches and they didn't turn out as spectacular as I had hoped & it's nothing against anyone though so don't get offended. I really wanted to like these because they had Nutella in them but they just didn't turn out right. I could've just gone ahead and sent them anyway to avoid making a new batch of cookies, but I really didn't want to send half-ass cookies to my cookie swap matches. That's pretty lame and inconsiderate and definitely not who I am.
I think these didn't turn out because the hazelnut flavor wasn't as strong and they just tasted like chocolate wafer cookies. Which, by the way, the positive of this flubbed batch is that they're awesome to dunk in milk, kinda like oreos and Jason loves these as mini sweet tooth snacks. So, I guess it wasn't as bad as I thought. Anyway, I digress. You have no idea how hard it was and still is, to find hazelnut extract. I went to about 5 different stores in the area! However, I read that I could just add more vanilla extract to it instead, which I did, but obviously that didn't really work. Amazon had hazelnut extract but they were sold in 3 packs and really, how often was I going to use it?
Anyway, I thought I'd share these anyway just for you to look at.
Posted on December 01, 2011