Cookie Dough Lover's Cookbook {GIVEAWAY}
THIS GIVEAWAY IS NOW CLOSED. Thanks to everyone who entered! :)
Update: Winner has been chosen using random.org. It was number 37! I will be emailing you!
Addicted to cookie dough? The Cookie Dough Lover's Cookbook is just what you have been waiting for!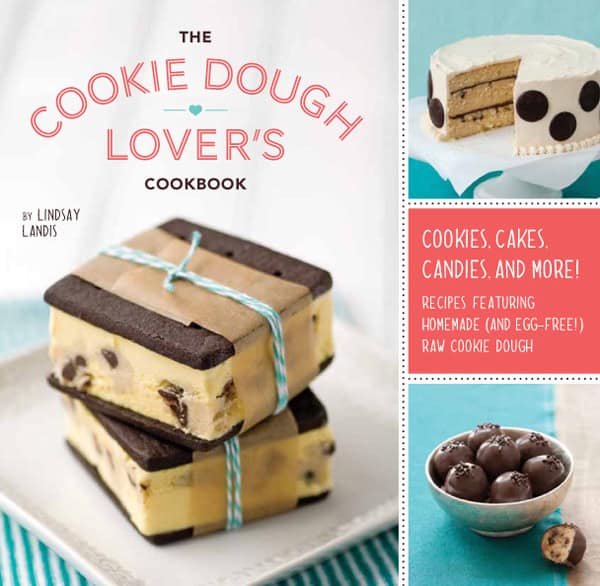 Lindsay of Love and Olive Oil released her first cookbook TODAY. Congratulations Lindsay!!! It's so beautiful and a work of art!
AND it's National Cookie Dough Day! :) Go celebrate with some cookie dough & buy the book!
At FBF Orlando this past March, I got a chance to flip through the book in Lindsay's hotel room since she brought a copy. Let me just say..I was floored. You can ask her for my reactions but as I was flipping through the pages, my eyes were wide-open through every single page. The detail, the design, the creativity, the photographs. Every single page of that cookbook was amazing. Even down to the finest detail (the binding! You can lay it flat as you cook through it! That was one of the points Lindsay pointed out to me as I was gawking at the book). It is such a brilliant concept and Lindsay is so so talented. She's one of my biggest inspirations since I started this blog and the fact that we're both web designers/developers is also another reason to look up to her for her creativity and talent. Lindsay is such a sweetheart and I'm so glad I got to meet her and hang out with her for an entire weekend this past March. Her and her husband, Taylor, are the sweetest people.
I pre-ordered the book from Amazon as soon as the link went up and then was offered a review copy from Quirk Books, the publisher of Cookie Dough Lover's.
So, I have two copies of this book.
I don't need two copies.
I'd love to give one away to a lucky reader. Why? Because I love you :) no, but seriously, this book is just amazing and I want you to have a copy (if you haven't gotten one) to see what I'm talking about. It's filled with recipes using eggless raw cookie dough (she has the recipe in there as the first recipe because you basically use that as the base to all the recipes in this book, duh!). She has cookie dough cheesecake, cookie dough whoopie pies, cookie dough truffles, cookie dough crème brûlée, you name it. She has it in there. Some of the recipes in there are so brilliant that I'm like "woah, seriously?! I would never have thought of that!!" I haven't had a chance to cook out of it. Between all the moving and unpacking, I haven't had much of a chance to do much in the kitchen. No fear! I WILL be cooking a lot out of this cookbook. I am a cookie dough lover & this is the perfect book for me ;)
Anyway, if you don't end up winning, get yourself a copy here!!
Please enter only if you haven't gotten a copy yet, don't be greedy.
MANDATORY ENTRY:
To enter, go to http://www.amazon.com/gp/reader/1594745641/ref=sib_dp_ptu#reader-link and go to the Table of Contents page, then leave a comment answering the question: which recipe from Cookie Dough Lover's Cookbook will you make first?
EXTRA ENTRIES:
Subscribe to both Love and Olive Oil and Table for Two
Tweet: "Enter to win a copy of The Cookie Dough Lover's Cookbook by @loveandoliveoil from @tablefortwoblog! http://wp.me/p1Z0VW-Nd" then come back and let me know you did with a link!
RULES:
This giveaway closes on Friday, June 8th, 2012 at midnight EST.
There will only be ONE (1) winner for ONE (1) copy of The Cookie Dough Lover's Cookbook.
Winner with valid entry will be chosen using random.org and will be notified via email. Winner must respond within 48 hours or another winner will be selected.
U.S. residents only.
Disclaimer: I received a copy of The Cookie Dough Lover's Cookbook from Quirk Books, but there was no monetary compensation to write this post. Opinions, as always, are 100% my own. I also purchased a copy of this book myself. This post contains affiliate links.
Posted on June 05, 2012