Ideas for decorating your corporate office space! Make it a bit more homey since you practically sit there all day!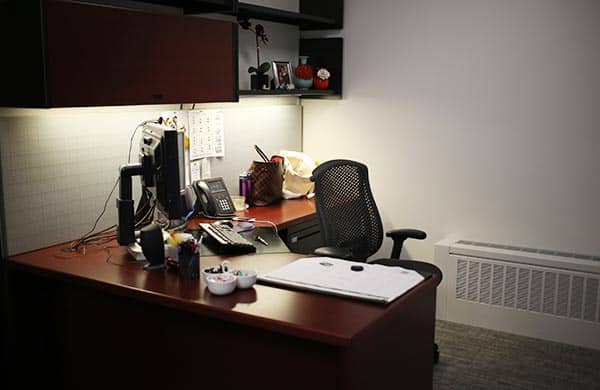 I have never really been a fan of decorating my corporate office space. It's where I work, why do I want to make it homey? Work is not home to me. Even though I'm there 9 hours a day, it's still not somewhere I'd like to think of as "home," nor did I think decorating it would even be beneficial.
Coworkers started to make comments about how "boring" my office looked and how "dull" it was. I mean, geez, do you want a big mural painted on my wall? I honestly didn't see a point to decorating it. I read that decorating your office could make you more chipper and feel better about being at work. Not sure you can really feel "better" about being at work, you know? Anyway, so since so many people commented on my office, I started to develop a complex. I started to think, "well, maybe this shows that I have a boring personality or that I'm really lacking in the creativity department or maybe I'm just a dull person."
So, one weekend in December, I raided Home Goods, Anthropologie, and Target, and bought some decorations for my office. Turns out, I actually really ended up liking how it all turned out. Hopefully what I did will give you some ideas as to what you can do to spruce up your corporate office and hopefully deter comments about your dull office ;)
I had to. C'mon…Texas Forever!
(Yes, I realize this poster is not in the first photo. I got the poster after I took the first photo.)
I decided to canvas some of my food photography. Ya know, to distract everyone who comes into my office from talking actual work-related stuff ;)
I get all my canvas printing done at CG ProPrints. I've used them for my photo wall in my office redesign, as well.
Gotta represent The Dukes of JMU!
This might be my favorite part of my office.
I got the basket and this package of pine cones, balls, and sparkly stuff at Home Goods. They had a potpourri scent to them but I think it's worn off and it's just there to look pretty now lol
I got the owl mug at West Elm for $5 and the colored pencils at Home Goods.
This is the shelf behind me when I'm sitting at the computer.
Anthropologie vases are the cutest!
Of course I have to have some kind of treats on my desk for visitors :)
Hope you enjoyed my little office tour! Have you decorated your corporate office space? What do you have in your space to make it more homey and inviting?