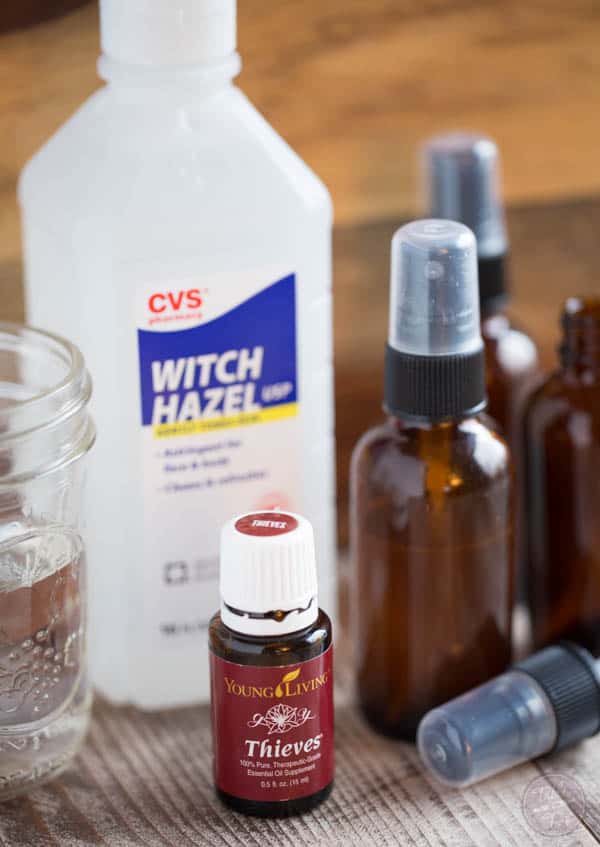 If I could marry an essential oil, it would have to be Young Living's Thieves oil blend. It's ridiculous how amazing this oil blend is. It's called the "virus fighter" and it's the ultimate germ killer. It's highly antiviral, antibacterial, and anti-infectious. It boosts your immune system like crazy. Every time I feel a sore throat coming on, I rub Thieves and lemon essential oil on the bottoms of my feet and diffuse them and by the next day, my sore throat is gone. I can't tell you how many times this winter I've avoided having to go to the doctor over a cold. Thieves has been my BFF this winter. It's saved me a bunch of $$ on co-pays!
Enter: Thieves spray. It's a germ killer so I wanted a spray I could carry every where with me to spray on everything. Yes, everything. I'm that crazy lady that sprays down her entire airplane seat and tray before sitting down. I even sprayed the airplane window and shade (don't judge). I bring it with me into the bathroom and spray the toilet seats. I spray the tables we sit at at restaurants and cafes. I use this spray as a hand purifier. I literally use it for every thing I can think of. Oh, keyboards? Hello! Germ hoarders. Your CELL PHONE? Majorly infested with germs. I feel like I've become a germaphobe after having this spray on hand. Young Living does sell a Thieves spray but I think it's much more economical and fun to make your own :)
The best part? It smells like Christmas. You smell cinnamon the most but it's got clove, lemon, cinnamon bark, eucalyptus radiata, and rosemary in it. Bottom line, you need to make this DIY Thieves spray yourself and carry it with you everywhereeeee.
Okay, here is what you'll need:
2-ounce amber glass spray bottle (it needs to be glass and either amber or cobalt in color since EO's can break down plastic overtime and sunlight/light harms oils)
15 drops of Thieves essential oil
1 teaspoon witch hazel
A little under 2 ounces of distilled water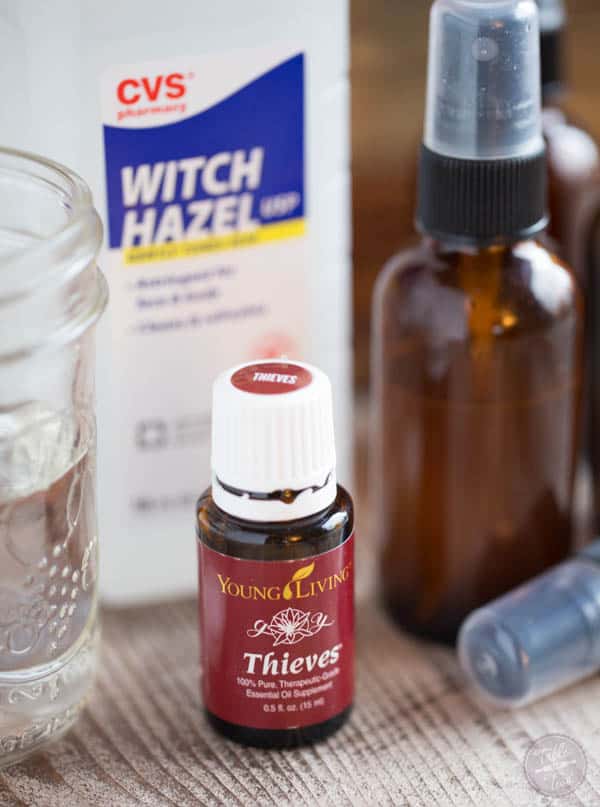 Pour all the ingredients into your spray bottle, put the nozzle on, give it a shake, and spray to your heart's desire!!
Oh, to make pouring/measuring out the liquids easier, I used this mini beaker set from OXO. It's perfect for this cause it's got the little funnel lip so you won't spill over the opening of the spray bottle. And I love that the pack of 2-ounce spray bottles come in a 6-pack because I have made 4 of these babies and gifted them to friends and family. It's seriously the gift that keeps on giving! Everyone loves the way it smells and it's so easy and compact to keep in your purse. If you have a germaphobe buddy, this may be the best gift you've ever given them! ;)
There are affiliate links within this post.
I am an independent distributor of Young Living. Any suggestions made on this blog are specific to Young Living Essential Oils and should not be used with oils from another source. Statements made on this website about Young Living Essential Oils have not been evaluated by the FDA. These products and information are not intended to diagnose, treat, cure, or prevent any disease. Anyone suffering from disease or injury should consult with a physician. If you are currently taking medication, please DO NOT STOP. Keep oils out of reach of children.