This might be one of my favorite posts to write, ever because sharing my favorites from Trader Joe's is SO FUN!!!
I'm thankful that we have three Trader Joe's within a 5 mile radius of where we live.
They literally have the BEST items and I always come out with a cart-full.
I can't help myself but I go down every single aisle and I swear I'm just taking my arm and swiping everything into my cart, haha
The prices are so amazing too. You just can't beat it.
Every time I find something new at Trader Joe's, I'm always thinking, "can Trader Joe's make anything bad?"
So this post is just literally a run down of some of my favorite items I buy ALL.THE.TIME when I go to Trader Joe's.
It's going to be an ongoing post and I'll keep adding to it if I find myself buying something there more than once.
ALSO! Obviously none of this is sponsored. I don't think Trader Joe's even works with influencers (but please sign me up at the top of the list if they ever do), but yeah, everything is just from our own pockets and opinions on what we love!
We love their frozen beef tamales. They're the best for a quick weeknight meal fix when you've got zero time to make dinner.
We've also tried their chicken and green chile one but we like the beef one best.
Omg, as an Asian, I feel like I have authority over this. These potstickers are LEGIT.
Like, way better than the ones you get at Asian grocery stores!
We've tried their pork ones too but the chicken one has better flavor, in our opinion.
There's so much controversy over these cauliflower gnocchi. We LOVE them and I always buy 4-5 bags whenever I go to TJ's so we never run out.
I remember when they were a dime a dozen and when I saw them at my TJ's, I bought 14 in one trip, LOL
Thank goodness our TJ's doesn't put a limit on how many bags of cauliflower gnocchi you can buy.
My faaaaavorite maple chicken breakfast sausage out there. And I have tried A LOT!
Another favorite chicken sausage of mine.
I love the two chicken sausages above because from a macro perspective, they are really good! I buy two-three packs every time and freeze them.
THE BEST BACON OUT THERE. The macros are insane on this and it makes me wonder how…but at the same time, I don't care because it's SO good.
I buy 4-5 packs at a time whenever I go. They freeze really well!
I've got no time to slice mushrooms myself so pre-sliced is great.
THESE ARE ADDICTING!!! But they're even better when you keep them in the fridge and eat them straight from the fridge.
If you guys watch IG stories, you'll know I have an entire stash of these. I literally put them on EVERYTHING.
The best on smashed avocado toast and fried eggs!
Tried this recently on grilled chicken and salmon. AMAZING!
Gotta have honey!
Oh, and I love raw honey on hand, too.
Love these sprays for cooking and baking!
ALL THE NUT BUTTERS. Trader Joe's has the cheapest nut butters around and I always stock up on every variety. Almond butter, peanut butter, cashew butter, any and all! I don't discriminate, haha
If you haven't tried these yet, they are addicting.
My two favorite dark chocolate bars!
I could eat this whole container. Fun fact: these are TJ's most popular item that they sell the most of.
These are the perfect crisps to spread some cheese on top.
I recently found these and the coffee flavor is great and a nice little treat in the middle of the day.
So convenient to have these on hand.
Again, TJ's has the cheapest specialty flours and they last a while!
I love love the chunks the best!
Annnnd of course TJ's would have the cheapest nuts too. I don't go anywhere else for nuts.
We always grab some pasta just to have on hand although I typically eat cauliflower gnocchi these days.
The best salt and pepper chips! They're ultra crispy and extra peppery!
I always buy their chicken, vegetable, beef stocks and broth!
Pre-minced garlic is my BFF some days. But there is still nothing better than fresh.
I love this shaving cream! You don't need a lot of it. It doesn't lather/foam but it's great for shaving b/c it's super moisturizing!
One of Winston's favs!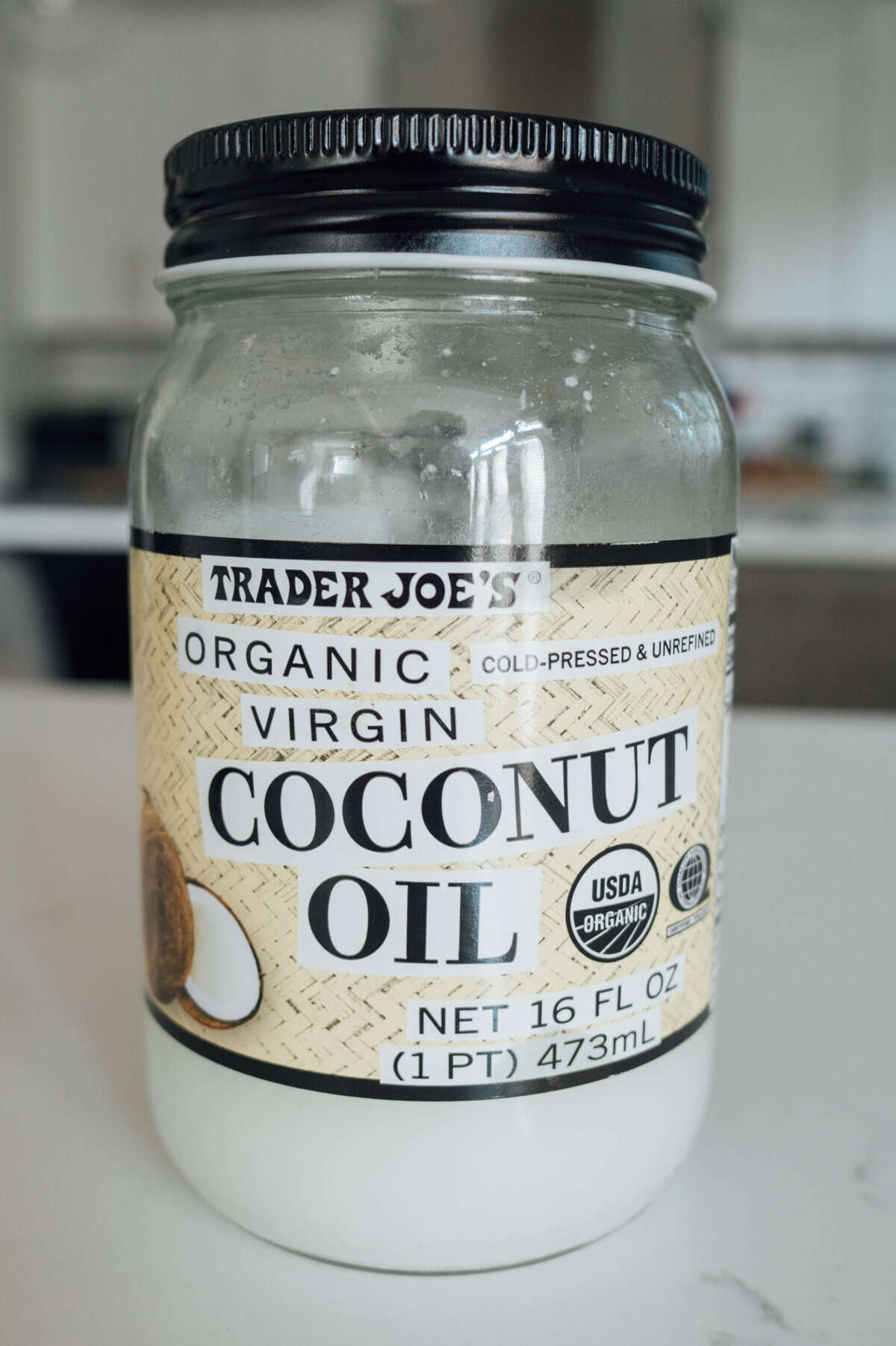 Who doesn't love having coconut oil on hand? Baking, cooking, and I even use it on my body in the winter time, LOL no joke. It's SUPER moisturizing!
THESE ARE SO FREAKING ADDICTING. And at $1.69 a bag, they are something you need to grab four or more bags of.
Not that I know anything about that, LOL