Chocolate Mint Truffle Cookies for the Food Bloggers Cookie Swap.
What ended up being really funny was that one of my recipients was my friend from high school who lives down the street from me. Elizabeth & I met up one day after work and I was able to give her the cookies face to face :) I told her to sign up for this cookie swap and I'm so glad she did!
I had to do 2 bags of 6 for each recipient since the cookies turned out larger than I anticipated! Lucky them ;)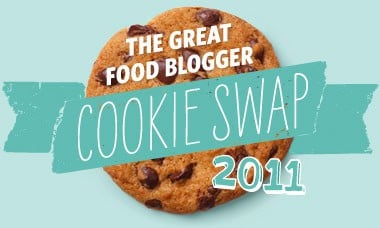 When I first heard of the food bloggers cookie swap that Julie and Lindsay put together, I immediately knew I wanted to do it. I didn't sign up though until the very last day because I needed to double triple check my schedule to make sure I was able to make the deadline of shipping out the cookies by December 5th. Luckily, I was able to work it out and carve out time to do this. This was such a fun idea to meet new bloggers and to get delicious cookies in return. I can't believe how big this turned out to be. There were 600+ bloggers that signed up, so that meant 22,000 cookies were being shipped around the United States, including 4 other countries! That's quite amazing. I'm thankful that Julie & Lindsay put this together and I'm looking forward to this next year :)
For my swaps, I made them chocolate mint truffle cookies. I was crossing my fingers that they all liked chocolate minty goodness. I know I love it, but I also know a few people who don't (ahem, my boyfriend), so I got worried. As you all know, my first batch of cookies that I initially made to send out, the chocolate nutella cookies, were not cookie swap worthy. I had to come up with something else. I remember seeing mint truffle Hershey kisses at the store and they looked delicious and the bag smelled even more delicious. I ran back to the store to grab 3 bags of them and came home to start baking these cookies.
They turned out great!! Smelled so good and they were so soft. I loved the mint pieces scattered throughout the cookie and the chocolate dough was so rich. I heard from 2 of my 3 swaps about how great they were so I'm glad they liked them. One thing, y'all, for next year: when you receive your cookies, please please send a tweet, email, whatever, to your cookie sender. It's polite and it gives feedback. I never heard from one of my cookie swaps and to me, that's just rude, but life goes on.
These would be great to make for a holiday party this Christmas/New Years. It goes with the season of candy canes & peppermint :)
chocolate mint truffle cookies
chocolate and mint all in a cookie!
Save
Saved!
Rate
Print
Ingredients
2

cups

all-purpose flour

1

teaspoon

baking soda

¼

teaspoon

salt

1

cup

unsweetened cocoa powder

1

cup

unsalted butter,

,

softened

2

cups

granulated sugar

2

eggs

2

teaspoon

vanilla extract

2 ½

cups

of Hershey's mint truffle kisses,

,

chopped
Add Ingredients to Shopping List
Added! Go to Shopping List
Instructions
Preheat oven to 350 degrees.

In a medium bowl, whisk together flour, cocoa powder, baking soda, and salt. Set aside.

In a large mixing bowl, cream together the butter and sugar until light and fluffy. Mix in eggs and vanilla and beat until smooth.

Slowly add in the dry ingredients and mix until well incorporated.

Gently fold in the chopped mint truffle kisses.

Drop by tablespoons onto a greased cookie sheet, 2-3 inches apart.

Bake for 8-10 minutes.

Remove from oven and let cool on cookie sheet for 3-5 minutes.

Transfer to cooling rack to cool completely.
YOUR NOTES
This website provides approximate nutrition information for convenience and as a courtesy only. Nutrition information can vary for a variety of reasons. For the most precise nutritional data use your preferred nutrition calculator based on the actual ingredients you used in the recipe.
And these were the cookie swaps that I received from 3 awesome bloggers! The first ones were from Monique at I Are the Food Snob. They were dried cranberry & white chocolate chip cookies. To die for!! The second ones were from Kelli at The Corner Kitchen. They were Greek Almond-Anise Cookies. I've never had these before and they're SO addicting. My boyfriend and I ate 4 each when we got them lol. And last but certainly not least, my last batch of cookies were from Heather at Levavi Spatulas. She made lemony cookies (not sure what the name are) but they were so good! I can't stop popping them in my mouth. She also sent along a bright red spatula! That was so sweet! It matches all my kitchen gadgets, measuring tools, utensils, and KitchenAid mixer perfectly! Thank you to all my cookie swappers!! :) I still have a few cookies left and I'm so sad to see them go! I'll definitely be making some :)