Garlic Oil with Lemon & Shrimp Pasta is a quick and delicious meal ready in 15 minutes!
If you're pressed for time and looking for a super quick meal to make, this is probably the one I'd recommend. It's fast (I made this in 15 minutes), light, healthy, and yet has a lot of flavor!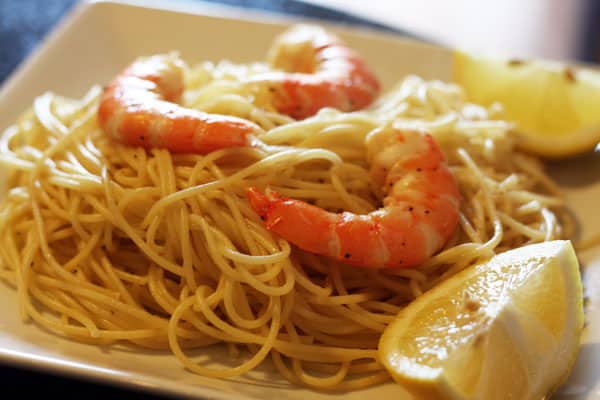 When Jason and I were at North Topsail Beach, NC this past weekend, we went and bought some fresh shrimp from a local seafood store. This was the end of the season so the shrimp were huge (16/20)! We did a shrimp and corn boil later that evening and had a ton of shrimp leftover (we bought 1.5 pounds thinking we could eat it all!). This gave me the opportunity to come up with some recipes with shrimp in it.
I thought of this due to the fact that yesterday, I was extremely pressed for time. We had gotten home from work at 5pm, but I had to be out of the house by 6pm to make it to my MRI appointment. We were both starving but since this dish is so easy, I literally whipped this up in 15 minutes. It was that easy and yet so delicious! If you're looking for a healthy change from the regular heavy, creamy pasta dishes, I would give one a try. It's flavorful so you won't be missing your heavy pasta..at least for this meal ;)