Green Curry Coconut Chicken Soup a hearty, delicious, and tasty meal.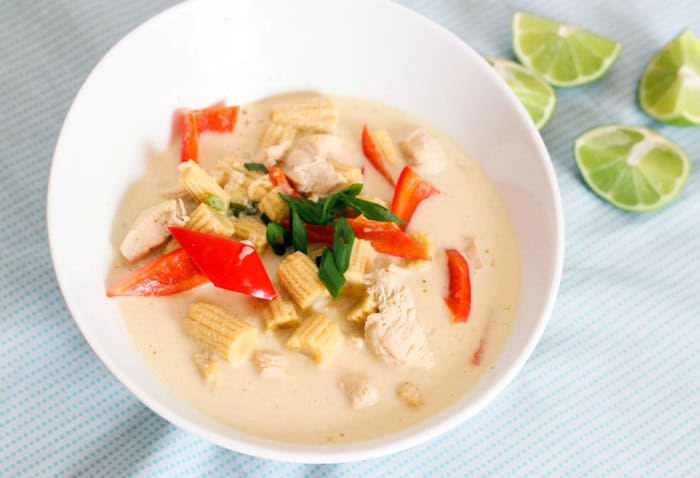 Please just smash your face into that soup. Ok, that probably isn't the best idea but it's so delicious and creamy that you might be tempted to do it!
I unintentionally have everything GREEN going up this week. Like, I really didn't plan it to be this way. I initially only had 1 green thing that's going up on Friday but then every dish I have this week is green too (which I just realized after looking at my editorial calendar). I'm just so awesome like that. Did you know green is my least favorite color, too?
Anyway, back to this GREEN curry coconut soup. Let me tell you, I never had coconut milk before this dish. Um, it was an experience because I could NOT stop smelling it and trying to drink the entire can. It smells so LUSCIOUS. Yes, I went there. I called coconut milk, luscious. It makes this soup out of this world. The green curry is spicy as hell but then the coconut milk just smooths out that spice and calms your tastebuds down. The addition of chicken, red peppers, and corn just gives the dish more love and ingredients to nosh on. I honestly would be fine drinking this without the veggies and just have the chicken in there for protein, or going the vegetarian route and having this with tofu and veggies. It's really versatile so do whatever you see fits!
Print
Green Curry Coconut Chicken Soup
A hearty and delicious soup to warm you right up!
Servings (adjustable, but please note that results, timing, and cookware may vary when adjusting servings):
4
Ingredients
2-3

tbsp

green curry paste (depends on how spicy you like it

start with 2, then go up)

1: 14.5

oz

can of coconut milk

1: 14.5

oz

can of baby corn,

whole or diced

1

pound

chicken breasts or 4-5 chicken tenderloins

1

red bell pepper,

sliced

1

lime
Instructions
In a large stockpot over medium heat, start with your green curry paste and start heating it up, pressing it against the bottom of the pan to get the flavors to start working.

After a couple minutes of that, pour in the coconut milk and let the flavors steep together for 4-5 minutes.

Throw in the chicken, corn, and red pepper.

Let the entire mixture simmer for 10 minutes until slightly thickened.

Serve hot and squeeze fresh lime juice on top before serving.
Notes
As mentioned above, you may go vegetarian by omitting the chicken and replacing it with tofu or you may substitute any other veggies that you want. It's a versatile dish!