The Boutique Hotel
You've seen our wedding photos, now it's time to show you our honeymoon! Destination: Turks & Caicos!
It took us a while to decide where we wanted to go. We knew we wanted to go to the Caribbean because all we really wanted to do was relax. We didn't want to do Europe because that's more tourism and physically doing stuff. We just wanted to be lazy :) plus, we haven't taken a real vacation in over 2 years – with getting engaged, buying a house, and planning a wedding, a relaxing vacation was well overdue.
We had St. Maarten, St. Lucia, and Turks & Caicos on the list. We crossed off St. Lucia because it was too far and we crossed off St. Maarten because, well, I don't know why. All I know is that we talked to some friends who have been to Turks & Caicos before & they highly recommended it.
After we decided on where we were going, we started looking at resorts and hotels. We first wanted to do an all-inclusive thing, but then we realized that would pidgeon-hole us because you would likely end up staying at the resort the entire time and not exploring the island and trying different foods – and you know that was one of my main things, so we started looking at really nice hotels. We probably spent a good couple days searching and finding places within our budget. We finally stumbled across Beach House. It was recommended to us by Turks & Caicos Magazine. They saw my tweets saying we were going to TCI (Turks & Caicos Islands) so they asked where we were staying. I had no idea so I asked for recommendations and they knew I was a foodie so the hotel they said that we could get our grub on was Beach House. Sold!
Beach House generously hosted us for two nights with us paying for the other 5 nights, we also booked under the Beach House Beginnings package. It included:
Round Trip Transfers to and from airport
Beach Picnic
Chef's Tasting Dinner for 2
Sunset Cruise
Snorkeling at Smiths Reef
Breakfast credit each day (subject to tax and service charge)
Champagne and Chocolate Truffles
I love that Beach House has only 21 suites. It's very intimate and very quiet. Everyone that works there is SO friendly and helpful. For someone like me, I like taking control of the situation, but when we were there, they took care of EVERYTHING. Making our dinner reservations, calling our cabs, etc. Definitely a different feeling but I loved it.
The grounds a Beach House are so well-kept and full of lush greenery and flowers.
They don't have room numbers here. It's actually their motto. "Where the rooms have no numbers." We stayed in a 2 bedroom, 2 bathroom suite. Really, we didn't need all the space, we would've been fine with the 1 bedroom suite, but when we got there, they said that the suite we were originally supposed to be in, had some "sprucing up" to do so they upgraded us to this larger suite on the 3rd floor. I think they were just being super nice :)
The very large kitchen area when you first walk in through the door
This place was huge! Check out the living/dining room area.
Haha, can you believe Jason and I got put in this massive suite??
This was our master bedroom

Down the hall was the second bedroom that we didn't even use! We should've took some of you with us ;)

Loved this waterfall shower!! I've always wanted one :)
This sitting area on our very large balcony was one of my favorites. I LOVED that it was covered and it was a nice place to walk out to every morning and see the marvelous beach. It was also really relaxing to just sit out there and listen to the ocean.
Ahh, this was the view from our balcony. Bliss.
Part of the Beach House Beginnings package is the champagne & truffles on arrival! The truffles lasted us ALL week! It was such a nice treat to have every evening after we came in from the beach.
This was in our freezer. Papaya and almond sorbet – made in-house. It was AMAZING. I have never had papaya before and I certainly want some now! The flavor is so sweet and lovely.
Cheers to being married and relaxing!
This is the dining area at Beach House. Lovely, isn't it?
The Food
The food on Turks & Caicos Islands is extraordinary. It's definitely a food lovers' paradise. They have a lot of dishes with conch in it because it's what they have an abundant supply of down there. I will say though – everything is imported and nothing is grown there, so food can get pricey – but it's really worth it. The attention to detail and presentation and the incredible flavors of every dish we had – I'd gladly have it every night!
Beach House has an in-house chef, Chef Eric Vernice. His background is French cuisine and he ties all of the island flavors so well together in perfect harmony.
When you have dinner at Beach House, they start you off with a different amuse bouche every night. This particular night, we had this cauliflower cheese mousse. Oh my god. I don't even know how to explain it. It was one of the lightest and most luxurious things I've ever put in my mouth. I wanted to just go to the kitchen and take the piping bag full of it and drink it. That wouldn't have been too classy, though..
This was chargrilled wild prawns, octopus, and Caicos conch. Served with a Tuscan bean salad and chorizo vinaigrette.
Yellowfin tuna
Tartar
Mahi mahi, oven roasted
…served with vegetable stir fry & basmati rice and shrimp tempura miso soy
Ok, so part of the Beach House Beginnings package is a $20 credit for breakfast every morning. It's basically free gourmet breakfast. EVERY MORNING. Makes sense why we gained so much weight. We had such rich breakfast every morning. Check out their breakfast menu – I mean, really. I think Jason could live on eggs benedict the rest of his life.
Me? I could live on this brioche French toast with lavender honey. That whipped cream? It's got a hint of lemon. It's PERFECT with the caramelized bananas. Ugh, I die.
We ventured out to the hotel next to us, the Gansevoort. We loved their restaurant, Stelle. This was a watermelon & mint mojito. So good.
We went to Stelle two separate nights and both nights we got the conch ceviche. With a presentation like that, who could ever say no to it??
Jason got one of their specials of the day – a salmon dish with roasted garlic potato puree
I got a pork tenderloin with sweet potato puree and poached apples and salted kale. SO GOOD.
So another part of the Beach House Beginnings package was the Chef's 5-course tasting menu. I only got two pictures of this because the light was gone by the second dish :( This picture above is the amuse bouche that's different every night at the restaurant. I honestly forgot the name of this but I know those little beads that look like caviar, they're citrus beads – they pop in your mouth a citrusy taste! Really fun.
This was a display of sashimis with the citrus beads.
Another part of our Beach House Beginnings package was a beach picnic! They prepare all the food for you and you pick it up at the restaurant in these cute baskets. Thanks for carrying them, HUBBY ;)

Not a bad view for lunch, huh?
You're about to flip out at how much food we got. This was a tomato salad with buffalo mozzarella.

Then a nicoise salad.
A turkey & cheese sandwich
AND a smoked salmon sandwich.
Finally, this decadent dark chocolate ganache cake.
Haha, food coma..on the beach.
Things To Do
Jason and I aren't the excursion type couple. We'll do like minimal physical activity but you won't find us scuba diving, deep sea fishing, etc. We did do a lot of walking on the beach, eating, swimming, and Jason did some snorkeling. I, on the other hand, got really claustrophobic with the huge goggles and tube, so I opted out, haha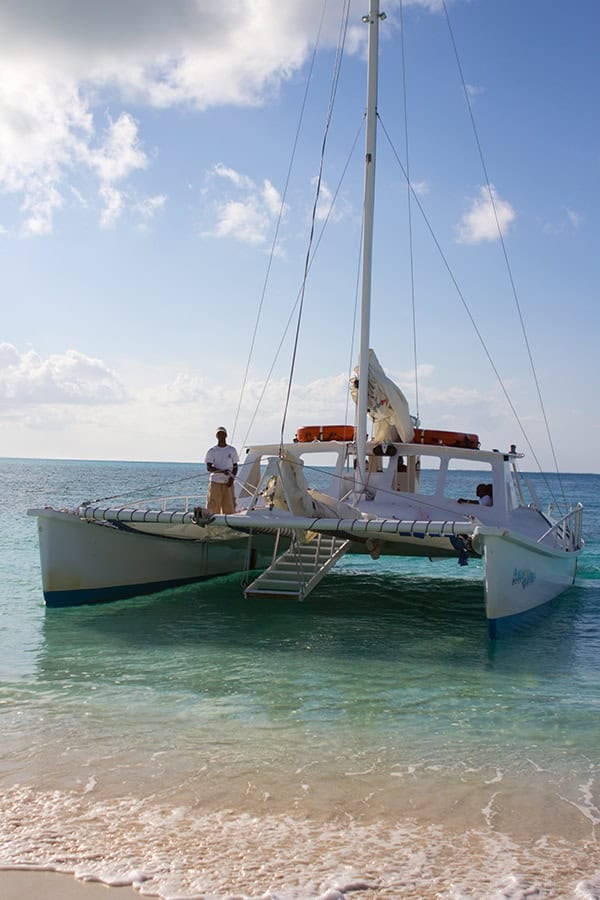 Yet another part of the Beach House Beginnings package was a sunset cruise. This catamaran picks you up right in front of your hotel! You do get a little wet though because you gotta walk right into the water about shin-deep to get on those stairs.

Haha, I thought this netting was going to break. Jason had to reassure me a few times that there was no way it could break.
On Thursday nights, at Bight Park (which happened to be a 5 minute walk from our hotel – we were so lucky) they have a local fish fry!! All these local restaurants come out and cook under these tents. Good food, cheap (our entire meal was like $40), and great entertainment. They have a live band and everything! It was really fun to do something that the locals do and get into their culture a little bit.
Making lots of conch salad!
The conch fritters with spicy mayo was REALLY GOOD. They were kind of like hushpuppies but just with conch.
This conch salad was SPICY but still great flavors!
And then we walked along the beach during sunsets :)
One night, we went to this restaurant/bar called Somewhere. It's a really casual, low-key place with REALLY good food. It was a 5 minute walk from our hotel and it was a nice break from all the fancy food and expensive checks :) Jason got fish tacos and I got BBQ pulled pork quesadillas. It never felt so good to eat so casually, haha – we also ordered fries (the fries at the hotel were even super fancy thick cut and artistic looking ones!) and beers and just watched a basketball game.
During the time we were in Turks & Caicos, we met a lot of sweet couples, one of which was from our area and got married the same day as us! They were on their honeymoon too and doing the same package we did :) we also met this couple on the sunset cruise that live in LA but the guy was born in our area. We then met two other couples who were both from CT and another couple from Philly. It's nice to talk to people while on vacation and be social and not just stick to yourself. Everyone's got a different story so I love chatting people up – you could tell everyone felt the same!
All photographs taken by yours truly!