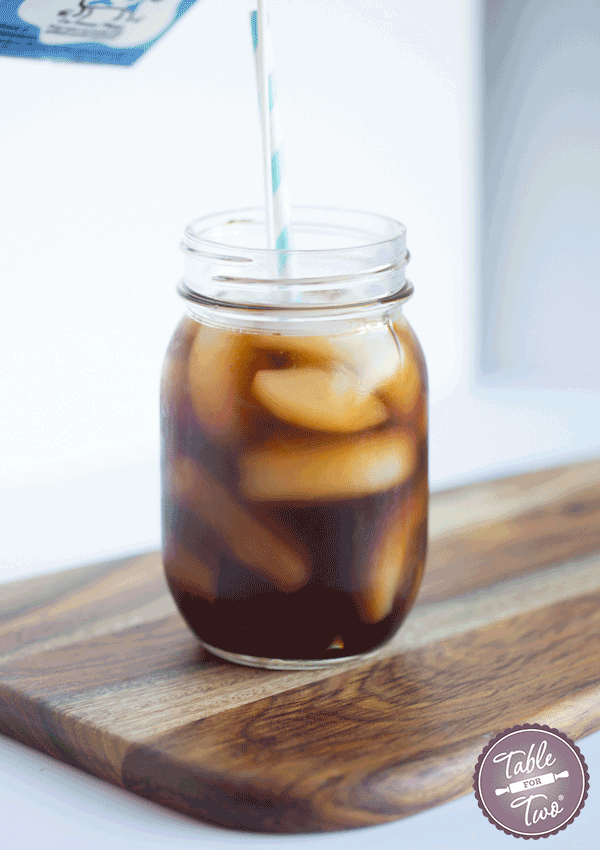 This is my new summer obsession. Homemade cold-brew iced coffee with half-and-half and sweetened condensed milk. I have a large glass of it every morning and I've stopped going to the coffee shop around the corner from work because it's SO easy to make at home and helps me pocket that $3 I used to spend daily.
I posted this cold-brew photo on Instagram a couple weekends ago and was surprised how many people wanted to know how to make it themselves! I wasn't going to make a blog post out of it but since there was demand, I figured why the heck not? People were saying that they weren't sure they could handle the time commitment for cold-brew. There is virtually NONE! You literally soak coffee grounds overnight in the fridge and you wake up to the most amazing elixir of life.
Directions below on how to make cold brew coffee at home! :)

Ok, so don't be like me and pour the coffee super fast or you'll end up with a spill (like the one you see below, haha) and you don't want to waste a drop of this!!
Print
How to Make Cold Brew Coffee at Home
It takes no time and very minimal effort! Just in time for summer!
Ingredients
1-12

ounce

bag of ground coffee

10 1/2

cups

of room temperature water
Instructions
Pour the coffee grounds into a large plastic container with a lid.

Fill the plastic container with water and stir the coffee grounds around with a spoon until all grounds are moistened.

Place lid on the plastic container and pop into the refrigerator overnight.

After the overnight process, place a layer of cheese cloth over a fine-mesh strainer. Place the strainer over another large plastic container with a lid.

Gently and SLOWLY pour the coffee over the strainer. If it becomes too full, stop and let it drain before continuing.

Keep pouring until all the coffee liquid has passed through the strainer and you're left with coffee grounds. You can also gently press the coffee grounds in the strainer with the back of a spoon to squeeze out more liquid.

Store in the fridge for up to three months (you'll likely finish it way before then!)

Read notes below before fixin' your own coffee drink! :)
Notes
Keep in mind that this is a coffee concentrate so you'll need to dilute your coffee with some water when you make your coffee drink (unless you really like strong coffee). This is what I do:
In a 16-ounce cold drink tumbler, fill with ice. Fill half the tumbler with your cold-brew coffee concentrate and just under a half of the rest of the tumbler with cold water. I add about 1/2 tablespoon of half-and-half and 1/2 tablespoon of sweetened condensed milk. Screw the lid on, pop in the straw, stir well and you've got yourself a refreshing coffee drink!!
If you don't have a 16-ounce cold drink tumbler, you can just use a regular glass or mason jar or whatever you have. You don't have to make your coffee recipe exactly like how I make mine - everyone takes their coffee differently! This is just merely an idea of how I make mine :)