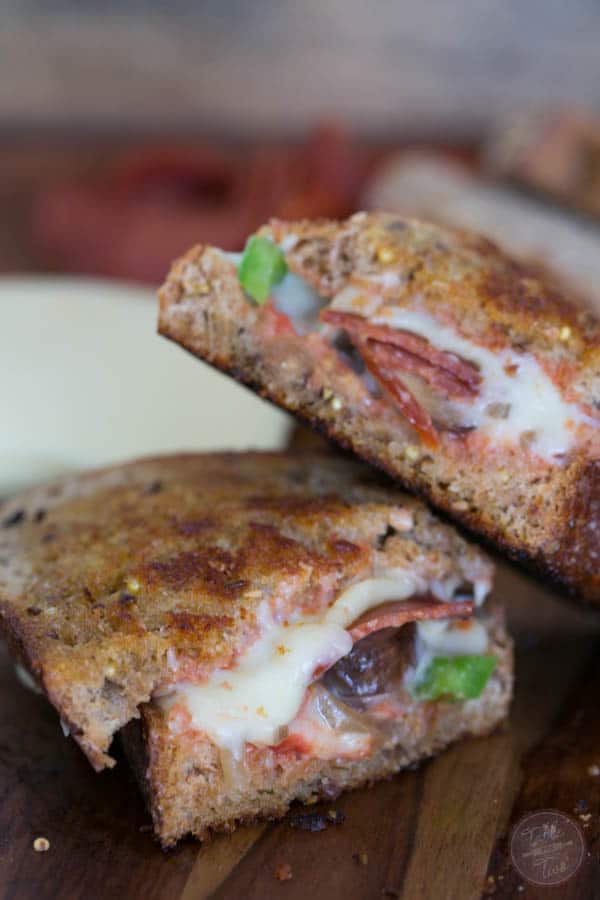 Did you know that there are actual holidays dedicated to food?? That is like a choir of angels to a food lover's ears! I mean, I tend to celebrate food every single day of my life, but to have a specific day or month dedicated to a specific food is just phenomenal!
April is actually National Grilled Cheese month. Yes, a whole month dedicated to grilled cheese. You can get behind that idea, right? This was like pure ultimate childhood throwback when I heard about this month, but now that I'm an adult, I feel like grilled cheese month can be used to embrace adult versions of grilled cheese. Not just a slice of cheese in the middle of two slices of bread, but like a legit grilled cheese mimicking your favorite comfort foods. The possibilities are endless!
In honor of National Grilled Cheese month, I created this Loaded Pepperoni Pizza Grilled Cheese Sandwich. This is a perfectly melty and delicious sandwich that exudes ultimate comfort food. A pizza in grilled cheese form? Yes, please! I had it sit in the skillet on low heat for about a minute and I just watched it go from solid to ooey gooey goodness! I almost devoured the sandwich before I got a chance to photograph it! Plus, I was craving pizza and I think this was the perfect alternative to a greasy pizza from a take-out place!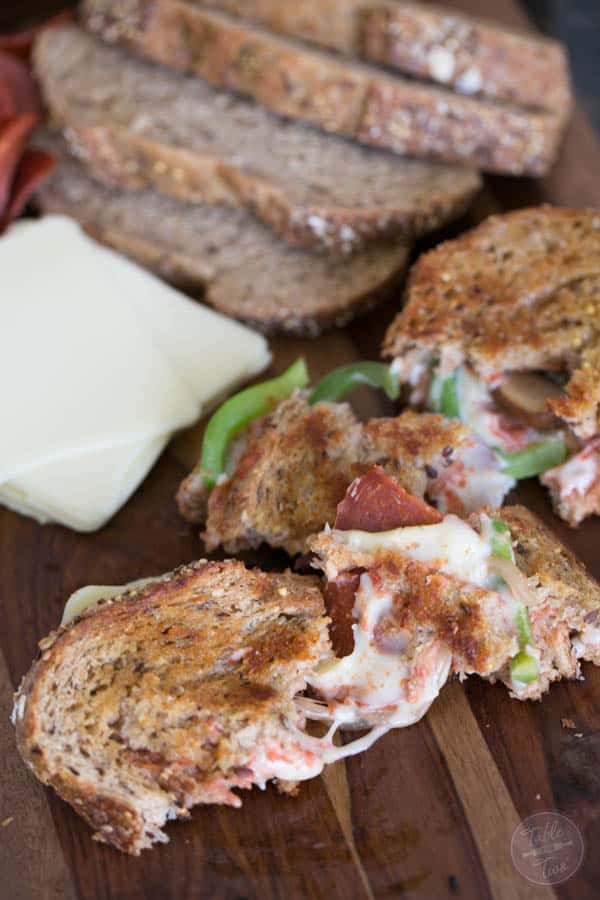 Print
Loaded Pepperoni Pizza Grilled Cheese Sandwich
A loaded pepperoni pizza in grilled cheese form!
Servings (adjustable, but please note that results, timing, and cookware may vary when adjusting servings):
2
Ingredients
1/2

teaspoon

vegetable oil

1/2

onion,

sliced into half moons

1

small green bell pepper,

sliced into rings

5

baby portabella mushrooms,

sliced

Salt and pepper,

to taste

2

tablespoons

tomato sauce

4

slices

of LAND O LAKES® Deli American

Handful of pepperoni slices

4

slices

of thick bread

Room temperature unsalted butter
Instructions
Heat up a small skillet with vegetable oil over medium-high heat. Once oil is hot, add onion, green bell pepper, and mushrooms to the skillet. Cook until onion, green bell pepper, and mushrooms are softened, about 5-7 minutes. Season with salt and pepper. Remove from heat and place in a bowl.

Wipe out the skillet with a clean paper towel.

Butter the outer slices of bread (the sides that you want to be the outside) and place on a flat surface. Heat cleaned skillet over medium-low heat.

To assemble grilled cheese: add 1 tablespoon of tomato sauce on one slice of bread then add the cheese on top. You might have to break the cheese slice in half to fit your bread slice. Then on top of the cheese, add half of the onion/bell pepper/mushroom mixture on top. Finally, add your pepperoni slices.

Place the buttered sides of the bread into the skillet (cooking them open-faced). And place a lid on top of the skillet to trap in the steam and heat. Let cook for 1-2 minutes or until cheese is melted. Carefully put the sandwich together by putting the two halves together. Slice in half and serve.

Repeat with the other sandwich.
I have partnered with Land O'Lakes for an exclusive endorsement of Land O Lakes® Deli American. This blog post is sponsored by Land O'Lakes. All opinions are 100% my own. Thank you for supporting brands I love so I can continue to bring you unique and delicious recipes!