Try olive pesto and switch things up at your next party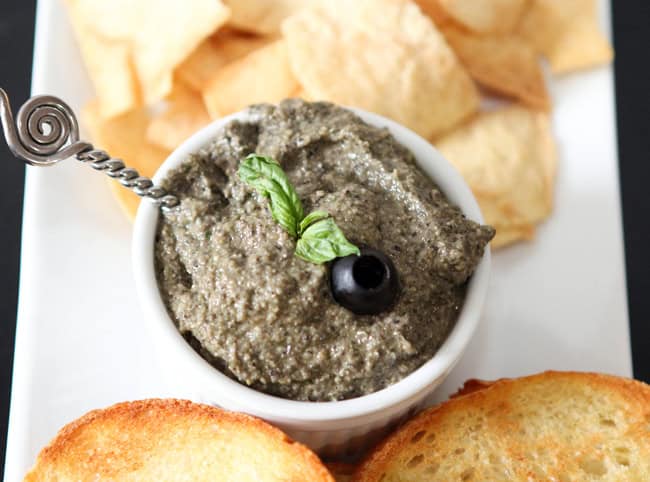 Let's talk olives. In pesto form.
It seems to me that people either have a love or hate relationship with olives. Me, on the other hand, I was a hater-lover. What's that? Well, I used to hate olives because I thought they were gross looking — like why would I want a little black round thing on my food? And then my brain came to a realization that I should probably try it before I actually hated it. Yeah, total judging a book by its cover moment. Anyway, so now I'm a lover of olives. Any kind. Whether it be straight out of a can, stuffed, in a martini (oh, especially in a martini), on a pizza, in a pesto…oh hey….you see what I did there?
I was approached by Lindsay Olives a couple months ago to work on a photography project for them. To be honest, I've never heard of Lindsay Olives until two months ago. We don't have them here, or at least I've never seen them at any grocery store here. I immediately jumped at the opportunity to work with them because I LOVE olives and the fact that I could make a recipe with their olives, was more than enough to convince me to jump on board! I also wanted to try their olives since we don't have them here and from what I've heard from other food bloggers, their olives are definitely really good! Now I can totally vouch for that! Oh, and another great plus to olives that I read: they're gluten-free!
I made their California Ripe Olive Pesto and for something so easy, it was SO jam-packed with flavor. It was out of this world! I kept dipping pita chip after pita chip. It was addicting, I couldn't stop! I could smother this all over my face and call it a rejuvenating mask too ;)
This pesto was made with Lindsay Olive's California black ripe pitted olives, which is their most popular and easiest to find. Definitely give this a try for a party or a light snack. All you gotta do is pretty much throw everything in a food processor and let 'er rip! Done in about 5 minutes! What more could you ask for? Oh, right, hand me another bag of pita chips, please..
Olive Pesto
A different way to use up canned olives!
Servings are adjustable but please note that results, timing, and cookware may vary when adjusting servings.
Ingredients
1

cup

black pitted olives

1/3

cup

basil leaves

2

tbsp

pine nuts,

toasted

1/4

cup

grated Parmesan cheese

1/8

tsp

ground pepper

1/8

tsp

salt

1/2

cup

olive oil
Instructions
In a small skillet, toast your pine nuts over medium heat until they're brown on each side, about 5 minutes. Watch them carefully so they don't burn.

In a food processor, add your olives, basil, pine nuts, cheese, pepper and salt. Slowly add the olive oil through the feed tube while pulsing.

Serve with crostini or pita chips or with pasta or rice.
This is a sponsored post by Lindsay Olives. I was compensated for my work, however, opinions are always my own.