The post you've all been waiting for!! All the FOOD on Regal Princess! I definitely did not go to bed hungry at all nor was I ever really hungry. To be honest with you, it was depressing coming home because I actually had to make food myself. I couldn't just wake up in the morning and stroll to the Market Cafe and have food already prepared. I couldn't walk to all these dining rooms and order food off a menu. Haha, I ended up being so lazy when I got home and had zero motivation to cook! I know, I know, #firstworldproblems.
Chef Lumiere Tasting Table
This was one memorable dinner experience. You gotta book a table if they have this on your ship. Lots of food, wine, and great company. Oh, and you get to go behind the scenes and check out their kitchens! Wow it's crazy busy in there but I mean, what else can it be with them trying to feed thousands of people at a time?! The chef comes out and talks to you and explains each dish and how it's made and a little story behind it. It's so awesome to hear a little back-story about your dish prior to eating it.
My favorite part of this dinner is that your table is enclosed in this light curtain and it closes around you as everyone just stares in awe. Haha I'm sure a lot of people were jealous of us! ;)
The Chef's Table Lumiere is $115 per person, however, I definitely think it's 100% worth it. They only do this tasting table twice on a 7-night cruise and only 12 people can go at a time so gather up your troops as this is something that sells out quickly! And it's totally cool if you don't have a group of 12, you can just make a reservation for you and your group and just sit with new friends :)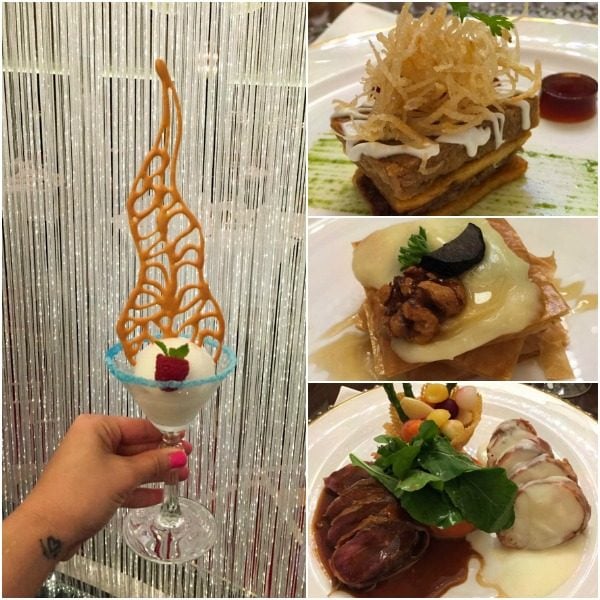 Afternoon Tea
You know I'm a British lover. When we went to London, my favorite thing about that trip was afternoon tea. When I found out that the Regal Princess had afternoon tea, I about flipped my lid. I made it a mission to attend one of their afternoon tea seatings and we did! Oh man, I was in heaven. Pastries, sandwiches (my favorite was the smoked salmon), desserts, tea (with milk!) galore! I wish we did afternoon tea here in the States. Does anyone know of places in DC that do afternoon tea?!
Dining Rooms
There were so many dining options on this ship and each had their own little 'theme.'
Sabatini's – Italian
Crown Grill – Steak and Seafood
Vines – Wine, sushi, tapas bar
Horizon Court & Pastry Shop – expansive buffett-style dining
Alfredo's Pizzeria – hand-tossed Neopolitan-style pizza
International Cafe – warm pastries and paninis
This is what we ate at Sabatini's the first night. Oh man, was I in love. That pasta dish along with the fresh tomatoes and burrata were AMAZING. Can you believe this is cruise ship dining? I'm telling ya, it's come a loooong way and this foodie in me is so happy!
Gelato Bar and Soft-Serve Ice Cream
To say that we all took advantage of the gelato bar and soft-serve ice cream daily would be an understatement. We got a gelato bar and coffee bar (at the International Cafe) punch card that you can use throughout your trip. I'm pretty sure everyone gets one in their room welcome packet but don't quote me on that. It was nice to get gelato and sit in the atrium and watch performances and just relax with friends. The soft-serve ice cream was on the pool deck where Horizon Cafe is. It was definitely a treat on those hot sunny days!
This post is sponsored by Princess Cruises. Thank you for supporting the brands we love so we can continue to bring you more unique travel posts such as this!