On our one year wedding anniversary this past April, we were jetlagged from our Taiwan trip so we didn't have a proper celebration until two weeks later where Jason had made reservations to The Inn at Little Washington! Have you heard of it? It's rated as one of the top 10 best restaurants in the world. It has the most amazing food and accommodations (yes, the inn is an actual place you can stay overnight – stunning rooms).
It's a restaurant that has been on our bucket list and we finally got to check it off! It's definitely not a meal you have monthly – it's pretty darn pricey but so well worth every crumb! I documented our meal below. It took us about an hour and 10 minutes to drive there from our house. It was a really pretty and scenic route – gets you out of the city for a bit :) oh, and when you get to The Inn, there's no cell service unless you have Sprint. Great way to disconnect and really enjoy the dinner and talk with your spouse!
Yup, once you get out of Northern Virginia, Virginia is actually gorgeous and *gasp* not congested with traffic!!
We made it! How cute and cozy does The Inn look?!
Oh, and these are The Shops at The Inn. It's just across the street but we didn't stop in because we were hungryyyyy and ready to get our grub on!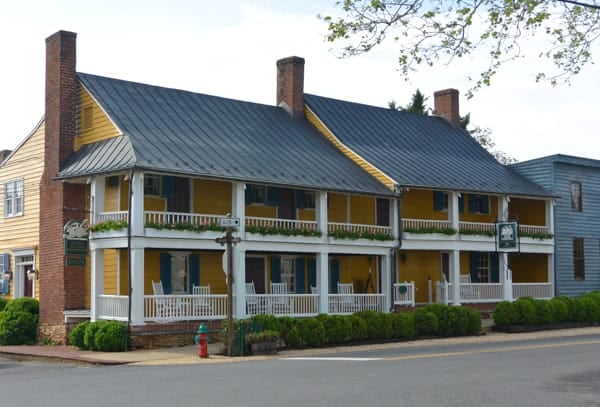 They sat us in the back room next to the garden area. It was so pretty! It ended up being a perfect day (it was raining in Northern Virginia so we thought it was going to be the same here) so they were also able to keep the back door open to let fresh air in.
Our cute little personalized menu that they wrapped up for us to take home as souvenirs.
Ahhh this was the most amazing sparkling rosé wine I've ever had. The grapes are flown in from Italy and it's bottled at Barboursville Winery, about an hour south of The Inn. I wish you could buy it in stores but I think it's exclusive to certain restaurants :( we tried searching but no luck!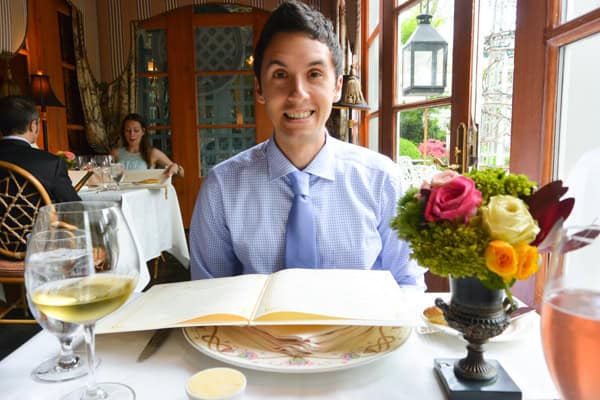 So there are two different menus here. You can choose to do a la carte, which you get to choose your first course, second course, main course, and dessert, off a large list, or you can choose to do a chef's tasting with wine pairings. We chose to do the a la carte because in between your courses, they bring you cute little chef-made appetizers for you to nibble on. This was our first bite:
Oh my god. You're going to think I'm ridiculous but the biggest takeaway from this meal was this appetizer. The chilled asparagus soup shot was and is something I cannot stop thinking about. It was SO good and refreshing. The flavors were incredible. I cannot wait to remake this and share it with you guys.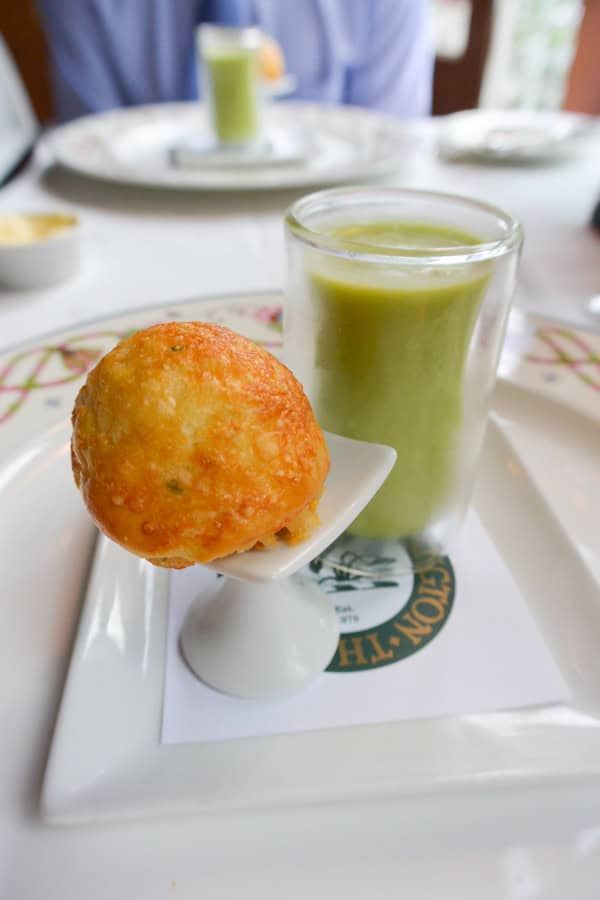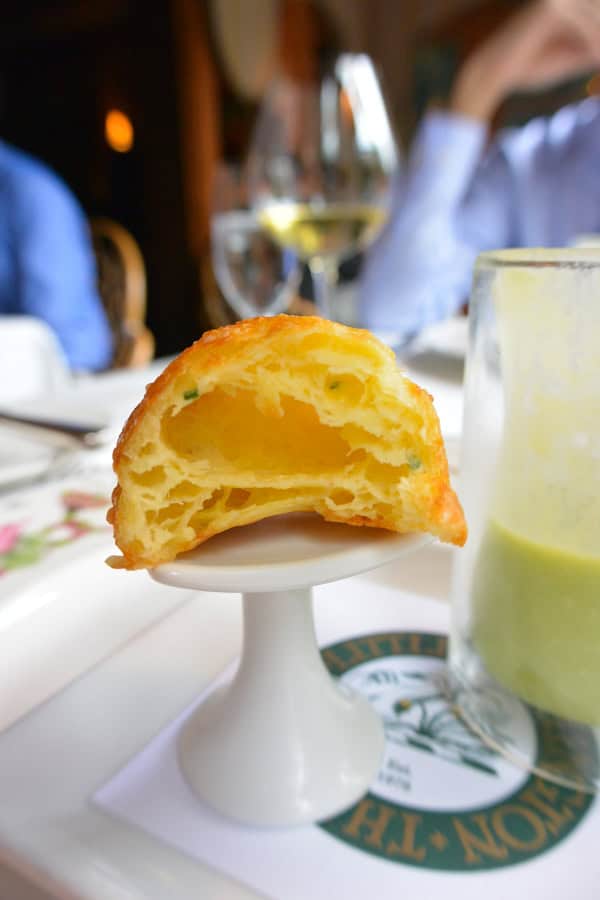 First course: Spicy Sesame-Crusted Ahi Tuna Tartare with Cucumber Sorbet…so fresh and tasty
First course: Carpaccio of Herb-Crusted Baby Lamb Loin with Caesar Salad Ice Cream….CAESAR SALAD ICE CREAM – you guys. This was epic. Like, out of this world. I can't convey to you how blown our minds were.
Second course: Black Cod and Gulf Shrimp in an Orange-Saffron Broth with Tomato Jam
Second course: A Marriage of Hot and Cold Foie Gras with Sauternes Gelée and Blood Orange Marmalade
Main course: Prosciutto Wrapped Loin of Veal with New Potatoes and Spring Vegetables
Main course: Pepper Crusted Tuna Pretending to be a Filet Mignon capped with Seared Duck Foie Gras on Charred Onions and Burgundy Butter Sauce
Goodness gracious!
While we waited for our dessert orders, we had complimentary coffee. Mmmm coffee!
Southern Butter Pecan Ice Cream Sandwich with Bittersweet Chocolate and Hot Caramel Sauce….I about died when I saw this come out.
Yes, I ate it ALL.
Jason got a strawberry rhubarb crumble and there was like a limencello pudding type thing. The photos aren't super appetizing but I can vouch that they were deeelicious!
Oh, and then we got the check.
They gave you this cute little souvenir takeaway thing filled with cookies and chocolates!
This used to be their kitchen but now it's their lounge/cocktail room.
Hi to the lady staring at me ;)
OMG. Wine room.
So this guy's name is Cameron and he's the 'cheese-whiz' HA! Like really, if you want cheese and crackers for your after-dinner snack, he'll push this little cow cart around and you can pick cheeses off it. Get this, the cow MOOS as you push it around.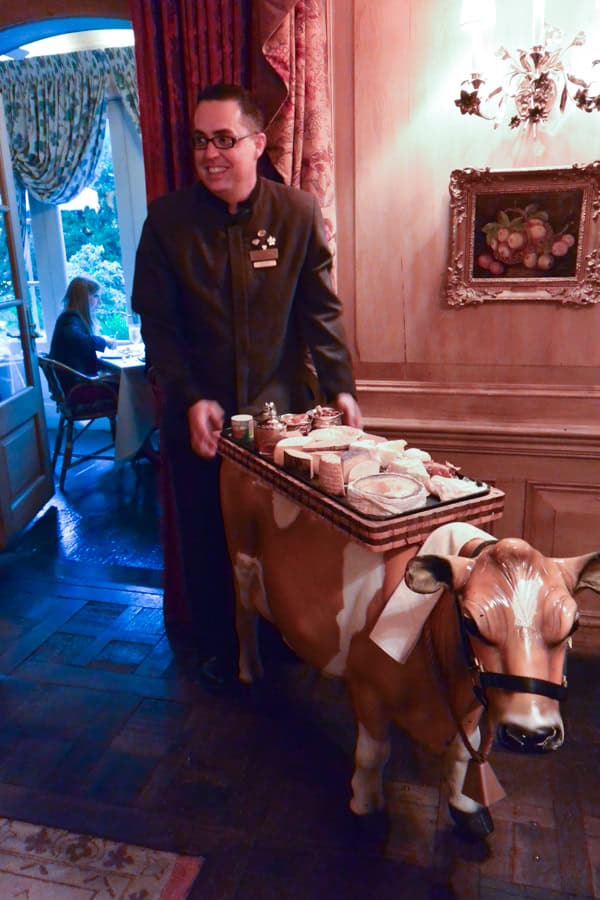 They gave us a quick tour of the kitchen – so pretty and busy!
You can actually reserve tables in the kitchen area but they're ridiculously expensive, lol
This was just the entrance/waiting area. So plush!
Have I convinced you enough to give it a try?!