25-Minute Beef and Snow Pea Stir Fry
Are you guys enjoying the weekly meal plans? It personally helps me out a lot too because I forget how much content I have on this blog. I have almost five years worth of recipes and it's fun to dig back into the archives and find them and resurface them for you guys!
If you're having trouble thinking about what to make for dinner tonight, if what I have on week 2's meal plan isn't what you had in mind, you should totally run out real quick and get the ingredients for this recipe. 25 minutes is all it takes! I love it!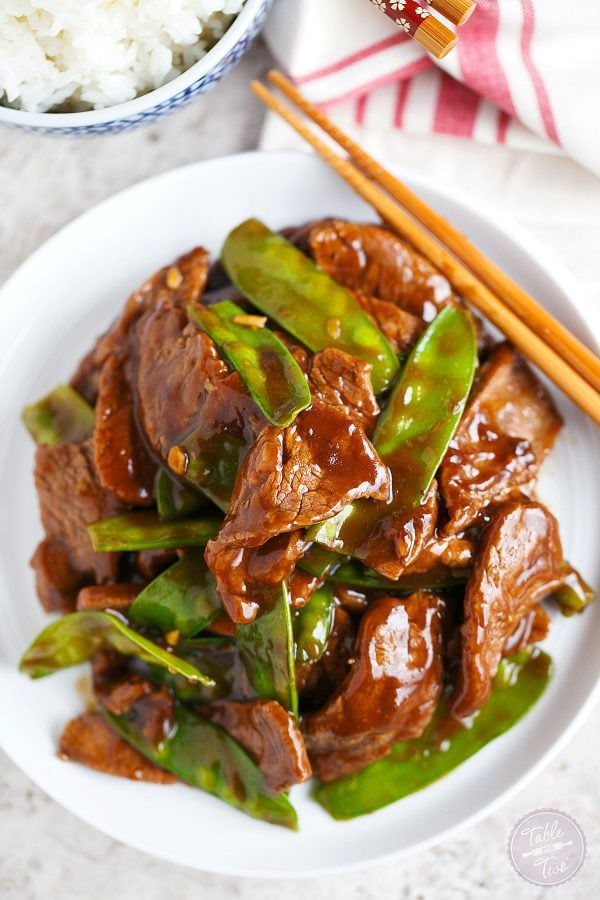 Growing up, this 25-minute beef and snow pea stir fry was one of my favorite meals that my mom would make. She was seriously super woman. Coming home from a long day of work and still getting dinner on the table for the entire family. Now I'm in her shoes and really respect her for doing what she did to ensure that we wouldn't have to eat out or eat something unhealthy.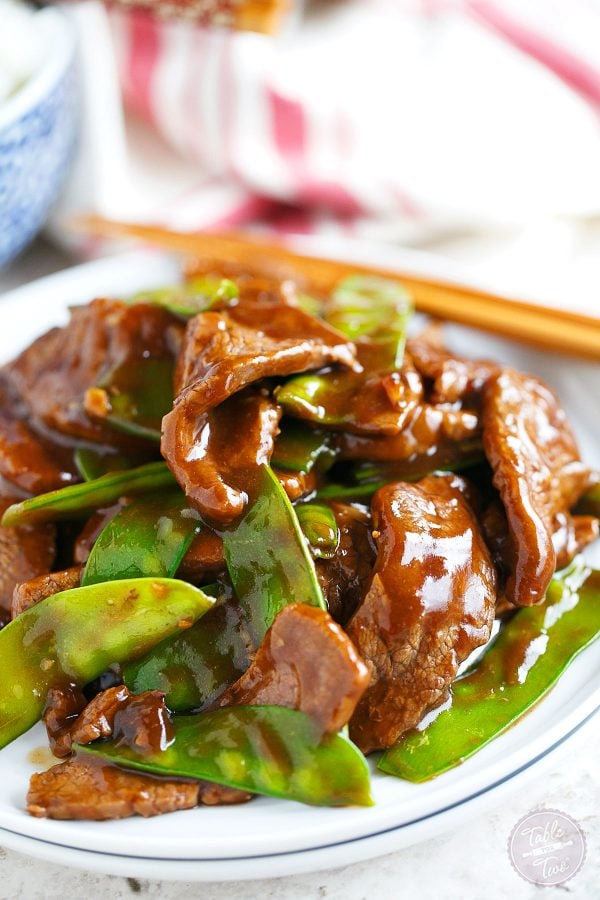 25-Minute Beef and Snow Pea Stir Fry
This 25-minute beef and snow pea stir fry is the perfect weeknight dinner option!
Ingredients
1/2

cup low sodium soy sauce

1/4

cup water

3

tablespoons michiu Chinese cooking wine*

2

tablespoons dark brown sugar

2

tablespoons corn starch

1

tablespoon vegetable oil

2

cloves of garlic, minced

10

ounces snow peas

3/4

pound thinly sliced flank steak
Instructions
In a measuring cup, whisk together soy sauce, water, cooking wine, brown sugar, and corn starch. Set aside.
In a skillet, over medium-high heat, add vegetable oil. Once oil is heated, add minced garlic and cook until fragrant. Add the snow peas and cook until bright green, about 3-4 minutes. Remove from skillet and set aside on a plate.
Add the flank steak to the skillet and cook until mostly cooked through, about 5-7 minutes.
Add the snow peas back into the skillet then pour sauce in. Let simmer and thicken for 3-5 minutes, stirring and tossing to incorporate everything.
Serve with white rice.
Recipe Notes
Recipe Notes
If you don't have michiu Chinese cooking wine, you can use mirin, which is Japanese cooking wine.
There is an affiliate link within the post.
Posted on January 11, 2016