Slow Cooker Beef and Broccoli
Note: This post first appeared on September 12, 2012. The recipe has been edited slightly (to make the recipe easier to understand if you were having issues before) and the photography got a facelift! Enjoy!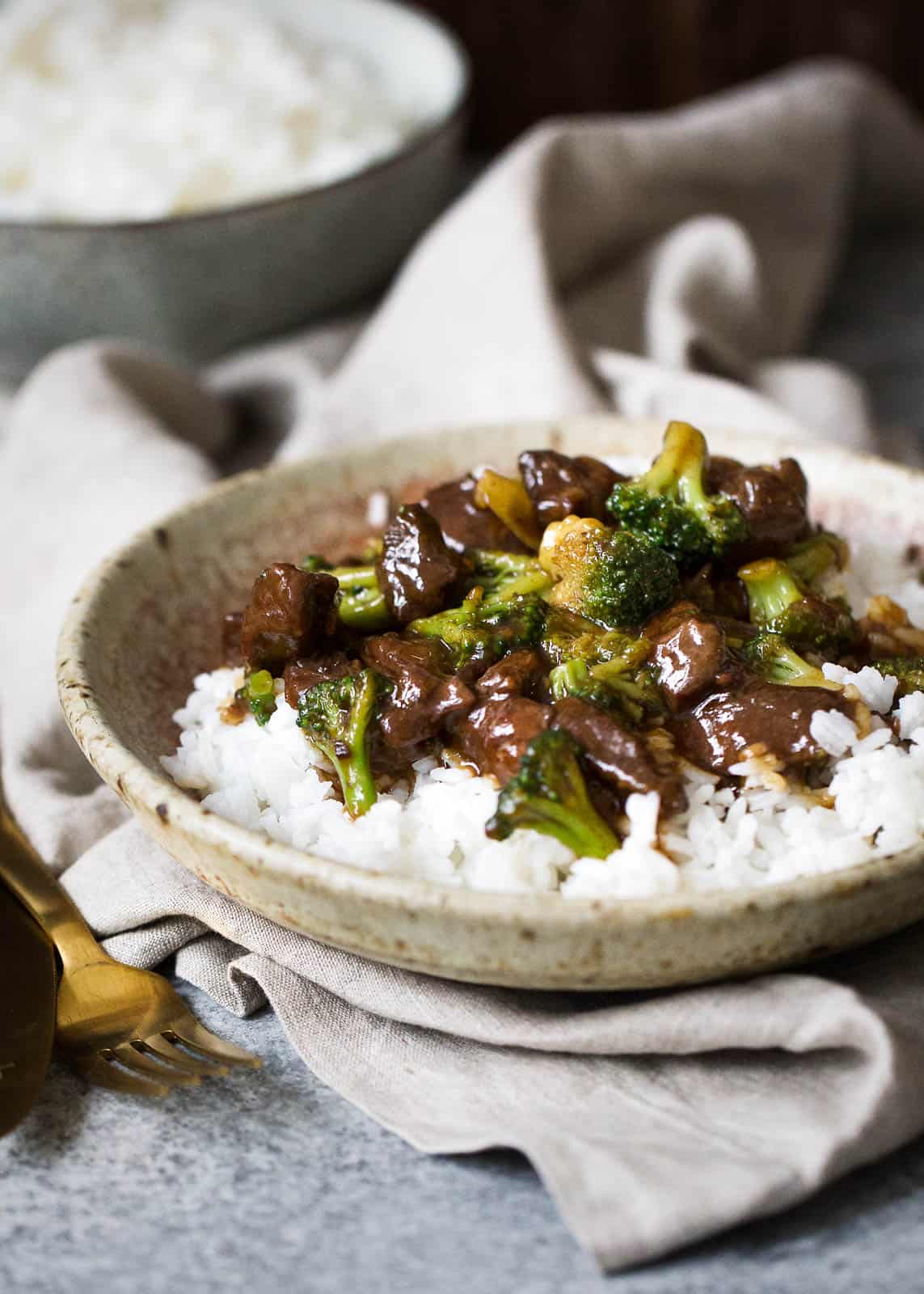 Time to break out the slow cookers :) one of the best parts of the cooler weather is being able to breakout the slow cooker to make delicious soups, stews, and cozy dinner meals such as this one!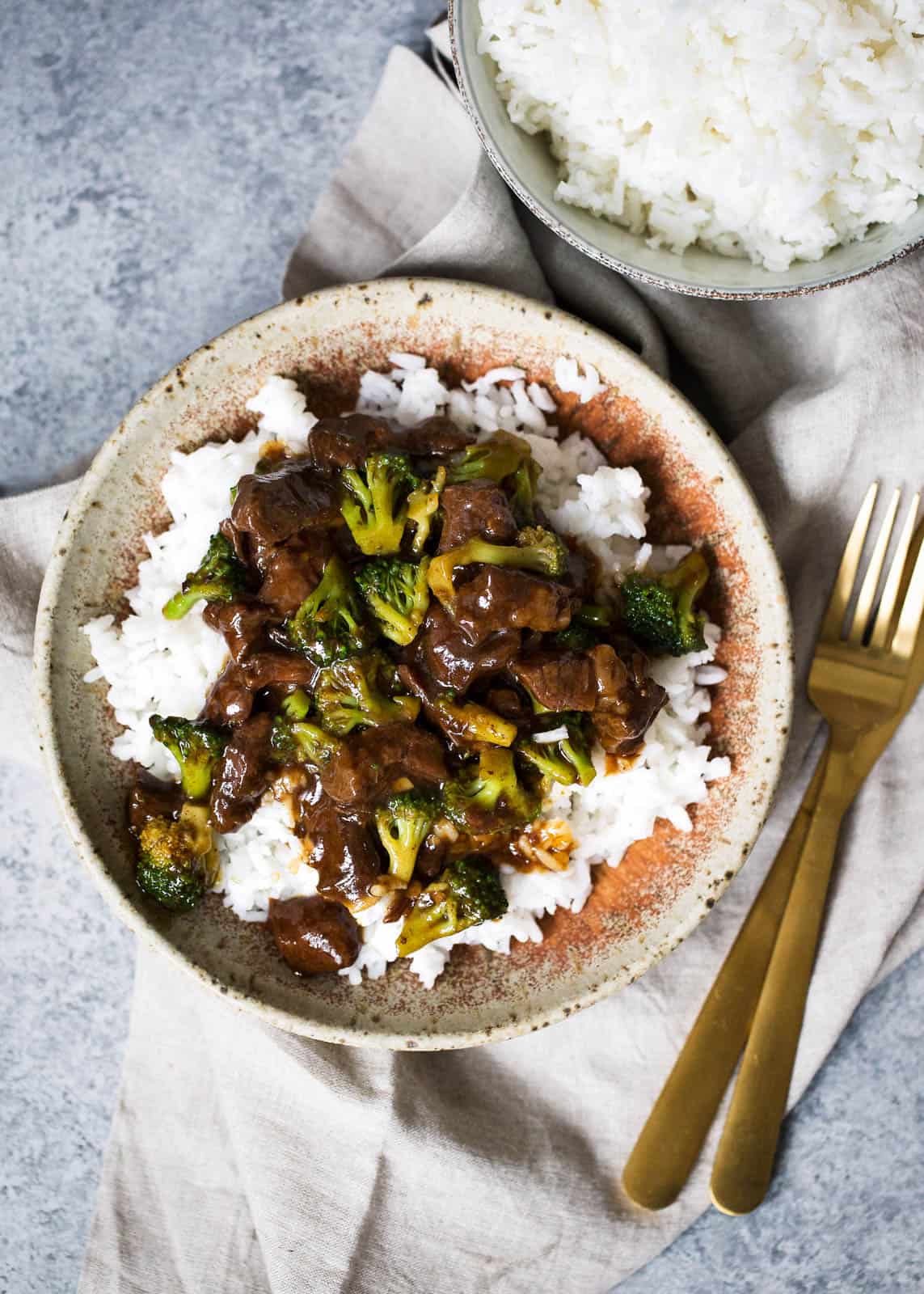 You all know my obsession with chicken & broccoli, well I'm also obsessed with beef and broccoli so this slow cooker version is right up my alley. I love setting up a meal and just forgetting about it. You have the freedom to do whatever you want while a delicious meal is cooking away. Let me tell you – your whole house will smell AMAZING and the flavors in the sauce are to die for. I probably could've dunked all my rice in it, but I needed sauce for the next day as these make great leftovers :)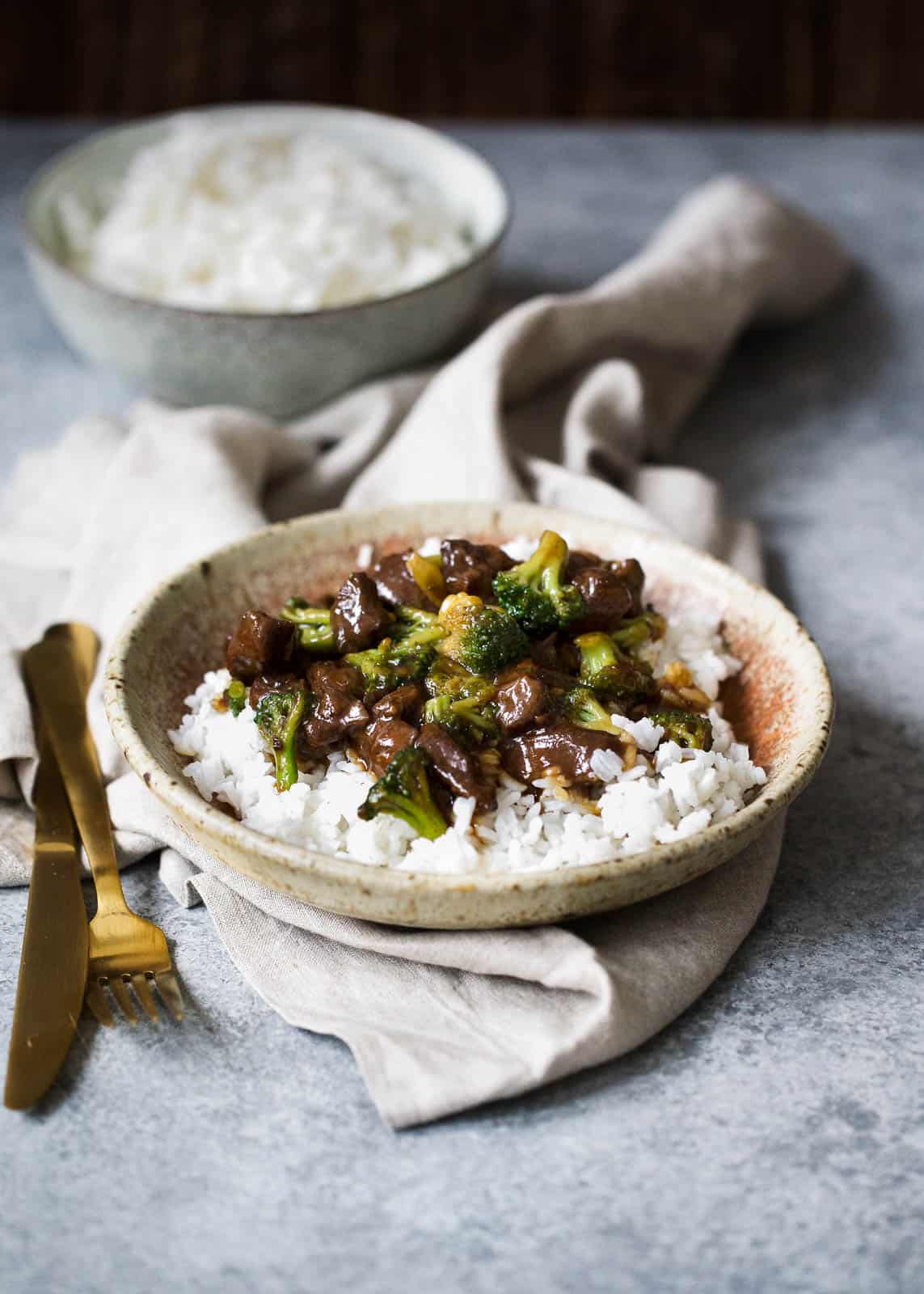 I can't wait for all the slow-cooker recipes coming this fall/winter. The only thing that irked me in the past about them was the fact that I had to make them on the weekends cause I have this fear of having the slow cooker on while I was at work. I always worried it'd burn down my house. I found a solution. An electric on/off timer. I bought this and I can now set the time of when I want the slow cooker to start and when to stop. I'll likely set it only to start because I'll time it so when I get home, it'll be done so I can just unplug it :) It's a great investment and I can't wait to cook more in my slow cooker! Fear of my house burning down should subside.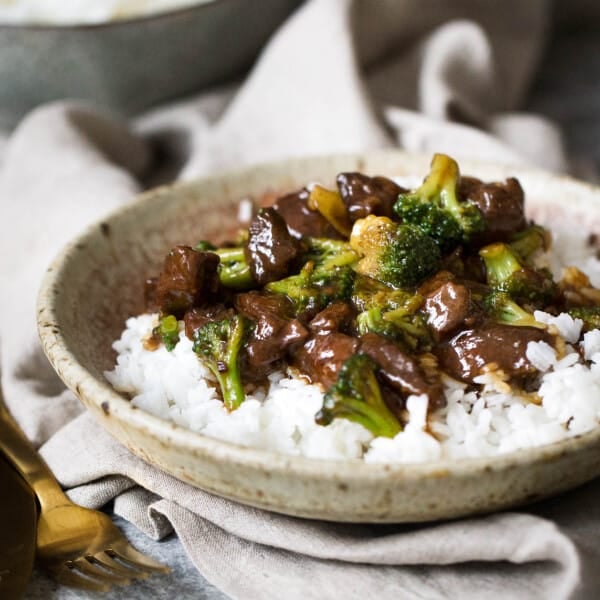 Slow Cooker Beef and Broccoli
Much better than calling take-out; simply whip out your slow cooker and make this beef and broccoli at home!

Ingredients
1

lb

boneless

beef chuck roast, sliced into thin strips

1

cup

beef consumme or beef broth

1/2

cup

low sodium soy sauce

1/3

cup

dark brown sugar

1

tbsp

sesame oil

3

cloves

garlic,

minced

Frozen broccoli florets (as many as desired

I believe I used almost 3 cups)

2

tbsp

cornstarch or arrowroot powder

4

tbsp

of liquid from slow cooker

Cooked white rice
Instructions
In the insert of the crockpot, whisk together beef consume or stock, soy sauce, dark brown sugar, sesame oil, and garlic.

Gently place your slices of beef in the liquid and toss to coat.

Turn crockpot on low and cook for 4-6 hours. See notes below.

When done, in a small bowl, whisk together cornstarch and cooking liquid, pour into crockpot, stir to mix well. Cook on low for an additional 30 minutes to thicken up the sauce. Please see notes if your sauce does not thicken.

Toss in your broccoli florets then serve hot over white rice.
Recipe Video
Recipe Notes
Note about cooking time: Your crockpot may differ in temperature than mine, I suggest cooking this for 4 hours on your first go-round of this dish. 6 hours in the crockpot seems to be giving a lot of people "shredded" beef instead of slices, so decrease cooking time by 2 hours and go from there. Mine turned out fine with 6 hours.
If you are using frozen broccoli florets, you do NOT need to defrost them prior to putting them in the slow cooker. You add them in at the same time as you add the cornstarch mixture. As stated in the instructions, after you add the cornstarch mixture, you cook for 30 more minutes. This should be more than enough time to cook and defrost your broccoli florets.
If you're using fresh broccoli, you do NOT need to steam them prior to putting them in the crockpot. You add them in at the same time as you add the cornstarch mixture. Since you cook an additional 30 minutes, this will ensure that your fresh broccoli will be cooked through.
Yes, you put the meat in the slow cooker raw, in sliced pieces.
If you find that your mixture is not thickening, simply drain the liquid from the slow cooker and place it in a small pot over the stove over medium-high heat. Add the cornstarch mixture and stir into the liquid. This should thicken the sauce.
Nutrition Facts
Slow Cooker Beef and Broccoli
Amount Per Serving
Calories 370
Calories from Fat 90
% Daily Value*
Total Fat 10g 15%
Total Carbohydrates 24g 8%
Protein 28g 56%
* Percent Daily Values are based on a 2000 calorie diet.
*Nutrition facts are an estimate and not guaranteed to be accurate.
Photography by Sarah Fennel
Posted on December 24, 2016