Best Chocolate Chip Cookies Ever recipe you don't want to miss these!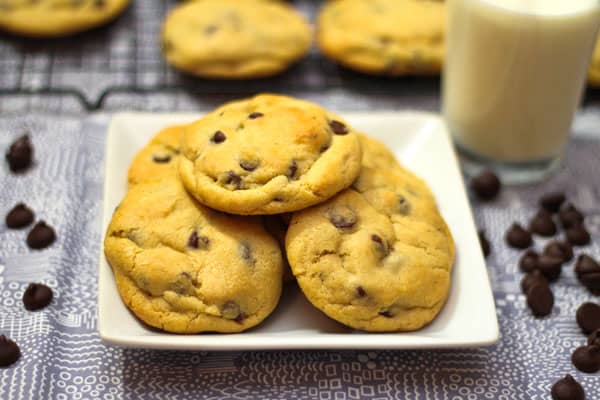 I've been dying to share these cookies with you. I made these last week when I was craving a really good chocolate chip cookie. No more looking, guys. I have found the "really good chocolate chip cookies" that I was longing for — and maybe the one you've been longing for too!
The process and ingredients, I believe are what makes the cookies the way they are. Actually, I know it's the process and the ingredients. Jacques Torres, the creator of these cookies for New York Times, tweeted me on January 12th and said that it was the "at least overnight!" process. They're so soft and so perfect. Forget any other chocolate chip cookie you've ever had. You NEED to make these yourself.
Just look at that cookie. I wanted to dunk that entire cookie in the milk.
I made a bold statement with the title of this entry but I'm not alone. New York Times declared these the best chocolate chip cookies you'll ever have. A lot of other bloggers that I've seen make this have said the same thing. After all these raving reviews from food bloggers and New York Times, you start to wonder yourself how perfect and awesome a chocolate chip cookie can be. Uh, seriously. Please don't wonder. Just believe. They are seriously THE BEST chocolate chip cookies I've ever had. Jason, all my friends, my coworkers, everyone all said that they were "omg, wow, phenomenal" and literally could not stop eating them. Still don't believe me? Hit up your BFF Google and you'll see..
They're so soft and they have the perfect texture. The chocolate chips stay melted and are liquidy when you take a bite, even after a day or two, the chocolate chips won't harden up completely and stay a little wet. They stay perfectly moist and the cookie is also very dense. After one or two, you will be perfectly content. I actually was content with one and a big glass of milk to wash it down. There is also a salty aftertaste. Right after you finish swallowing your bite, you have a salty taste in your mouth. I absolutely love that this cookie has that!
Like I had previously stated before, it's the process and the ingredients. You don't use regular all purpose flour with these. You use a combination of cake flour and bread flour. You also don't bake these right away. You have to wait at least 24 hours before you can put them on a baking sheet and pop them in an oven. TRUST ME when I say, "good things comes to those who wait." You can't rush these babies. You have to be ever-so patient. It's the overnight process that makes the magic happen. It works and I'm a firm believer of this after having these cookies!
Now, go make yourself a batch & never look at chocolate chip cookies the same, ever again :)
best chocolate chip cookies ever
the time and effort it takes to make these chocolate chip cookies will be WELL worth it!
Save
Saved!
Rate
Print
Ingredients
2

cups

minus

2

tbsp. cake flour

1 ⅔

cup

bread flour

1 ¼

teaspoon

baking soda

1 ½

teaspoon

baking powder

1 ½

teaspoon

coarse salt

2 ½

sticks unsalted butter,

,

room temperature

1 ¼

cups

light brown sugar

1

cup

plus

2

tbsp. granulated sugar

2

large eggs

2

teaspoon

pure vanilla extract

3

cups

bittersweet chocolate or dark chocolate chips

Sea salt *see note below
Add Ingredients to Shopping List
Added! Go to Shopping List
Instructions
In a large bowl, sift together flours, baking soda, baking powder and salt. Set aside.

Using a stand mixer fitted with the paddle attachment, cream together the butter and sugars until very light, about 5 minutes. Add the eggs, one at a time, mixing well after each addition. Mix in the vanilla and mix until vanilla is gone. Reduce the speed to low and slowly add the dry ingredients and mix until just combined. About 10-15 seconds. Drop in chocolate pieces and incorporate them without breaking them. You might need to take the bowl off the stand and just fold it in by hand (which is what I did).

Take large piece of plastic wrap and lay it on the counter top. Put the dough on top and wrap the dough up in the plastic wrap.

Refrigerate for 24 to 36 hours.

When ready to bake, preheat oven to 350 degrees. Line baking sheets with parchment paper or silicone baking mats. Set aside.

Using your hands, break off the dough (it'll be kinda hard) into pieces to roll into golf-sized balls. Place them two inches apart on the baking sheet. If you're using sea salt, sprinkle lightly on top.

Bake the cookies for 18-20 minutes or until golden brown but still soft. Transfer the sheets to a wire rack to cool for 10 minutes then slip the cookies to another rack to cool a bit more. *See notes

Repeat with remaining dough or you can reserve the remaining dough by freezing it.
Recipe Notes
I didn't sprinkle my cookies with sea salt. I actually found that the cookie itself has a salty aftertaste without the sea salt. I didn't discover this prior to deciding not to add sea salt to my cookies, this was discovered afterwards, but I just wanted to give fair warning in case you do want to add sea salt on top. It might be saltier than you expect a cookie to be. However, I do not know. I loved my cookie the way it was. The salty aftertaste was awesome. In step number 7, I did not transfer sheets to wire racks and then to another wire rack. Those were in the original instructions that I decided to keep in there. I just kept my cookies on the baking sheets after they came out of the oven for 5 minutes and then transferred them to wire racks to cool completely. They turned out fine.
Source: The New York Times
YOUR NOTES
This website provides approximate nutrition information for convenience and as a courtesy only. Nutrition information can vary for a variety of reasons. For the most precise nutritional data use your preferred nutrition calculator based on the actual ingredients you used in the recipe.