Rose's Luxury. The restaurant that everyone in this area is dying to try…and will line up hours just to get inside. Ever since it was named Best New Restaurant in America in 2014 by Bon Appetit, it has blown up – and for good reason. You can easily find the line two blocks deep on a Friday or Saturday night. They take no reservations and the line is basically to get your name on the list. You best believe you get your ass there early to set up shop otherwise you're not getting in. Is it worth it? Absolutely.
I showed up at 4pm on a Monday (they open at 5:30pm, dinners only). I was the 6th person in line at 4pm – an hour and a half before opening!! When doors finally opened, I looked behind me to see the massive line had amassed to at least 50+. I mean, just look at that (photo below). What people will do for good food.
I'll be honest with you, after an hour of standing in the humidity and dripping in sweat, I was beginning to wonder, "is this really worth it?" but my friend and I pushed through the last 30 minutes and when we were finally welcomed into the cold blazing AC, it was immediately worth the hour and half wait time.
Since we were one of the first people to get seated, we got the choice of either sitting at tables or the chef's table. At first my friend and I were like 'ehhhhh' to the chef's table idea and really just wanted a table but the hostess convinced us that since it was our first time, we should definitely take the opportunity to sit at the chef's table considering who knows when the next time we'd be back to wait in the line again. I'm thanking the hostess now for her insistence because it was the best decision ever. Just being able to watch everything go on in the kitchen was mesmerizing and it felt like I was actually in the kitchen. Surprisingly, everything is meticulously clean and everyone knew what to do at their stations. It wasn't loud (besides ambient restaurant chatter) and there was no dish or pot banging. Just orders flying in and everyone knowing what to do.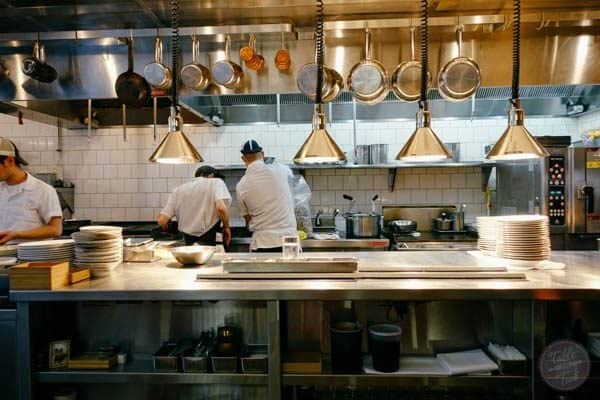 The atmosphere was really inviting and homey. Shabby chic. Not to mention, the servers were beyond nice. Like, their service was impeccable. I was expecting really stuffy and stuck-up servers. Kind of like, "yeah, we know we're #1 so we don't have to impress you," but it was actually the complete opposite. They thanked us every time we said how incredible a dish was and they were just SO nice. We ran out of bread for our pate so we were like scraping the bottom of the bowl with our knives (haha so classy) and the server came by and asked if we wanted more bread for our pate. I know that might be 'standard' at some restaurants to offer that but a lot of restaurants I've been to don't offer you more bread because you only get four as apart of that dish and that's it. Anything extra? More $$. Our water glasses were always full. The water guy must've hated me because I was really thirsty so mine was always half full so he probably refilled my glass like 15 times.
I want these lights in my backyard.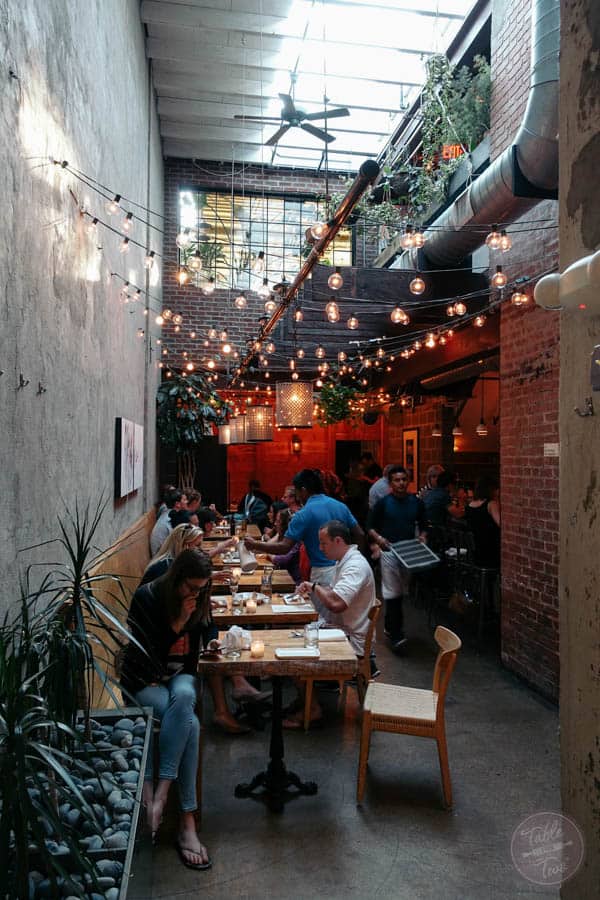 On to the food! You get this really fluffy loaf of bread to start. Then this honey sesame butter to go with it. We each had a slice of bread because we didn't want to fill up!
We ordered the Vietnamese Pate with peanuts, herbs, and garlic bread. So good. Oh, and there was a side of jalapeno-ed pickles that were sweet and spicy!
I love when places just surprise you with a dish. Our server surprised us with this grilled avocado with tomatillo, cotija cheese, and poblanos. It tasted like deconstructed guacamole to me.
Gah!! This hangar steak was unbelievable. The horseradish mustard and side of fried zucchini was a delicious pairing!
I will be forever dreaming about this pasta. Handmade fettuccine pasta with pea shoots, tarragon, and spring onions. So creamy and flavorful.
We decided to get one of their family-style dishes. This was the Korean catfish with rice and beansprouts. Haha, we were like uhhhhhhhhhhhh, when it showed up to our table. We knew it was family style but didn't realize how much of an undertaking this was going to be ;) nonetheless, it was an explosion of flavor in our mouths. Definitely worth it. The catfish was perfectly fried and the thick sauce all over it was spicy, sweet, and tangy.
I LOVED watching chef-owner, Aaron Silverman, teaching his team members exactly how to plate, how to slice, etc. He was so very hands on and not one moment did he seem annoyed by it all. I love his patience and how nice he seemed. There was never any yelling or exasperated sighs. All just very friendly and smiles. It kind of goes hand-in-hand with Chef Silverman's motto: he wants to keep everyone happy.
"It's about being taken care of, and making people happy."

"It's not just about taking care of the guests," he explains. "It's also about keeping the people I work with happy."

(source: Bon Appetit)
Omg. Dessert. Coconut milk ice cream with toasted coconut flakes and kiwi with a caramel bottom. You guys. This was incredible. I think my eyes rolled to the back of my head and I had trouble re-opening my eyes. It was sooooo good. If you're a coconut lover, you're going to flip for this.
I like their sense of humor. Notice the sides of winning, helluva time, and a side of awesome in the final check ;)
Definitely check this place out if you have some time and yearning for some good food. Yes, the wait is a pain, but it's totally worth it.
They also have this rooftop garden that you can buy tickets for every Monday at 11am but it's completely rigged. The second the clock turns 11am, all the dates turn to 'sold out!' – that's impossible. No one can click that fast. I have an auto-refresher on my browser and literally watched it at 11am go from 'On sale at 11am' turn to 'sold out.' So yeah, the way to reservations up there is to know someone, but now that I've waited in line and tasted the food, I think I'll stick to waiting in line and not having to deal with finding someone "I know" to get the rooftop. It sounds cool but I don't like the idea behind how to get up there.
Rose's Luxury is located: 717 8th St. SE, Washington, D.C.