Freezing herbs and citrus
This post is one of my most requested posts and I'm happy to say it's finally here! What perfect time to talk about this topic too as I'm sure we are all bringing in plants from outdoors and have a desire to want to preserve the freshness of summer.
I freeze herbs and citrus in the summer time too because there's just an abundance of it that I can't go through it fast enough before they go bad!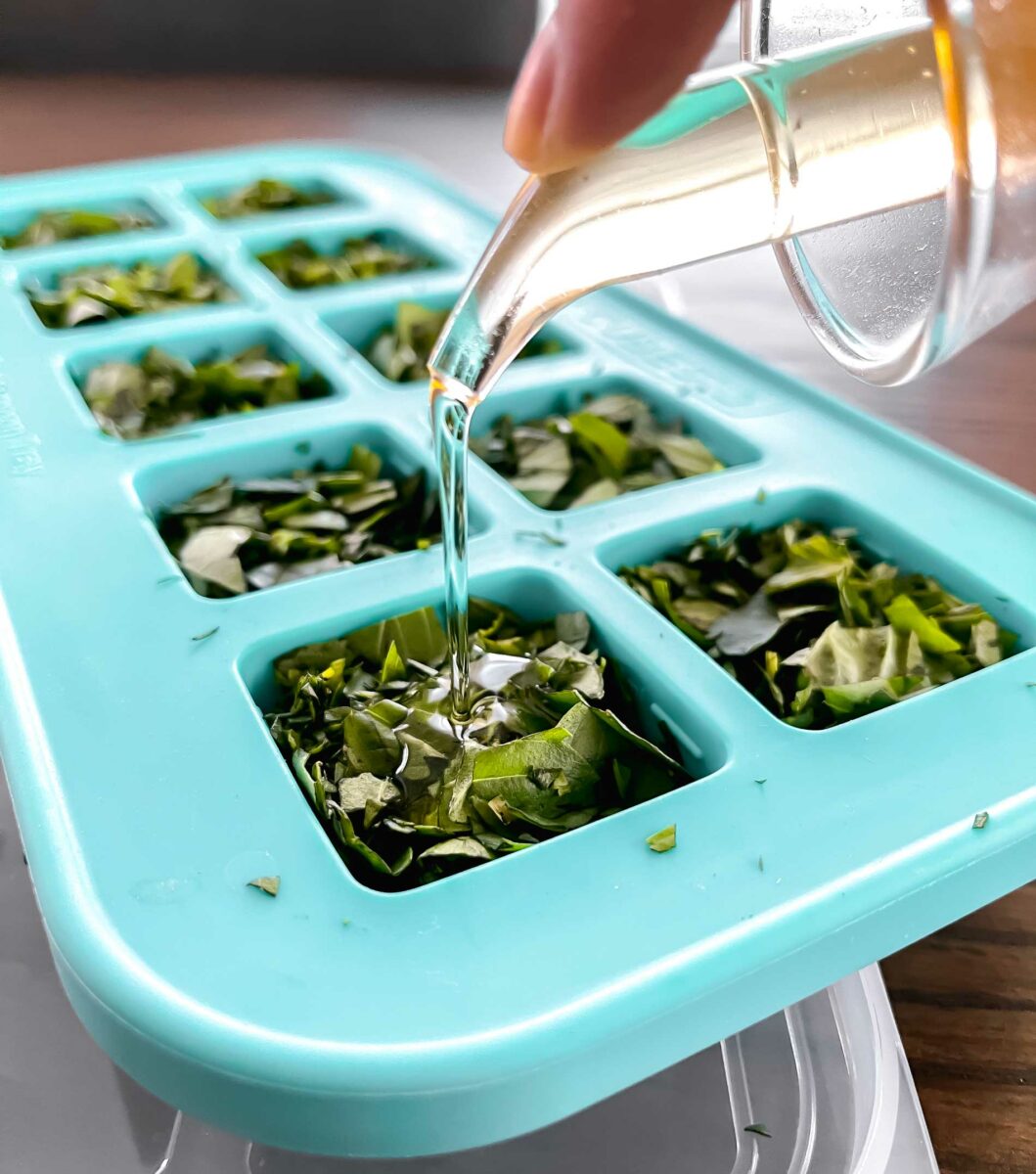 Why freeze herbs?
Freezing herbs is a great way to preserve the freshness of the herb. Just like how veggies in stores get flash frozen and packaged, I do essentially the same thing with herbs.
I also like freezing herbs because sometimes I buy a bundle of say, Thai basil, because I needed it in one recipe (my basil beef stir fry, for example), but then I don't use it all up. Freezing is a great way to preserve it.
Additionally, there are times where I need a specific herb and I don't have it on hand and have to run out to the store just to get that one herb. A little pre-planning and having a stash of frozen herbs helps me avoid having to run to the store for one item.
Why freeze citrus?
I don't know about you but it's either one of these scenarios for me:
I never remember to buy lemons or limes therefore I don't have them on hand when I need them in a recipe. Or,
I will buy 3-4 lemons and limes because of the above scenario but then I only use one and then the rest start going bad before I can use the rest.
Freezing the citrus juice is a way to always ensure I have lemons or limes at home and it's freshly squeezed so it's not even the same as the bottled stuff you get.
What kind of herbs can you freeze?
In general, you can freeze any herb! The most commonly frozen herb is basil but you can freeze sage, rosemary, thyme, parsley, cilantro, oregano, etc.
How do you freeze herbs?
To freeze herbs, you'll want to chop them up finely and freeze them with olive oil or avocado oil.
Why do you freeze herbs with oil?
To prevent it from turning black. If you've ever frozen basil without oil, you'll have noticed it turns black. It's not that you can't eat it, it's just not exactly what you want to see in your dishes.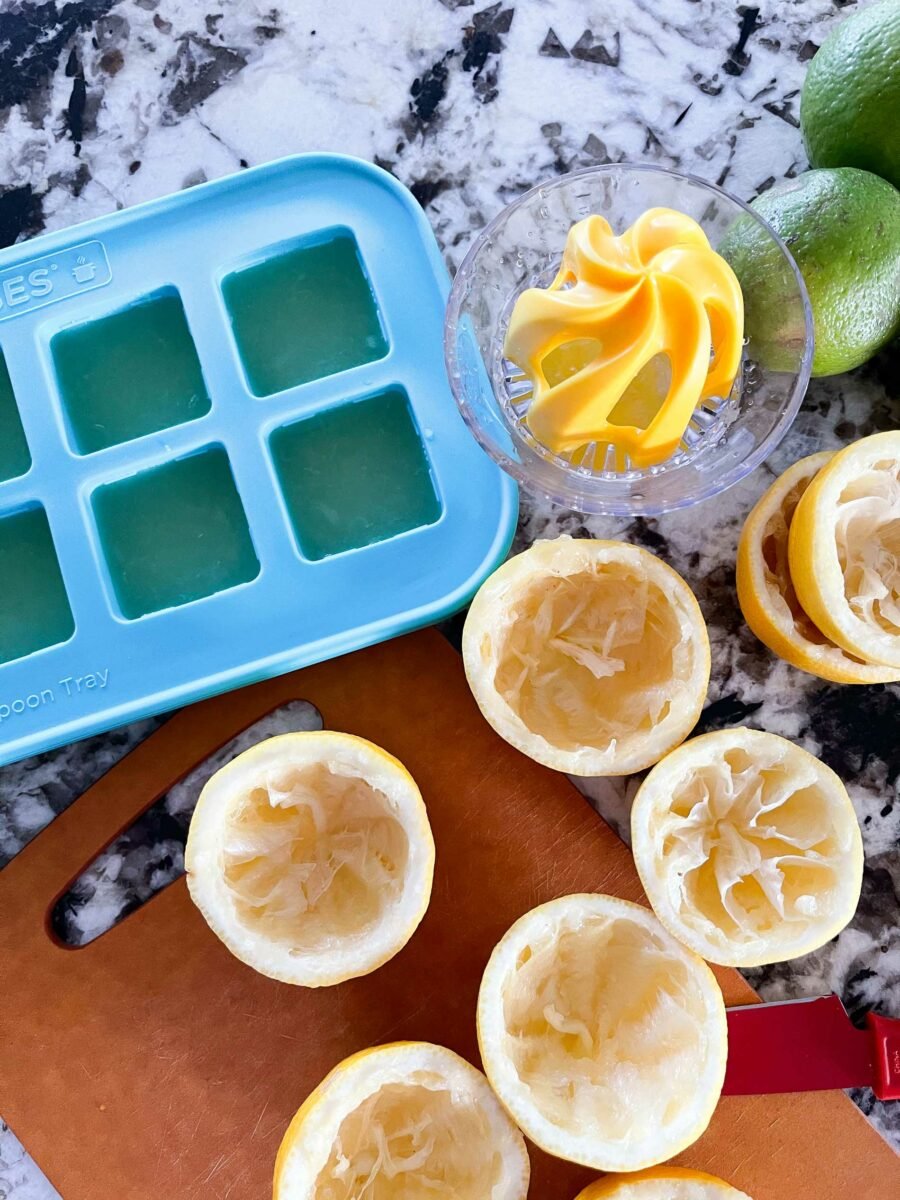 What kind of citrus juice can you freeze?
You can freeze any citrus juice! The most commonly frozen citrus is lemon or lime but you could definitely do an orange as well.
How do you freeze citrus?
Simply use a juicer and squeeze out the citrus juice, discarding the seeds, and putting them into a container to freeze.
What equipment is needed to freeze herbs and citrus?
You can use an ice cube tray but have you heard of Souper Cubes?
The link is an affiliate link which gives me a little kickback if you use the link to buy something, but this post is not sponsored. However, you know I can't hold out on a great product for you guys. It's an awesome gift to give a new homeowner, newlywed, etc.
I bought all my Souper Cubes myself. I have bought the cookie tray (for cookie dough!!), the 2 tablespoon tray, and also the 1 cup tray. They sent me the 1/2 cup tray because they saw my support for them and wanted to thank me.
Anyway, Souper Cube trays are silicone trays that have pre-measured cavities that allow you to put soups and stews into them to freeze (see above when I made my homemade chicken noodle soup). My favorite part about these trays is that everything pops out with ease. After pulling it out of the freezer, you let it sit on the counter for 5 minutes, and frozen food just pops right out.
I freeze my herbs and citrus in their 2 tablespoon trays. They're so convenient and since they're pre-measured out, you know exactly how much is going into your dish.
What do you do after they're frozen?
If you want to free up the trays to use for something else, I pop out the cubes and put them in storage bags. If you aren't planning to use the trays for something else, then you can just keep the herbs or citrus in the trays and pop them out to use as you go.
How do you use the frozen cubes?
Just drop them into the dish you're making on the stovetop and the heat melts them!
For the citrus juice, if you don't need all 2 tablespoons, I let those melt in a small prep bowl and then measure from there if I don't need all of it.