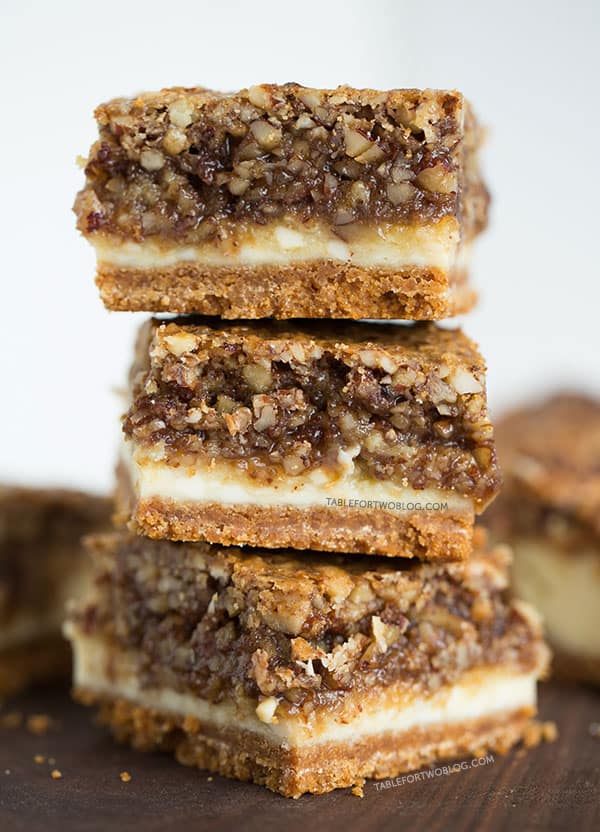 First, thank you for all the sweet comments about Table for Two's redesign! I seriously could not be happier with the way it turned out. It really was one of those "patience is a virtue" situations since it was supposed to launch in mid-January but due to unforeseen circumstances, I had to patiently wait!
I started reading Divergent. I had the trilogy on my Amazon wishlist for a while and I'm not a huge reader so I didn't want to buy them yet and was saving them for my 19-hour plane ride in April…..that is until I saw the trailer for Divergent and I knew I had to read the book before I went to see the movie, haha. I'm completely captivated in this book now. It reminds me a lot of Hunger Games but different. I really like how the story unfolds and it's a pretty easy read. Not much to think about ;) I wish I could find more books like this. I was entranced in Hunger Games and Harry Potter. I hope the Divergent trilogy will keep me interested until I'm done with the trilogy but what comes after that? What book(s) next? Any suggestions?
I have always wanted to be a reader and wanted to be like those people who's noses are stuck in their Kindles at the beach or pool, but from a young age, I loathed it. It was a struggle for me in class to ever retain any information; probably because a lot of the books they forced you to read were books that they made you read in between the lines and find out symbolism and all this crap. I just want to read a book, not dissect it! The questions that were like, "in line 29104 of Oedipus, what symbolic thing did he do and what were his reasons for it?" Yes, cause I can remember line 29104. I did, however, fall in love with The Bell Jar and The Great Gatsby. I flunked the Romeo + Juliet test in my AP English class (seriously, don't ask me why I even signed up for AP English – my worst subject). My teacher handed my test back to me and on it in big red marker said, "F – did you even read this?" hahahaha – what?! I thought it was like the movie so I didn't actually think I had to READ it. CLEARLY we all know movies + books are totally made the same.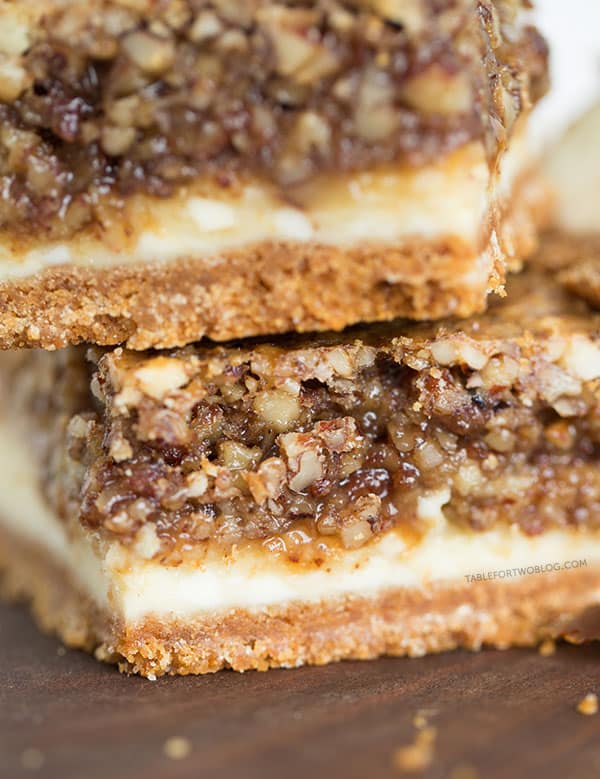 If you don't like nuts, you probably won't like these bars, but if you love cheesecake and nuts, you'll adore these! They're very rich and very dense and you can probably only have one at a time, but they're worth every bite! I brought these to my Pure Barre class one afternoon and everyone indulged in them after class. It was our reward! These bars got raving reviews so I hope you'll enjoy them as much as everyone else did! :)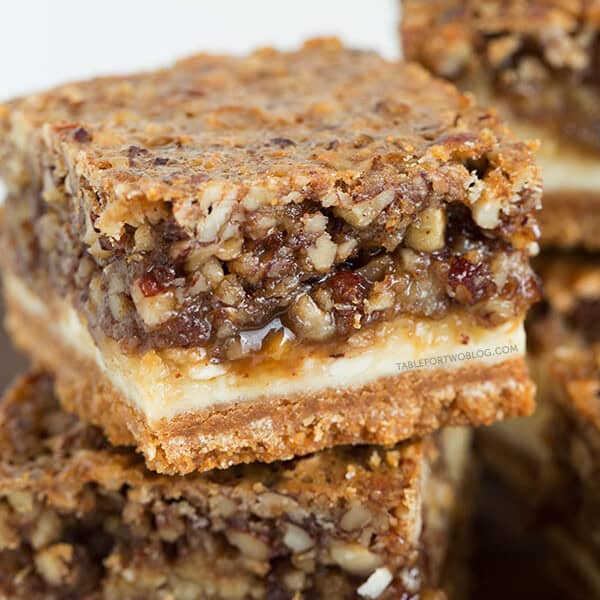 Print
Hazelnut Pecan Cheesecake Bars
Hazelnut pecan cheesecake bars is a decadent treat perfect for sharing!
Servings (adjustable, but please note that results, timing, and cookware may vary when adjusting servings):
1
9 x 13 inch pan
Ingredients
For the crust
1 1/2

cup

graham cracker crumbs

1/4

cup

granulated sugar

6

tbsp

unsalted butter,

melted
For the cheesecake filling
16

oz

cream cheese,

softened

3

eggs

2/3

cup

granulated sugar

1/2

cup

milk

1

tsp

vanilla extract

4

tbsp

all-purpose flour
For the topping
1

cup

chopped hazelnuts,

I used Diamond of California brand

1

cup

chopped pecans,

I used Diamond of California brand

1/2

cup

light corn syrup

4

tbsp

unsalted butter,

melted

3/4

cup

dark brown sugar

1

egg

Pinch of salt
Instructions
Preheat oven to 375 degrees Fahrenheit. Line a 9-by-13 inch pan with parchment paper with a 2-inch overhang on either side.

In a large bowl, combine graham cracker crumbs, sugar, and butter. Mix together until crumbs are moistened and when you grab a clump, it forms a shape - kind of like wet sand. Press the graham cracker crumbs into the bottom of the prepared pan. Bake for 10 minutes. Remove and set aside. Lower oven temperature to 350 degrees.

In the bowl of a stand mixer with the paddle attachment, beat together cream cheese, egg, sugar, milk, vanilla extract, and flour. Gently pour cheesecake batter on top of the graham cracker crust. Bake for 25-30 minutes until just set. Remove from oven but keep oven temperature. Let cheesecake cool for 20 minutes.

In the meantime, combine hazelnuts, pecans, corn syrup, butter, dark brown sugar, egg, and salt in a bowl. Stir together until everything is combined well.

Carefully spread the nut mixture on top of the slightly cooled cheesecake layer. The middle will likely fall in and cheesecake may ooze out around the nut filling, but it's ok, just gently keep spreading it across the entire pan!

Bake for another 25 minutes.

Remove from oven and let cool completely. Place in the refrigerator overnight to set and slice into squares before serving.
Notes
Servings Per Recipe: 18
Nutrition Facts
Hazelnut Pecan Cheesecake Bars
Amount Per Serving (1 bar)
Calories 325
Calories from Fat 144
% Daily Value*
Fat 16g25%
Carbohydrates 35g12%
Protein 3g6%
* Percent Daily Values are based on a 2000 calorie diet.
*Nutrition facts are an estimate and not guaranteed to be accurate.
There is an affiliate link in this post.
This is a sponsored post from Diamond of California. I was compensated for time but all opinions are 100% my own. Thank you for supporting brands that Table for Two loves. This helps us to continue to bring you unique and delicious recipes! There are affiliate links within this post.