I think I'm starting to accept the fact that the Washington D.C. area is probably not getting any snow this winter. It's mid-February and we've seen two dustings. We've had low temps (in the 10's) but no precipitation.
If this isn't global warming, I'm not sure what it is. It sucks! I wanted one large snow in our new home so Winston can romp around in the backyard, leash-free, for the first time.
If you know where to find snow (Chicago, I'm looking at you), please send it our way and fast! It's going to warm up soon and the chances of snow are just diminishing by the day!
So even though we haven't had snow, it has definitely been cold enough for all the soups and stews!
I broke out the Instant Pot to make one of my all-time favorite comfort stews: creamy mushroom and chicken wild rice stew.
It is hearty and has a great earthy flavor. I love thick stews in the cooler weather because it seems to stick to your ribs and warm you right up!
Of course, I've also made soups and stews in the warmer weather because some days, you just want a big bowl of creamy soup or stew! There is nothing wrong with that. No law out there that says you can't have hot soup in the warm weather; just like there is no law out there that says you can't have ice cream in the winter ;)
I believe all food is good for all seasons. No discrimination here!
I have to say that one of my favorite aspects of using a pressure cooker is that if you figure out the timing right, you can throw everything into the pressure cooker/Instant Pot at the same time and they're all ready to eat when it's all said and done.
I know it's tricky though to time it right. It's a lot of trial and error. I've had times where I have thrown everything in the pot and the vegetables came out suuuuper mushy haha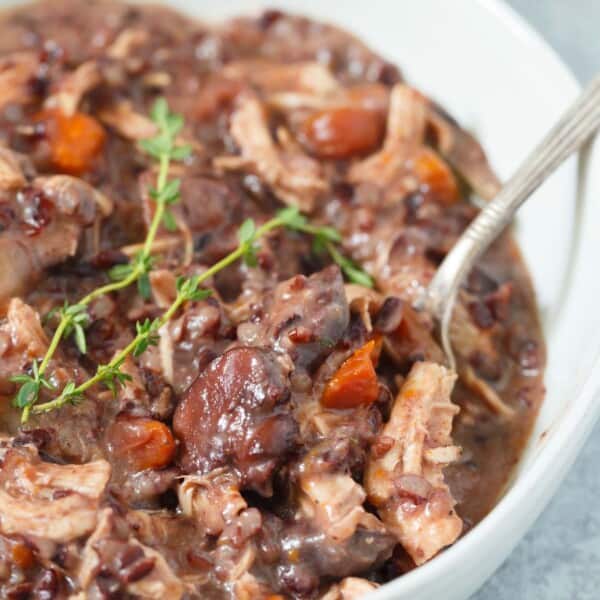 Instant Pot Creamy Mushroom and Chicken Wild Rice Stew
Throw everything into the Instant Pot and you have yourself a hearty and creamy mushroom and chicken wild rice stew to warm you up!
Ingredients
5

carrots,

roughly chopped

1

large onion,

diced

3

cloves

of garlic,

minced

1

cup

uncooked wild rice

10

ounces

fresh mushrooms,

sliced

5

cups

vegetable or chicken broth

2-3

fresh thyme stalks

1

pound

boneless,

skinless chicken breasts

Salt and pepper,

to taste
Instructions
Place all the ingredients into the pressure cooker then close the lid. Make sure the valve is set to sealing.

On the front of your Instant Pot, press Manual then if it's not on high pressure, switch it to high pressure. Then tick up the time to 45 minutes.

Once it is done cooking, you'll want to let it naturally release pressure. If you are really pressed for time, you can manually release too by flipping the valve to open it.

Remove the chicken from the pressure cooker and shred it on a cutting board. Place the chicken back into the pressure cooker then stir all together to combine.

Divide evenly into bowls and serve! It would be great served with some crusty bread!