Whoever said pumpkin has to be in sweet recipes lied to you because I'm about to change that perception this year. I have at least four more recipes that are SAVORY pumpkin recipes coming at ya this season and I'm starting today off with this pumpkin eggplant casserole with burrata. Yes, yes, yes!
It's true, you can do it. Pumpkin in savory recipes creates this amazing creamy texture and naturally sweetens it up a bit. Plus, #allthepumpkin, right?
I'm the biggest hypocrite ever because the past two years I have vowed to not post any pumpkin recipes until October buttttttt given that it's almost the end of September and the weather is getting a bit cooler..all I'm feeling is Fall, Fall, Fall. Annnd I feel like you guys are all ready for some pumpkin! Even if you aren't, I'm sure this casserole will make you scream, YES!
Okay, so I have been making eggplant parmesan this way since, oh geez, like four, five years ago? I shared with you the steps on how to make the best eggplant parmesan ever and so many of you who have made it have agreed with me. Therefore, I highly encourage you to do the same with this. I quickly snapped some photos of this process. Super easy. You literally just slice the eggplant into 1/2-inch slices then salt both sides and put it on a wire rack on top of a baking sheet. You're essentially 'sweating' out the extra eggplant liquid. Eggplant is super high in liquid and I do this extra step to ensure I don't have runny casseroles and to help crisp up the breading process.
This below photo was taken just 25 minutes after I sprinkled the eggplant slice with salt. LOOK AT ALL THAT WATER! I simply blot it off with a paper towel and even more water comes out another 20 minutes later. It's insane! I think if I let it, it would drain itself LOL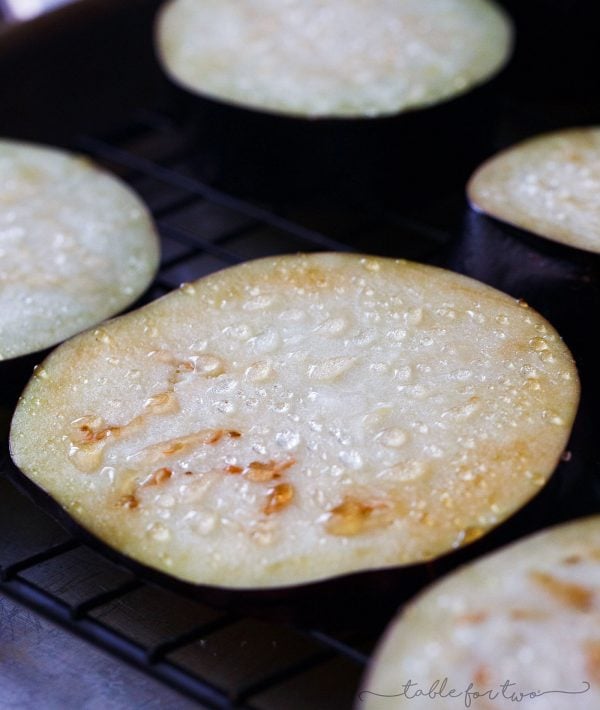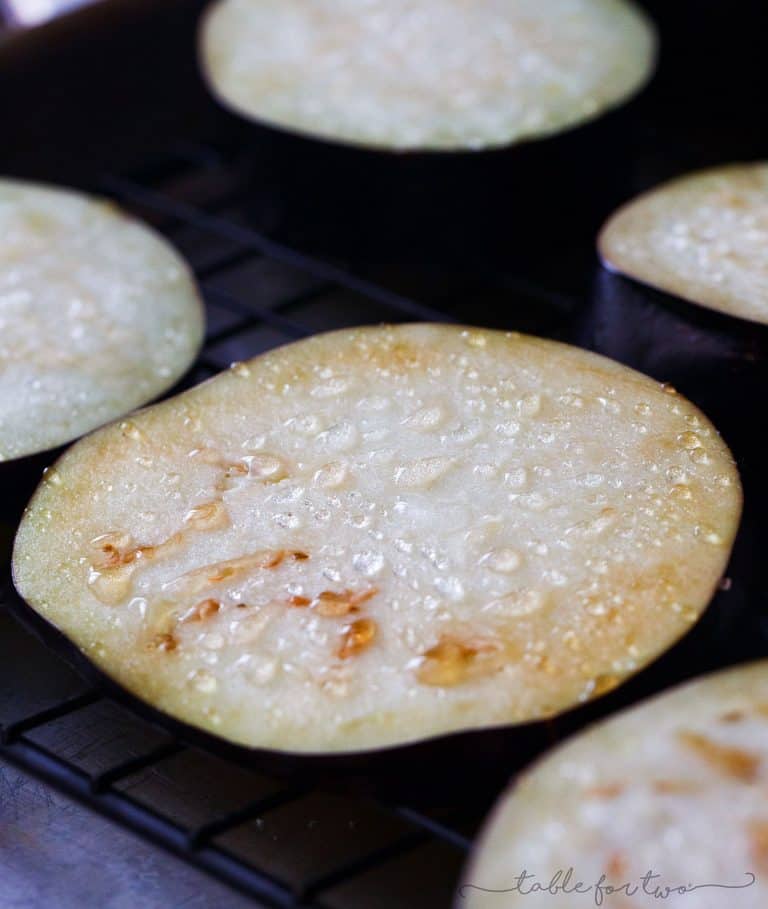 This is your new Fall casserole. Hands down the best way to ring in Fall this week is to make this pumpkin eggplant casserole with burrata!
Oh! Do you guys think it's a marketing gimmick to say that there's a pumpkin shortage…every year? I swear they say that every year but every year I've had no issue finding pumpkin. HOWEVER..this past weekend at my local grocery store, I bought the last two cans of pumpkin puree. I kind of freaked out and went to customer service and made them tell me it isn't so.
They said there was more shipment coming in on Tuesday.
Phew.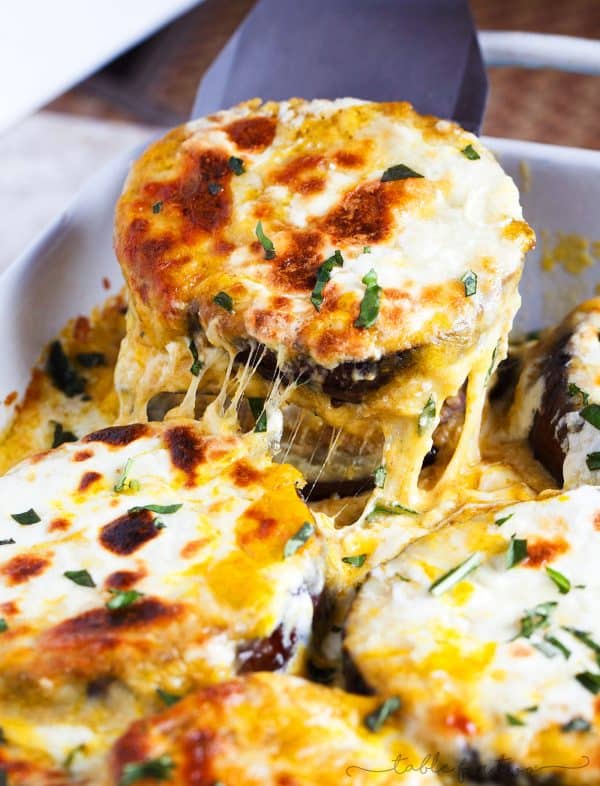 Yaaassss! So let's talk about this casserole. Its got an incredibly creamy flavor and texture. The gooey burrata cheese on top is everything. Seriously, there isn't anything about this casserole that you won't love. It's totally worth the extra time it takes!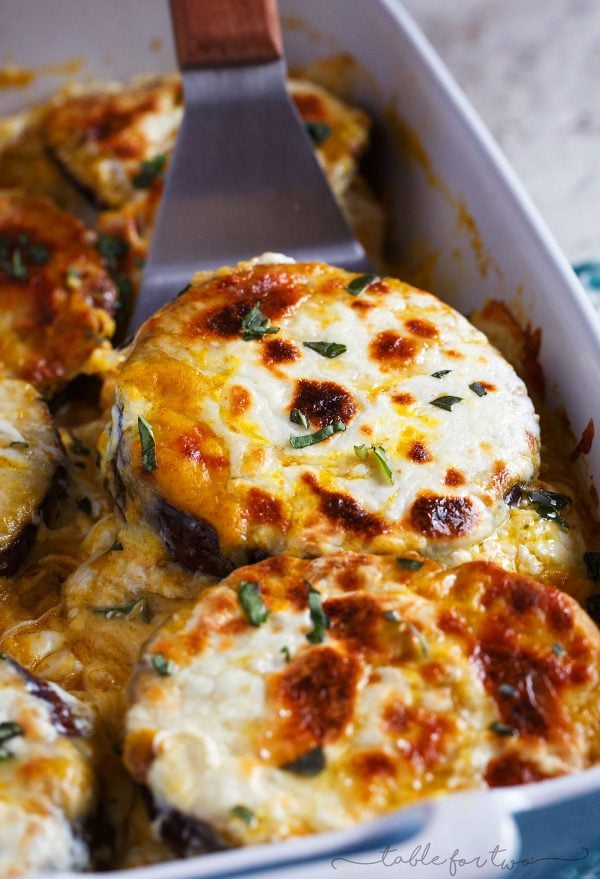 Go stock up on all the pumpkin puree and make yourself this pumpkin eggplant casserole with burrata!
Pumpkin Eggplant Casserole with Burrata
A spin on the classic eggplant parmesan. This pumpkin version is elevated in flavor and the perfect Fall casserole!

Ingredients
1

large eggplant,

sliced into 1/4-inch thick slices

2

tablespoons

kosher salt

1 1/2

cup

unseasoned breadcrumbs

3

eggs

1/2

cup

milk

4

tablespoons

olive oil,

for lightly pan-frying

1/2

cup

pumpkin puree

4

ounces

mascarpone cheese

1/4

teaspoon

ground nutmeg

8

ounces

burrata cheese

Handful of fresh basil leaves,

chopped, for garnish (optional)
Instructions
Salt both sides of your eggplant slices and place them on a wire rack over a baking sheet. Let the liquid drain for 45 minutes to 1 hour.

When your eggplant slices have finished draining liquid, brush off the excess salt, as you don't want it to be too salty and dab the liquid off with a paper towel.

In 2 shallow plates or containers, add breadcrumbs to one and whisk eggs and milk in the other. Dip both sides of eggplant slice into milk/egg mixture then cover with breadcrumbs, shaking off the excess. Place on plate or the large baking sheet and repeat until all eggplant slices have been coated.

Preheat oven to 375 degrees.

Heat a skillet over medium high heat and add 1 tablespoon of olive oil into the skillet. Once the skillet is hot, add two eggplant slices at a time to the skillet and cook on both sides until golden brown, remove and set on a large plate lined with paper towels. Repeat with 1 tablespoon of olive oil for every 2-3 eggplant slices.

While the eggplant is frying, in a small saucepan over medium heat, whisk together pumpkin puree, mascarpone cheese, and ground nutmeg. Heat through until cheese has melted. Remove from heat and set aside.

In a

large oven-safe 9x13-inch casserole dish

, add a little bit of the pumpkin mascarpone sauce to the bottom of the casserole dish. Add a layer of eggplant slices (I was only able to fit about 3 a layer) then using a 1/4 cup, dollop more pumpkin sauce on top of the eggplant slices. The idea isn't to smother the layers with sauce. On top of the eggplant slices, add a piece of burrata cheese, it doesn't need to be perfect. Repeat the layers until you run out of eggplants slices. Top the casserole with additional burrata cheese before you place in the oven.

Bake for 20-25 minutes, or until the cheese is bubbly and brown on top. I used the broiler for 5 minutes to get the cheese nice and brown - you don't have to, but if you do, watch it carefully!

Serve hot and top with chopped basil, if using.
There is an affiliate link in this post.