Today, we are talking all about MEAL PREP!
Mealtime doesn't have to be chaotic.
If you've got a plan, if you have things prepped…it makes life a lot easier!
Why is meal prepping so important?
It makes making meals faster. Truly!
I timed this myself one week because I didn't think it would actually speed up the time I got my meal to the table but it sure does.
For example, breakfast (you know I love big breakfasts) used to take me 40 minutes to make because I had to wash, dry, and chop up all my veggies. Now, it takes me 25 minutes to make because I just grab the containers of pre-washed and pre-chopped veggies and start at the stove. The time saving is significant!!
When you set aside one day and a couple hours to prep as much as you can for the week, you won't be spending time during the week to do all the prep work prior to actually getting to cook.
It makes cooking after a long day go SO much faster because you aren't tacking on that prep time. You're essentially hopping right to stove!
Dinner on the table faster? Sign me up.
For example, mushrooms! They can be relatively time-consuming to prep to cook. You have to gently wipe them individually with a paper towel then slice them thinly.
During your prep day, you can do all that, store it in a glass container, then all you have to do the day you're slated to use mushrooms is to grab it from the fridge and throw it in the skillet!
Veggies won't go bad after you wash and slice them. Just make sure you dry them well and store in a tight container. I typically like to put a sheet of paper towel on top of the container to ensure extra moisture is captured.
I typically like to prep most my ingredients I'll be using during the week. This means washing and chopping the veggies and protein.
It does take some time to truly get into the groove but once you start doing it and realizing how much faster it can be, you won't go back.
I do this every grocery day. I shop for all my ingredients on Saturday morning.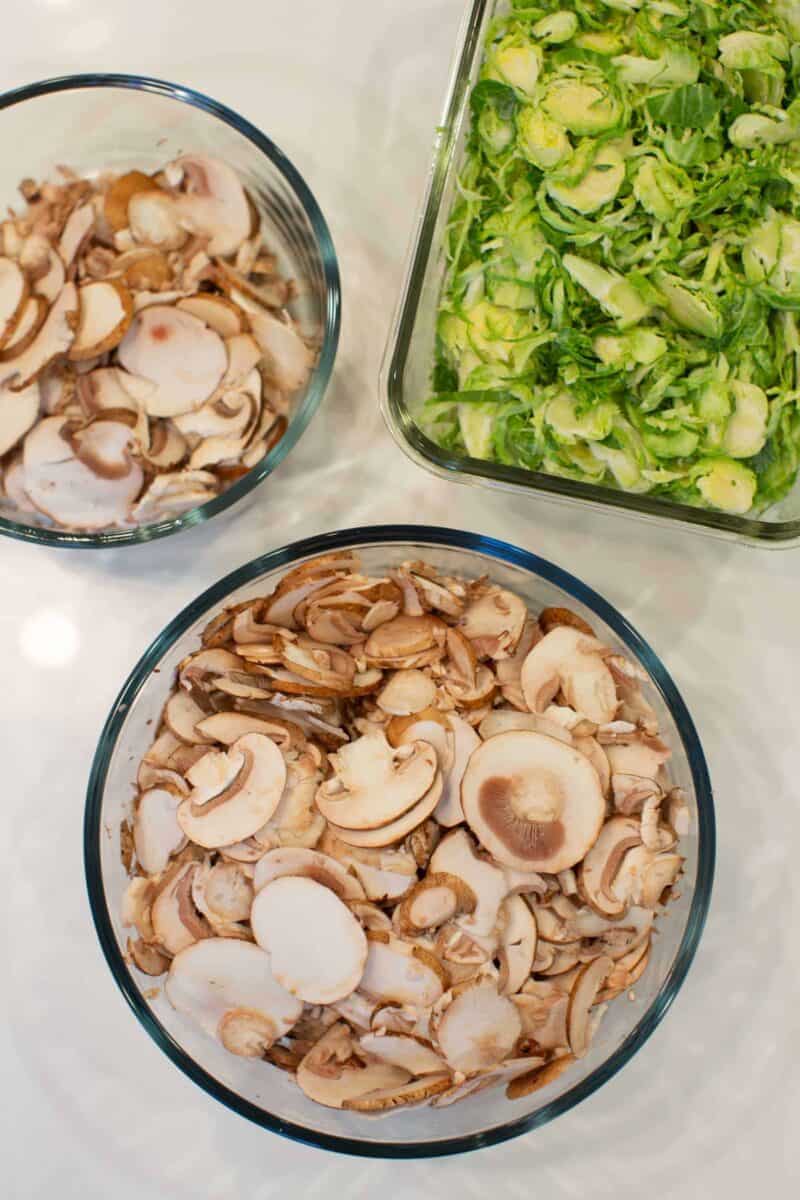 I come home and unpack everything then I whip out my food processor and glass containers and start washing and chopping.
It honestly only takes me about an hour to do it all.
Of course, there will be some things you can't prep ahead of time (like measuring out chicken stock or opening a can of beans) but that's okay! The idea is to do as much as you can.
Tip for greens: as soon as I get these home, I put a paper towel on top then turn the entire container upside down and put it in the fridge. This helps keep greens two times longer because the moisture is captured on the paper towel and not mushing up your greens.
Change your paper towel every few days to keep it all nice and fresh!
Woohoo! So that's a quick(ish) run down on meal prepping.
Hope that was helpful and motivating!