When I go to The Container Store, I just want to say, "take all my money." It's seriously Target's evil twin sister. Every time I walk in either of these stores, I just want to buy all the things, but The Container Store brings out this OCD need in me and makes me feel like my house is completely filthy because it's not contained and organized into containers and racks. Oh, and their custom closets? Gahhhh. If I won the lottery, I'd probably hire someone from The Container Store to custom redo my closets and re-organize my house.
I wanted all these baskets and containers but I was like, ok, in reality, where would these go in our house and do we realllly need these? The Container Store is a dangerous place to be sometimes!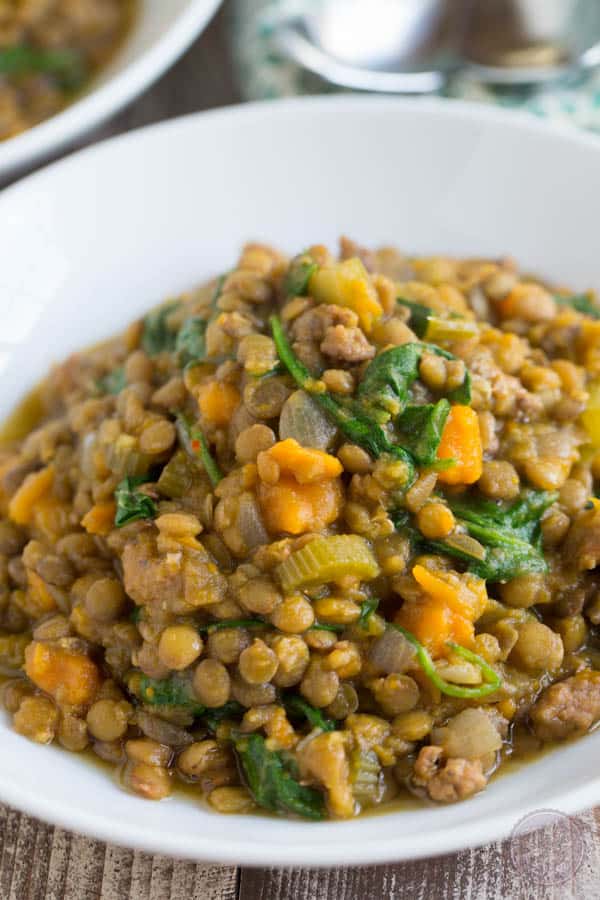 One of my good friends gave me this recipe and she called it the 'panty/boxer dropper' and I wasn't about to title the recipe that and get flagged for having an adult website, haha. I thought I'd mention it though because while this doesn't look like much, it has got SO MUCH FLAVOR and it'll be one of the best things you eat this season. I honestly was skeptical because the ingredient list didn't sound all that enticing and after I had it cooking for a couple hours, the smell was outrageous. I tried a spoonful and I think my eyes rolled to the back of my head and I let out a groan. It was the best effing slow cooker dish I've had in a while. Holy yum.
The spicy pork sausage is definitely what gives this dish a lot of flavor so I definitely wouldn't omit that (sorry vegetarians!). This is even better the next day, too. Leftovers were something we were looking forward to. Ahh, you have to make this slow cooker lentil and spicy sausage stew to see what I'm talking about!!
Slow Cooker Lentil and Spicy Sausage Stew
The most flavorful stews you'll have this season - all made in the slow cooker!
Servings are adjustable but please note that results, timing, and cookware may vary when adjusting servings.
Ingredients
1/2

pound

hot pork sausage

1

onion,

chopped

3

cups

sweet potatoes,

cubed

3

celery stalks,

chopped

1/2

pound

bag of lentils,

rinsed

3 3/4

cups

chicken stock + more if needed

3

cups

loosely packed baby spinach leaves

1

teaspoon

Kosher salt

1/4

teaspoon

ground black pepper
Instructions
Add pork sausage to a skillet over medium-high heat. Brown the sausage and break it up into pieces with your spatula or wooden spoon. Add the onion and cook until just softened (you don't need to cook fully).

Remove from heat add to your slow cooker.

Add the sweet potatoes, celery, lentils, and chicken stock to the slow cooker. Stir to mix.

Cook on high for 3-4 hours.

Stir in the spinach leaves and wilt them. Season with salt and pepper.

If your stew is thick and you want to thin it out, add a little more chicken stock to it until you get the desired consistency.

Store leftovers in an airtight container in the fridge for up to 1 week.
Notes
Nutrition Facts
Slow Cooker Lentil and Spicy Sausage Stew
Amount Per Serving (1 Serving)
Calories 285
Calories from Fat 135
% Daily Value*
Fat 15g23%
Carbohydrates 24g8%
Protein 12g24%
* Percent Daily Values are based on a 2000 calorie diet.
*Nutrition facts are an estimate and not guaranteed to be accurate.