After working hard on that Thanksgiving meal, why not make your life easy with leftovers? Throw that leftover turkey into the crockpot to make this slow cooker white turkey chili!
My blogger bff Rachel visited me this past weekend and we had a packed weekend with lots of eating, cooking, shopping, DC touristy-fun, and of course, Catching Fire watching! We ate our weight in cupcakes, too, on top of everything else. We bought half a dozen from Georgetown Cupcake one evening and tried all 6 flavors we bought and then the next day, we went to another cupcake bakery and bought four more other flavors to "compare." Hey, it's research ;)
Rachel has a great recap of our weekend and she linked up to all the Instagram photos she took of our adventures. You should go check it out (and she has a slow cooker recipe for turkey leftovers today too!).
Has anyone seen Catching Fire yet? What did you think about it? At first, I thought it was too long and it was dragging on, but then it got really good and I got more into it. I had forgotten some tidbits of the book and when it was played out on screen, it all came back to me. I was pleased with how they portrayed everything in the movie – I always have a picture in my head when I read books of how scenes are and when you finally see it in a movie, you can really see how someone else (the director) interpreted it. It's so neat :)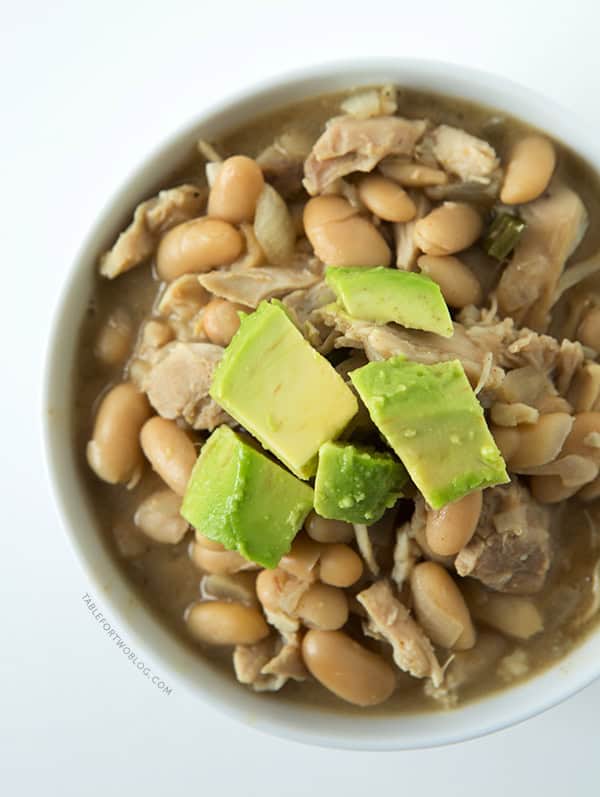 So truth be told, usually by the end of Thanksgiving day, I get really sick of turkey because we're constantly picking at it throughout the night and I don't know, turkey just isn't my favorite type of meat (I love ground turkey though, lol).
Anyway, so you're probably wondering what to do with your leftover turkey. I'm here to help! Make some slow cooker white turkey chili :) you can do this with chicken thighs, too, for those other months that you don't have a lifetime supply of turkey, but since you'll have so much leftover turkey from Thanksgiving, you should throw some in a slow cooker and have a hearty, flavorful, and different meal! I loved how hearty this was and the depth of flavors in this! Definitely a nice break from all the Thanksgiving leftovers :)
Slow Cooker White Turkey Chili
After working hard on that Thanksgiving meal, why not make your life easy with leftovers? Throw that leftover turkey into the crockpot to make this slow cooker white turkey chili!
Servings are adjustable but please note that results, timing, and cookware may vary when adjusting servings.
Ingredients
3

cups

low sodium turkey stock

1: 15

oz

can white or yellow hominy,

drained and rinsed

2

tbsp

vegetable oil

1

cup

onions,

chopped

4

jalapeños,

stemmed, seeded and minced

6

cloves

garlic,

minced

4

tsp

ground cumin

2

tsp

ground coriander

3: 15

oz

cans cannellini beans

drained and rinsed

2

pounds

leftover turkey meat,

shredded

1

tsp

salt

1

tsp

pepper

2

avocados,

pitted and cut into 1/2-inch pieces
Instructions
In a large skillet, turn heat on to medium high and add vegetable oil to the skillet. Sauté onions, jalapeños, garlic, cumin, and coriander until soft and tender. Stir in remaining 1 cup of turkey stock, scraping the bottom of the skillet for any browned pieces left behind. Carefully pour into crockpot.

Add the cannellini beans, turkey meat, salt, and pepper. Carefully stir together with a spatula to make sure everything is evenly distributed.

Cover and cook on low for 4 hours or high for 2 hours.

Serve with avocado pieces on top and garnish with cilantro (optional).
Notes
If making this with chicken, you'll want 3 pounds of whole chicken thighs and you'll want to use 3 cups of low sodium chicken stock or broth. At step 3, you'll nestle the chicken thighs in the crockpot and remove the chicken thighs to shred after 4 hours (if cooking on low) or 2 hours (if cooking on high). Add the shredded chicken thighs back into the crockpot and stir to incorporate.
Nutrition Facts
Slow Cooker White Turkey Chili
Amount Per Serving (1 Serving)
Calories 530
Calories from Fat 108
% Daily Value*
Fat 12g18%
Carbohydrates 55g18%
Protein 51g102%
* Percent Daily Values are based on a 2000 calorie diet.
*Nutrition facts are an estimate and not guaranteed to be accurate.
There are affiliate links in this post.