Sugar cookie candy cane blossoms are the epitome of the holidays! They have a slight peppermint flavor from the candy cane kisses. These adaptations from the traditional blossom kiss cookies are always at cookie swaps and for a very good reason – they're easy to make and a treat to eat!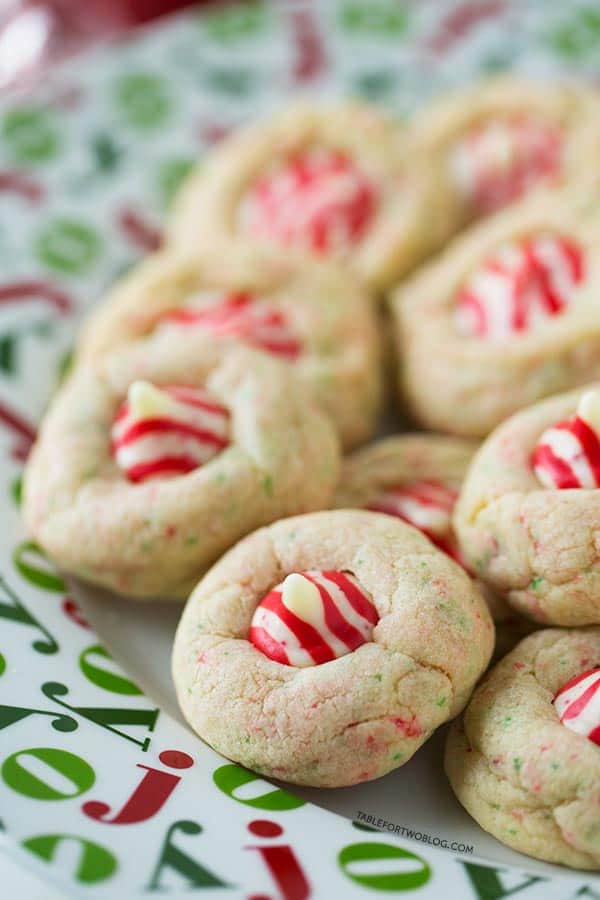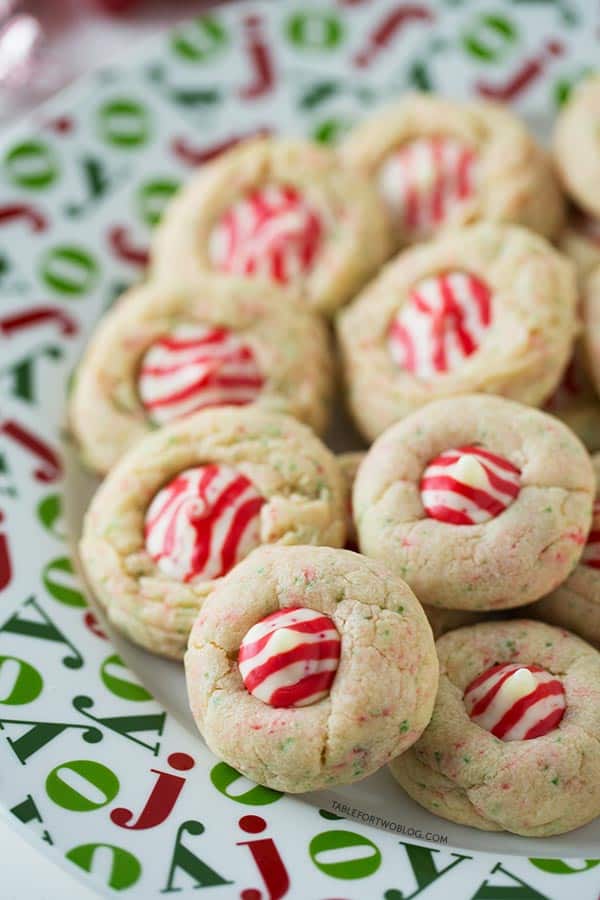 It's only the second week of December and I'm already sick of the snow and ice. It's going to be a long winter for me :)
Yesterday, we were snowed in. On Sunday into Monday morning, we got an ice storm that came through and last night, another front came through and dumped a bunch of snow on us! The federal government closed yesterday and Jason and I were home all day. I think I was going a little stir crazy. It was a nice break to actually leave the house yesterday evening and go to Pure Barre class. Luckily, the snow stopped around 2pm so everything's pretty much melted by now and the main roads are all clear. Back to work today! My office decorating is going really well. Would anyone like a post on how to decorate a corporate office? I'm actually really excited about it so not gonna lie, I kind of want to share a post on it. Is that weird?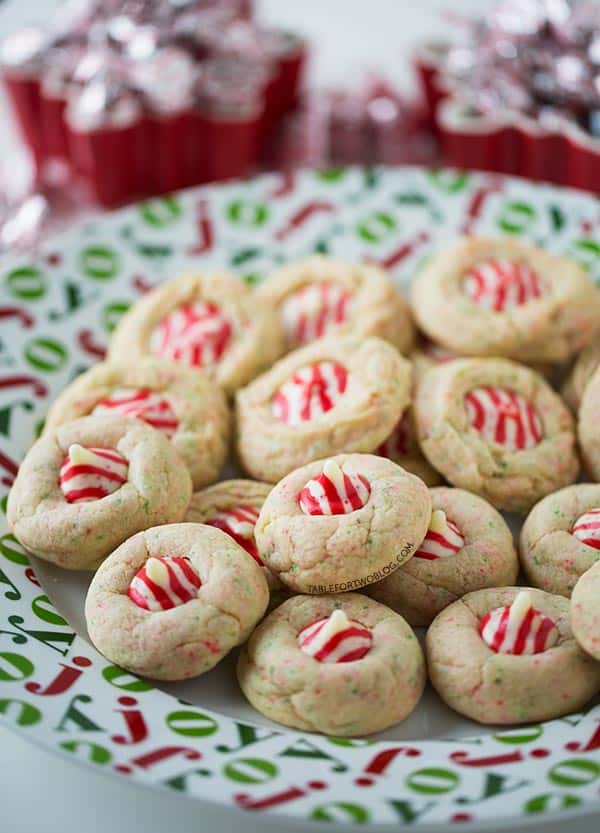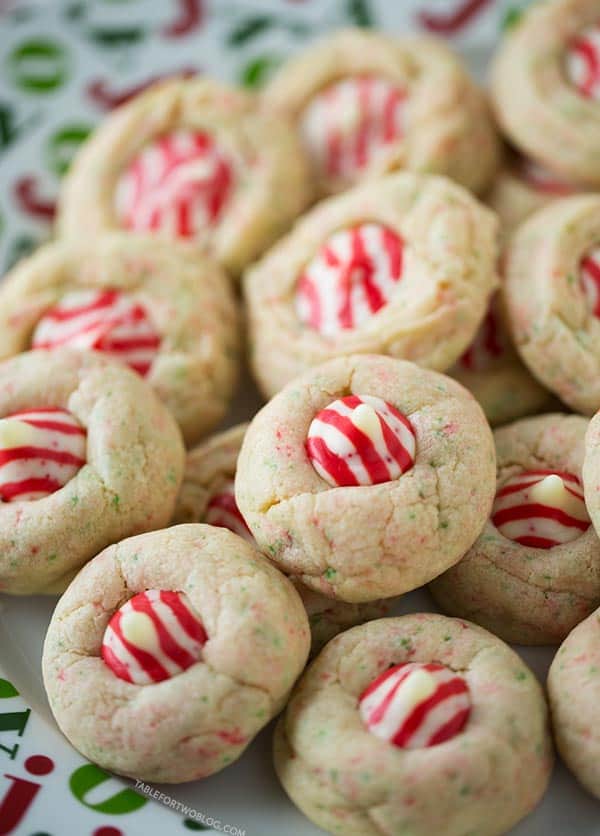 You all have probably seen a variety of these cookies all over the web recently and mine's just another of those varieties. I've never made these blossom kiss cookies before and I was thinking up some holiday cookie ideas that I could share with you all before December ended and I came up with these. What spurred my inspiration for these was a few weeks ago, I was visiting my good friend who recently had the sweetest baby girl. She had an entire candy dish on their table filled with these candy cane kisses. I had never seen or had these before that day. I didn't even know they had candy cane pieces in them!! I was sooo hooked after that visit. I probably had more than 10 in one sitting. I drove to Target right after and bought two family-size bags. Haha
My other good friend mentioned how she usually makes these for Christmas and uses a sugar cookie base instead of the traditional peanut butter cookie base. Love it. I incorporated some red and green crystal sprinkles in. The sugar cookies are surprisingly really chewy and soft so that was a nice surprise. I was SO worried the kisses would melt. They do a bit, BUT if you don't touch them or press them down, they hold their shape. I wanted to have some fun and flood some of the cookie centers with the candy cane kisses so on a handful of them, you can see in the photos that I pressed the kisses down so they'd completely melt throughout the thumbprint area.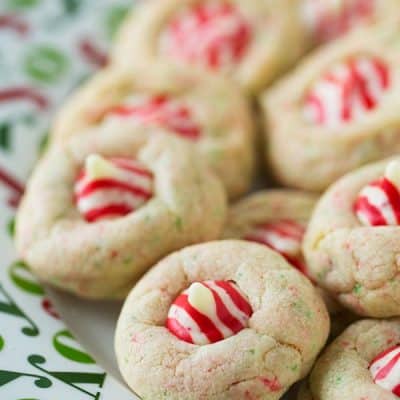 Save recipe
Saved!
Print recipe
Sugar Cookie Candy Cane Blossoms
Sugar cookie candy cane blossoms are the epitome of the holidays! These adaptations from the traditional blossom kiss cookies are always a hit!

Servings are adjustable but please note that results, timing, and cookware may vary when adjusting servings.
Ingredients
1/2

cup

unsalted butter,

softened

1

cup

granulated sugar

1

egg

1 1/2

tsp

vanilla extract

2

cups

all-purpose flour

1/4

tsp

baking soda

1/4

tsp

salt

2

tbsp

milk

1

tsp

red sugar crystals

1

tsp

green sugar crystals

24

Hershey's Candy Cane Kisses,

unwrapped
Instructions
Preheat oven to 350 degrees Fahrenheit and line baking sheets with parchment paper or silicone baking mats.

In the bowl of a stand mixer (or a large bowl with a hand mixer), cream together butter and sugar until light and fluffy. Add the egg and vanilla extract and beat until incorporated.

In a medium bowl, whisk together flour, baking soda, and salt.

Add flour mixture, alternately, with milk, to the butter mixture and mix until fully incorporated. Finally, add the sugar crystals to the dough.

Using a medium cookie scoop (or 1 1/2 tbsp of dough), place cookie dough on baking sheets.

Bake cookies for 12-13 minutes, or until edges are turning slightly brown and crisp. Remove from oven and immediately after 2 minutes, press Hershey Kiss into the center of the dough. Do NOT touch it anymore at this point.

After 5 minutes, gently transfer the cookies to a wire cooling rack to cool completely.

Store in an airtight container for up to 5 days.
Notes
Adapted from Hershey's
Nutrition Facts
Sugar Cookie Candy Cane Blossoms
Amount Per Serving (2 Cookies)
Calories 260
Calories from Fat 108
% Daily Value*
Fat 12g18%
Carbohydrates 38g13%
Protein 4g8%
* Percent Daily Values are based on a 2000 calorie diet.
*Nutrition facts are an estimate and note guaranteed to be accurate.
There are affiliate links within this post.