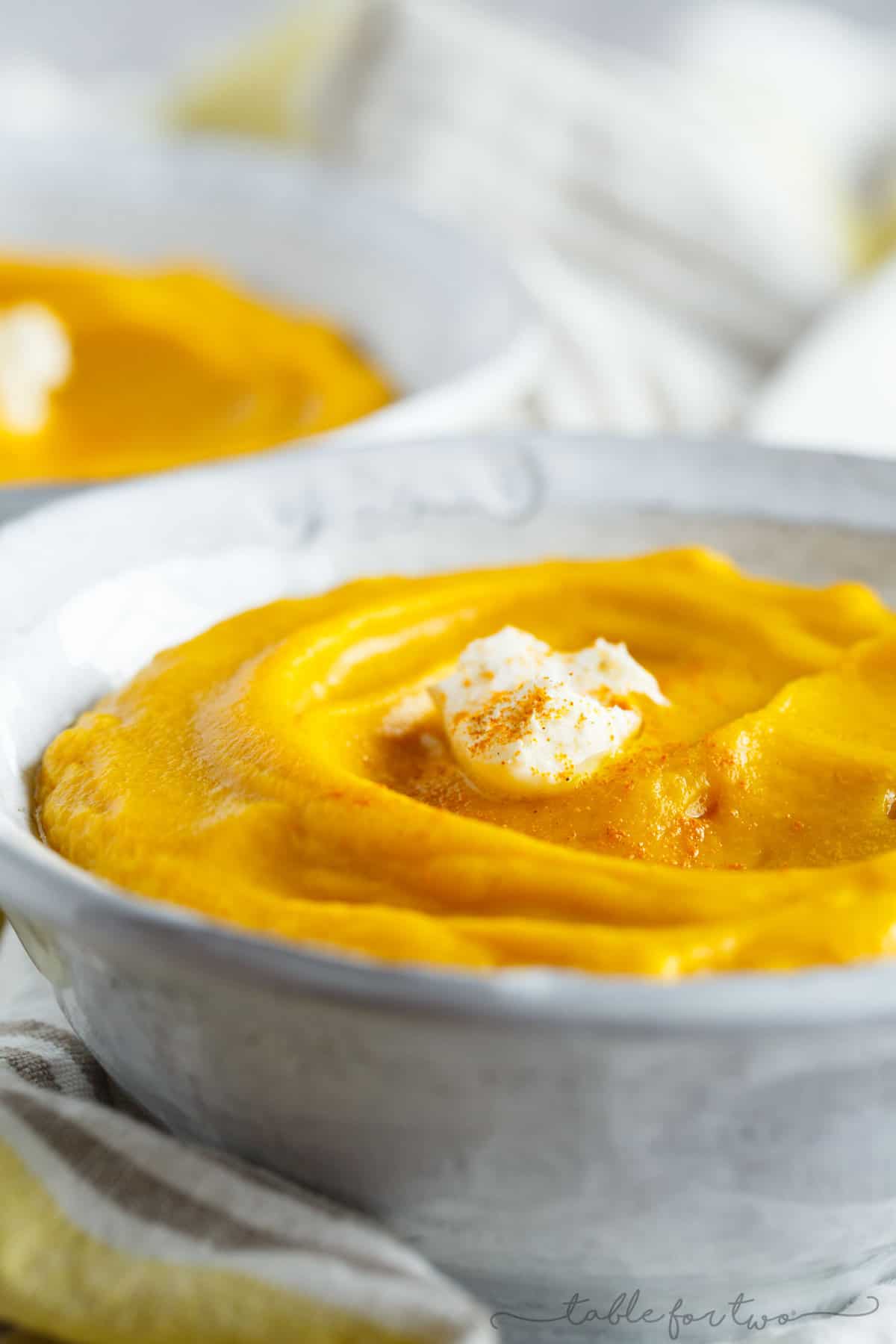 Happy first day of March!
We have a new favorite show: The Great British Baking Show. Have you seen it?! It is unlike any other competition show we've ever seen. The competition shows on Food Network are so cheesy and overly dramatic that it makes it really silly to watch. However, The Great British Baking Show is refreshing. It's not dramatic, it's straight-forward, and the competitions that these amateur bakers go through are seriously TOUGH. I don't know how they do it but Jason and I are so hooked on this show that we find ourselves gasping, covering our eyes, and cheering when the bakers we are rooting for succeed. There are three seasons on Netflix and I hope there are more soon! We've binged on it and are already through the second season.
This sweet potato, parsnip, ginger and turmeric soup was the runner up in the Instagram stories I had on Sunday night. Even though it feels like Spring already in the DC area, there's always room for soup on the dinner menu!
Turmeric is HOT right now; in the sense of a food trend..not like hot as in heat. Turmeric has been used in cooking for years but more recently has really stolen the spotlight because of all the health benefits. I have a whole list of the health benefits in my You Glow Girl Drink post. Which, by the way, if you haven't made that drink yet, you totally should! It's a good-for-your-gut drink!
Aside from the gorgeous color, this soup has got great flavor! I roasted the sweet potatoes and parsnips then threw them in the blender along with ginger and ground turmeric and gave the blender a whirl. Smooth as silk!
Don't you just want to dive on in?!
Sweet Potato, Parsnip, Ginger and Turmeric Soup
Smooth, rich, and creamy describes this sweet potato, parsnip, ginger and turmeric soup!
Servings are adjustable but please note that results, timing, and cookware may vary when adjusting servings.
Ingredients
1

large sweet potato, cut into 2-inch cubes

3

parsnips, peeled and cut in half

Olive oil

Kosher salt

Ground black pepper

1/2

cup vegetable stock

1/2

teaspoon

ground ginger

1

teaspoon

ground turmeric
Instructions
Preheat oven to 400 degrees Fahrenheit and place sweet potato and parsnips on baking sheet. Drizzle olive oil generously over the vegetables and season with salt and ground black pepper. Toss to coat. Roast for 25-30 minutes, or until softened.

Once cooked, let cool for 15 minutes then add to the blender along with vegetable stock, ground ginger, and ground turmeric.

Carefully cover the blender with the lid then blend until smooth and creamy.

Add a dollop of mascarpone cheese on top, if desired.