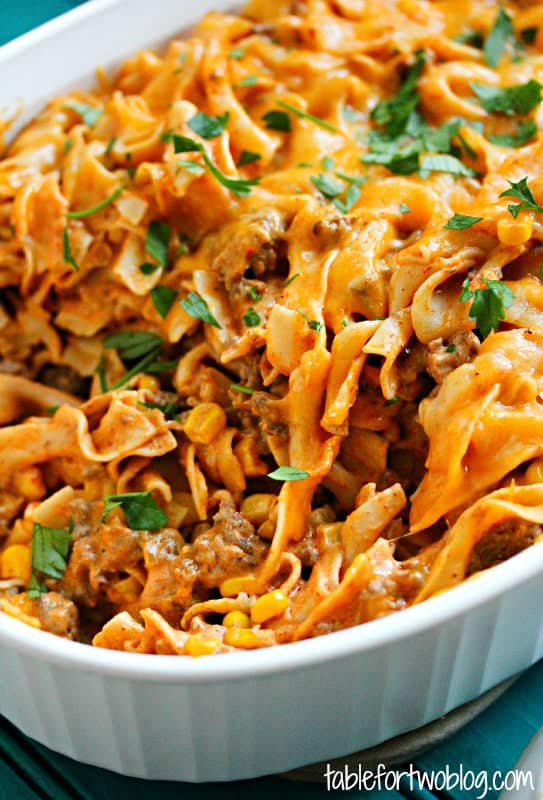 Let's talk about this picture for a second. Is it tripping you out like it's tripping me out? Do you see that green piece of parsley just chilling out in the bottom middle of your screen hanging on that pasta? Doesn't it look like it's totally superimposed in there and as if I just photoshopped it in? I swear I didn't. It's just the way it's sitting. And I totally thought something was wrong with my screen and I kept scratching at my screen being like 'GET OFF.' Haha, I'm going crazy. But do you see what I see?!

Okay, enough of my craziness, let's talk about this pasta. So good. It's like a deconstructed enchilada in a casserole. I love Mexican food and could eat it every day so having a bunch of leftovers was pure delight in our case. I believe we had two days of leftovers too. So yeah, if you're looking for a large meal and leftovers, this is it my friends!

Last night I went to Target and bought 3 pairs of colored skinny jeans. I probably won't be able to fit in said skinny jeans after I eat 4 more bowls of this pasta and after my Seattle/PDX trip – oops. Okay so. Target. Let's talk about how they have WHACK sizes. Like, I'm usually a size 4/5, 26/27, depending on how the sizing chart works and at Target I had to buy a size 11. I don't get how it can differentiate so much. I mean, unless they're designing a size 4 to be on a toddler's body, then okay, but they clearly weren't. Maybe they should get their sizing chart revamped. Just sayin'.
You'll probably need to revamp your sizing chart after making this pasta. JUST KIDDING. Or am I? I don't know, you tell me after you make this ;)