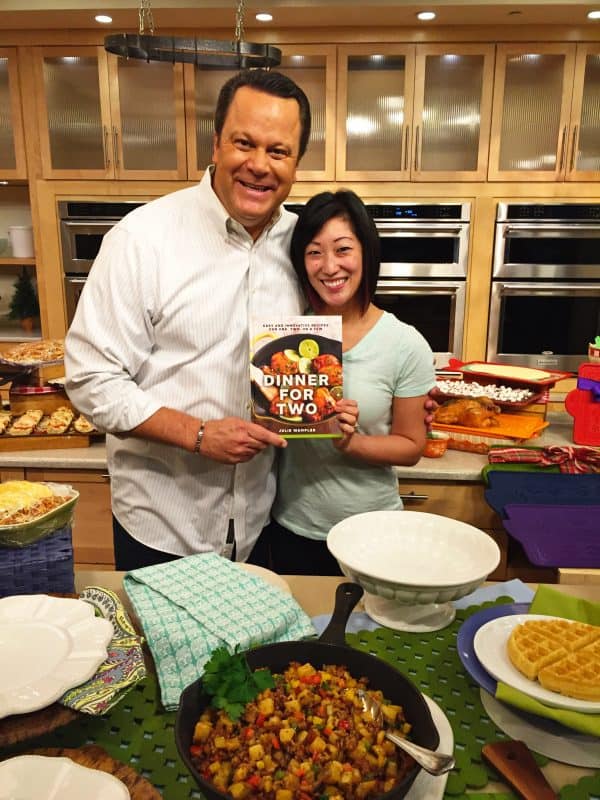 I still can't believe Wednesday happened (oh yes, I happy danced with David!!). It was such an incredible and unforgettable moment and I want to share with you all the experience!
I literally have been watching QVC since I was in high school. My mom and I would have QVC nights and we would be talked into buying so many things. We have watched David for many years, too, and watched how he pioneered the whole foodie scene at QVC. Who knew that years later, I would be standing NEXT to him selling my cookbook?! If you told me that when I was 15 years old, I would've said, "yeah, right!"
Last Thursday, I went up to QVC for training. It was actually a certification class and they told me you had to pass the class in order to appear on air. No pressure, right? I wish they didn't tell me that because it made me extremely nervous the entire day. I'm usually pretty comfortable in front of the camera (ok, well, snapchat) but knowing that I would have to pass in order to make it on air? That was nerve-wracking! There was one point during the training class that I could've sworn I failed. I literally just stopped talking on camera. It was the moment where your brain blanks and nothing is coming out of your mouth even though you desperately want something to. All I remember is staring into the camera and trying to get something to come out of my mouth. My brain kept saying, "Julie, you seriously need to start talking, anything, just say anything!!" but my mouth and voice box decided to mute itself. It was pretty embarrassing but I obviously ended up passing because you saw me on air less than a week later!
Wednesday was a complete whirlwind. I worked a half day at my full-time job then signed offline and drove up to West Chester, PA. I arrived two hours prior to when I was supposed to check in juuuust to be sure I didn't have any car trouble or hit any terrible traffic. Thankfully, Kellie and Allie were so kind to meet up with me at an adorable bakery in town to take my mind off the show later that evening. It was so nice to finally meet both of them! Afterwards, Kellie drove me back to the studio and that's when everything started to feel real.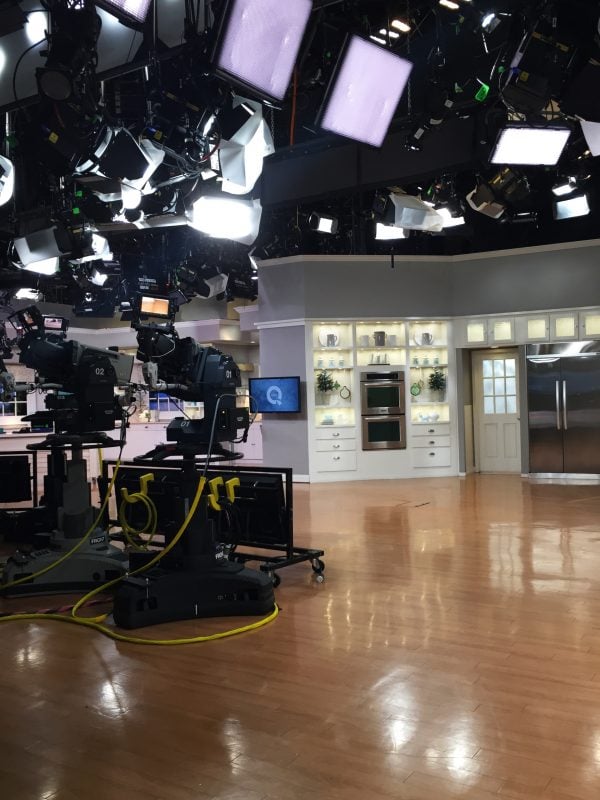 As soon as I checked in, I met with Anne, my rep from my publishing house. She gave me a quick tour of backstage and the kitchen area and showed me my food display! Well, most weren't out yet because we were still four hours from going live but we saw how they were going to plate them and everything. Then it was time to meet David! He is just as nice as he looks on TV. So welcoming and warming. He really put my nerves at ease and I love his positivity and bubbly personality. He's so funny, too. We talked a bit about my book and what dishes he was going to be tasting and then that was it! He had to move on to the other guests.
Anne and I had about 3.5 hours of free time. I was pretty content and relaxed the entire time. We sat in the greenroom where they had the live QVC show playing so you could watch everything that was happening on air. At 9pm, I hopped over to the salon to get hair and makeup done. After that, I had about 45 minutes to hang out and then I got paged to go get miked because I had a teaser at 10:03pm and then I was going live on 10:10pm. That is when it hit me – holy sh!t, I'm about to go on. I started to get REALLY nervous but thankfully, I had brought xanax with me so I popped one before going to get miked.
They did mic testing with me and stuck an earpiece in me and sent me off to set. It was seriously the coolest moment walking out there and seeing all your food on display and your cookbook displayed throughout the kitchen. I was so proud of myself. They told me to go stand behind the food table and I basically smiled and waved at the camera then sprinkled cheese on Great Grandma's Pasta Sauce. Phew, what was easy.
Next thing you know, David is walking on set and talking about how it was Cookbook Corner time and talking about ME and my cookbook. Then he was inviting me to stand next to him and I was like omg this is it, here we go, don't trip over the wires.
The next 7.5 minutes flew by. When we wrapped up, I thought I had only been on air for 2 minutes. I got kind of sad because I thought we weren't selling anything so that's why they wanted me off air, haha but of course later I was told I was definitely on air for close to 8 minutes and sold over 2,000 copies ;)
The xanax definitely helped me focus and I wasn't as nervous as I could've been. I'm pretty sure you could tell I was nervous on screen but had I not taken the xanax, I probably would've been a basket case. Also, can I just say that the little red lights on the top of the cameras that indicate which camera is the one that is 'on' and that you should be looking at are the HARDEST things to find when you're on air?! I'm probably not conditioned to it (obviously) but I swear the ENTIRE time I was on air, I was trying to find the little red light. It was like a game. One would light up, I'd look at it, but then it'd switch to the other one. It kept bouncing around and I swear my eyes were going all over the place. Live tv is harder than it looks, y'all!
Overall, a great experience and another bucket list item to check off! Hopefully I'll get more used to doing camera stuff and won't be this nervous going forward :)
Lastly, I want to thank you all for your support and love! I was on cloud nine leaving the studio last night seeing all the texts, emails, tweets, instagram posts, snaps, etc. from all of you, friends, and family. It made my heart so full and it made the drive home a very happy one. Thank you, thank you!
You can still order the cookbook from QVC and watch the entire presentation here!