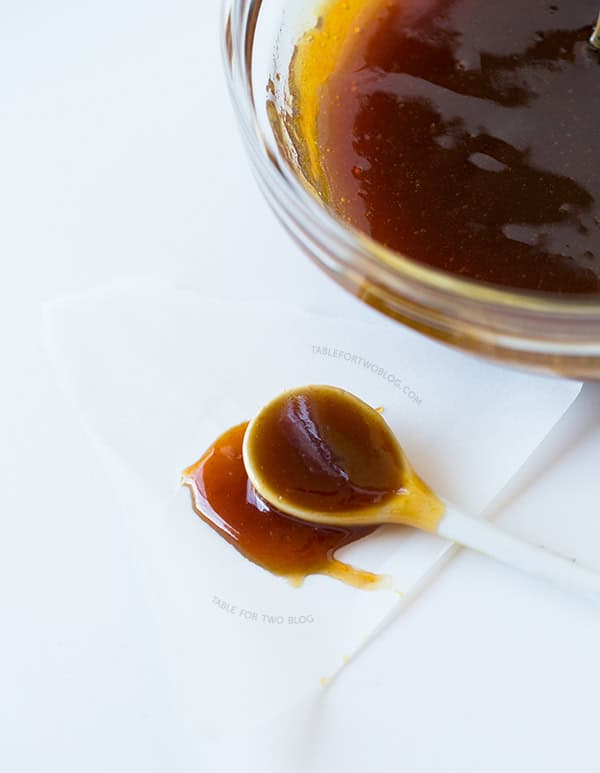 I was looking at some apple recipes this past weekend and a few of them mentioned "boiled cider." I've never heard of that term before and I thought it was just heated up apple cider. I turned to my BFF, Google, and found out that boiled cider is actually boiled down apple cider and the result is a thick, syrupy consistency that brings out the apple flavor and it's the quintessential kick off into Fall!
There actually isn't a whole lot of work involved with making boiled cider. You just set it on the stove and let it reduce down for 4-5 hours. You just have to stir it every now and then but that's it! You can literally walk away from it and watch a movie and a half – not to mention your entire house will smell like apple goodness. It sure beats buying a bottle of it for $11!
You can put boiled cider on pancakes, crisps, tarts, apple slices…the possibilities are endless! The recipe I'm sharing with you tomorrow requires boiled cider and it's a yummy one!
Boiled Cider
Boiled cider is basically Fall's liquid gold. A thick, syrupy consistency from boiled down apple cider. You have to give this a try!
Servings are adjustable but please note that results, timing, and cookware may vary when adjusting servings.
Ingredients
1/2

gallon

of fresh apple cider
Instructions
In a large, heavy stockpot (such as a

Le Creuset dutch oven

), bring cider to a boil over high heat. Reduce to medium-low heat and cook uncovered for 4-5 hours, stirring occasionally.

The boiled cider is done when it can coat the back of a spoon and the consistency is like maple syrup.

Transfer to a clean jar, cool, then use immediately or seal it tightly and store in the fridge indefinitely.
There is an affiliate link within this post.