If you follow me on Instagram, you'll see that Jason and I have been making a lot of grilled pizzas. Quite frankly, we're pretty obsessed. At first, I was really intimidated to grill pizza on the grill. I was all worried it was going to fall right through the slats and just be a huge mess. I took a chance, conquered the fear, and now Jason and I enjoy grilled pizzas on a weekly basis!
You all have been asking for the recipe and some have requested a video tutorial. Well, you asked, I listened! Above is the grilled pizza video tutorial! We filmed this so hopefully this will show you how to do it and you should NOT be intimidated like I was! The dough will not fall through the grill slats. This is, in my opinion, the best way to cook pizza. It makes the crust SO crispy on the bottom (as if you had a brick oven in your house!) and it evenly cooks the dough. It's way better than a pizzeria. The dough is super easy to make, too. I make them in batches of four and just individually saran wrap them tightly and put them in a freezer bag and pop them in the freezer. Whenever I know we want pizza for dinner the next day, I just throw one ball of dough into the fridge before going to work and when we come home, the dough is ready for us to get our pizza on!
Grab the recipe & instructions in text below and if you have any questions, feel free to ask!!
Thanks to Jason and my lovely hair stylist/good friend, Joy, for helping with the video!!! xoxo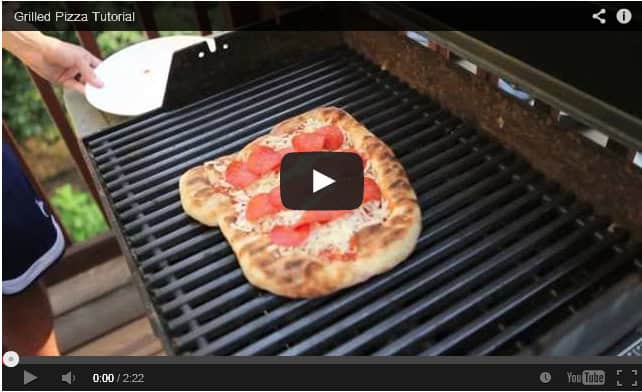 Print
Dough for Grilled Pizzas
Servings (adjustable, but please note that results, timing, and cookware may vary when adjusting servings):
1
9-inch pizza
Ingredients
For the crust:
3

cups

bread flour

2

tsp

granulated sugar

1/2

tsp

instant yeast

1 1/3

cup

ice water

1

tbsp

vegetable oil

1 1/2

tsp

salt

Handful of cornmeal
Instructions
To make the dough, combine the flour, sugar, and yeast in the bowl of a food processor fitted with the metal blade. Pulse to combine.

With the machine running, add the ice water through the feed tube and process until the dough is combined everything is incorporated, about 10 seconds. Let dough rest for 10 minutes.

Add the salt and vegetable oil and process until the dough forms a smooth, tacky ball that doesn't stick to the sides of the bowl anymore. Remove the dough from the bowl and knead for 1 minute on a lightly oiled or floured work surface then transfer it to a lightly oiled bowl, cover, and refrigerate for 24 hours or up to 3 days. (AFTER the refrigeration process, the dough can be wrapped tightly in plastic wrap, put in a freezer bag, and frozen for later use.)

To make grilled pizza with this dough, preheat your outdoor grill to high heat. Roll out your dough on a lightly floured & cornmeal sprinkled 9-inch pizza pan. Gently stretch it and pull it to fit the 9-inch pizza pan.

Once done, place it gently on the grill (you may need a helping hand for this part). Close the lid and grill for 3-5 minutes on each side (checking every so often to make sure the bottom doesn't get too charred - every grill VARIES in temperature so keep an eye on it).

After 3-5 minutes, flip the dough on the other side, close the lid and grill for another 3-5 minutes, again checking every so often to make sure it doesn't get too charred.

Once both sides have been grilled, bring the dough inside to assemble your toppings. We usually do tomato sauce as our base, whole milk mozzarella, and pepperoni or sausage. It can be ANY toppings you want. We have even done a pesto base before.

Once you've assembled it, bring the pizza back outside, turn the grill to LOW and place your pizza creation on the grill. Close the lid and grill until the cheese is all melted and the ingredients have been warmed through.

Turn off the grill and bring your pizza inside to slice!

Enjoy :)