We woke up bright and early the next day and backtracked a bit to go see the black sand beach in Vík and to see those basalt columns that you famously see photos of. It's about a 20 minute drive to this destination (there are signs for it) and we highly recommend doing this early in the morning so there aren't hoards of people there at the same time as you. We got there around 730am and we were the only ones there. When we left around 8, there were already lots of people on their way in.
The formations on these rocks are just crazy. You'll see in the photos below what I mean. It kind of reminds me of Game of Thrones and for some reason, it reminds me of the Stone Men in that show. Like how their scales are on their skin.
Okay this next spot has now banned vehicle access because tourists have to ruin everything (I'll talk about that below).
This is the famous Sólheimasandur plane crash site. On Saturday Nov 24, 1973 a United States Navy Douglas Super DC-3 airplane was forced to land on Sólheimasandur's black sand beach. All crew members survived the crash but they abandoned the airplane's fuselage. And well, now it's one of the most iconic photo spots but unfortunately, because tourists can't be respectful of anything and ruin a beautiful location for others, this area is now banned from vehicle access.
(source)
You used to be able to drive to the plane via a dirt road that has been carved out for vehicles, but tourists have decided to go off-roading and off the path and ruin the land around it. The farmers who own that land don't have the money to be cleaning this up and salvaging their land so they have now banned vehicle access to the plane. Now, you get to walk 4km to and from to see this plane. We didn't do it. Call us lazy but we read it takes about an hour each way to walk it and it was already really sunny and I was sick, so we didn't do it. It was a huge bummer and I know photos online don't show how remarkable the real thing is.
Anyway, if you're up for the walk, simply Google "Sólheimasandur plane crash site" and Google Maps will take you right there and tell you where to turn off the road. It's really random and quick/abrupt so be careful when turning in!
After we did the above, we went back to Vík and got gas and went on our journey towards Jökulsárlón Glacier Lagoon! We had a zodiac boat tour at 1pm and it's about a 2 hour drive (plus all the stops for the crazy incredible views along the way so I think it was more like a 3.5-4 hour drive).
The waterfall above was just one of the views that we saw on the way there. It's crazy; there are so many spots where you can pull off and just admire the natural beauty of Iceland.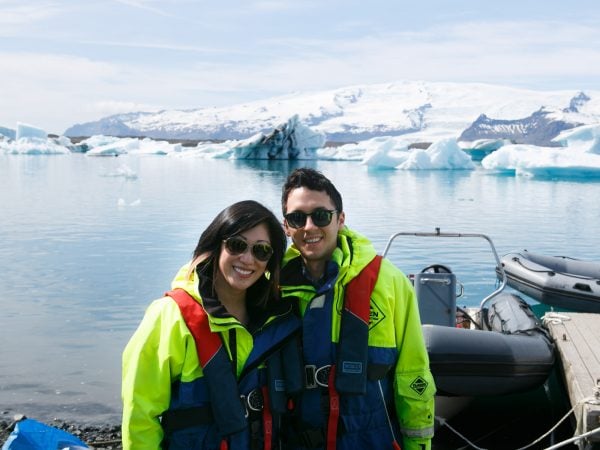 And here we are at Jökulsárlón Glacier Lagoon! It's a big tourist attraction and I HIGHLY recommend booking your zodiac boat tour early because they pretty much sell out every day. The zodiac boat tour is different than their regular ones in that the boat they use to take you on; you can get way closer to the glaciers and icebergs and it's a much better experience because it's less crowded so no one in your way when you want to grab photos :)
You're provided with these floatation suits and life jackets. We were SWEATING in these on the walk to the boats but once you're cruising the lagoon, you'll be happy you had them :)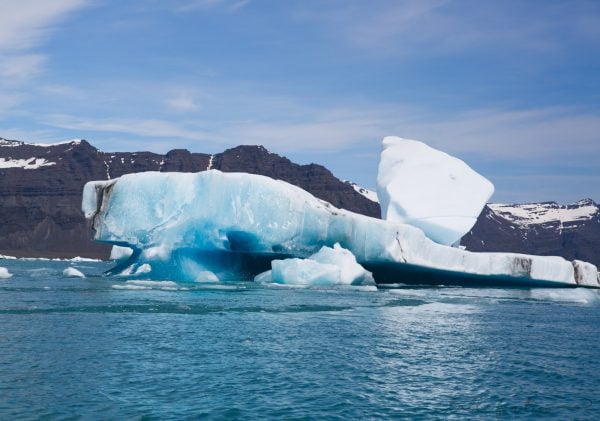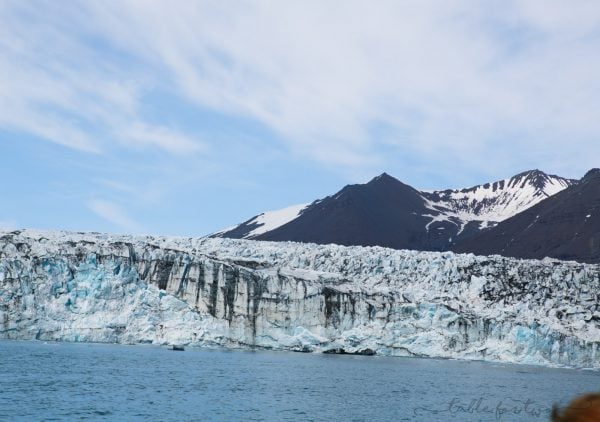 Look at the size of this iceberg. The zodiac boat to the left of it for scale…
Afterwards, you should head across the street to Diamond Beach (Breiðamerkursandur). They call it Diamond Beach because it's a bunch of floating ice that has broken off from the glaciers and icebergs that float up onto the sand. Since we were there when it was really hot in Iceland (70 degrees Fahrenheit), when we drove there, there was nothing to see :( bummer! After that, we had nothing else on our itinerary so we made the 20 minute drive to our hotel for the night (Hali Country Hotel).
So, the one thing I would do differently about this day was drive back to Vík and not stay at the hotel we stayed at. I assumed since the glacier lagoon was a two hour drive, we would be tired after the boat ride. The boat ride isn't that strenuous and it's pretty much in the middle of nowhere. The hotel was even more desolate. It was on a family farm (which was pretty cool because everything was basically fresh but again, expensive). I would've driven back to Vík to stay at the same hotel we stayed in the night before and spent more time around town and maybe even going back to the beach. Lesson learned! So now, you can do the same :)
We wanted to keep driving further and get to west Iceland to see reindeer and more glaciers and nature but when we looked up the drive back, it would've been 8 hours back to Reykjavik and we just didn't think that was feasible at all so we stayed put.
This dinner above was at our hotel and although it was just "hotel food," it was really delicious. All of this was fresh caught and they raise their own arctic char. There wasn't much to do around where we stayed (again, why I wish we had driven back to Vík but we had already paid for our room) so we just spent the evening in our hotel room. At that point, I had started to get really sick and my throat was on fire so it was good that we rested, I guess.