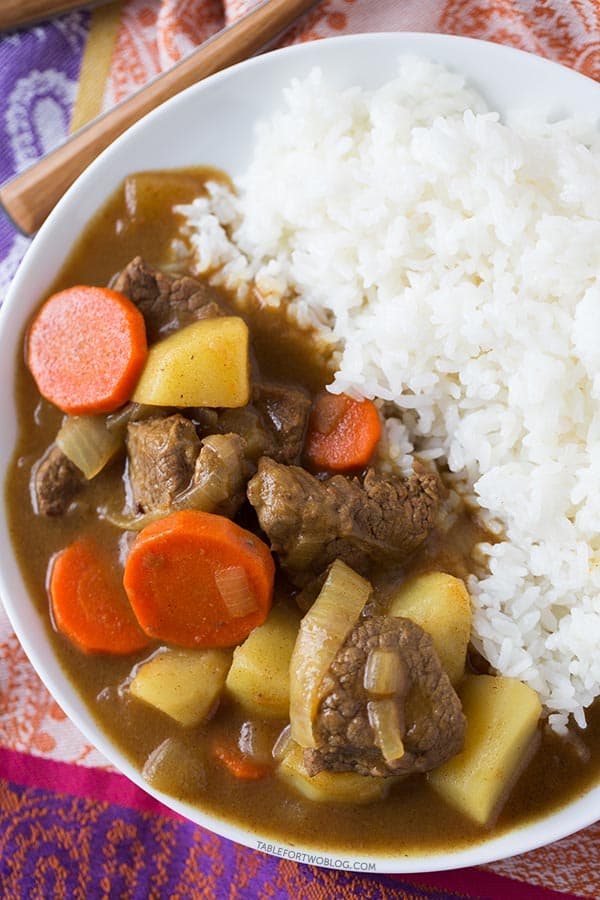 If you follow me on Snapchat (tablefortwoblog), I made this recipe step by step on there a little while ago and I had such a good response for it. Gina went to get all the ingredients the next day, made it, and loved it. She said I should have the recipe on the blog and truth be told, I made this last April, as in April 2014, shot it and edited photos for it but then didn't post it!! I didn't think anyone would care for the recipe but it's such a traditional Asian dish that I'm slapping myself for even thinking that! It's so easy to throw together and the flavors are incredible.
Do you have one dish that reminds you of your childhood and home? I definitely have a lot that reminds me of childhood and my mom, but if I had to choose one, I would without a doubt say it's this Japanese curry dish. She made this often but we never grew tired of it because it's SO good. In fact, many times when my brother and I were given the option to choose dinner, we would always request it. Often times when we came home from college, we would request this as well and bring the leftovers back to school with us. I finally asked my mom to teach me how to make it because I knew this was one dish I would make forever. It makes a great amount and leftovers are even better. You know how some dishes are meh the next day? This one is like..awesome. And we always put it over rice because the liquid that coats it is one of the best parts. I'm happy to say that this is one of Jason's favorite dishes now too :) I'm not kidding when this Japanese curry dish is one of those that will be requested time after time. It's pure comfort food and with the weather getting cooler..you're going to want to make a huge pot of this!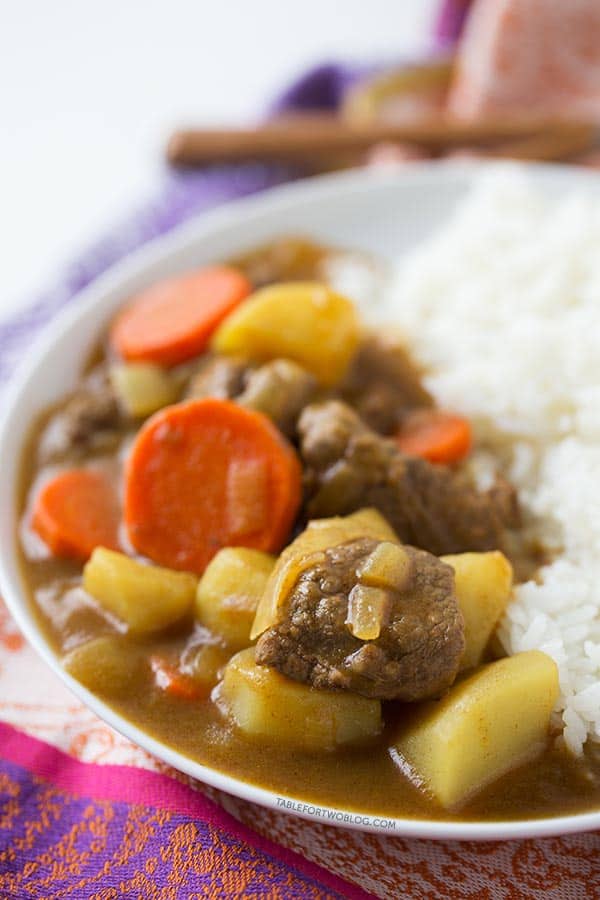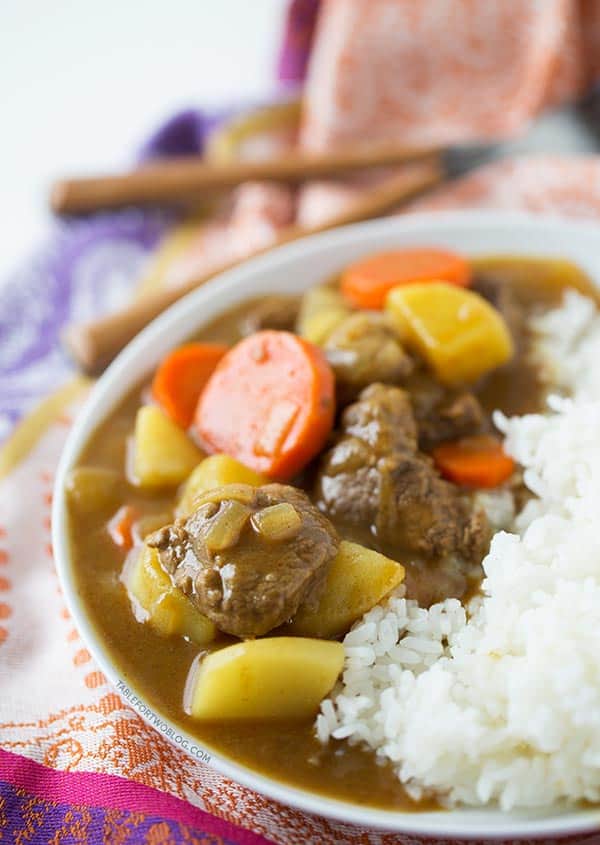 These are the what the curry cubes look like. They come in different 'heat' flavors. We use mild but they have medium hot and hot. If you can't find them in your local grocery store (in the Asian aisle), then you can order them on Amazon. Or, if you prefer to make your own from scratch, here is a great recipe for it from Just One Cookbook for the curry roux, which is basically what the cube is. We use the cubes because it's how my mom has always made it and I don't want to change it up :)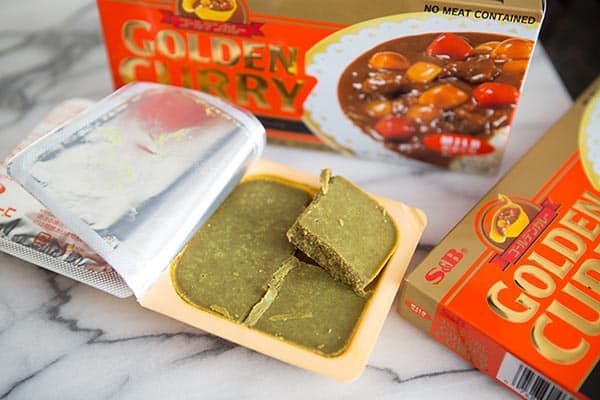 There are specific notes with this recipe so please read the notes section prior to making!
Japanese Curry
Japanese curry is pure comfort food and you'll want a batch of this in the fridge for when the craving hits!
Save
Saved!
Rate
Print
Ingredients
1

pound

cubed chuck roast

,

seasoned with salt and pepper

1

onion

,

diced

2

large potatoes

,

quartered into 1 inch quarters

3

large carrots

,

sliced into thick rounds

3

celery stalks

,

cut into 2 inch long pieces (it's not in the photo because I didn't have any on hand but traditionally, we always used it)

2 ½ - 3

cups

beef stock

2

curry cubes

,

see notes section below

Salt and pepper

,

to taste
Add Ingredients to Shopping List
Added! Go to Shopping List
Instructions
In a large heavy-bottom pan, such as a dutch oven, heat up 1 tablespoon of olive oil over medium-high heat then brown chuck roast cubes but do not cook all the way through. Remove from heat and put on a plate and set aside.

In the same skillet, add the onion and sauté until softened.

Add the potatoes, carrots, and celery. Cook for 5-7 minutes then add the beef stock (start with 2 1/2 cups) until it covers the ingredients. Bring to a boil then add the curry cubes. They dissolve themselves so don't worry about them. Just throw them in. Add the chuck roast back into the pot. Once mixture comes to a boil, stir, then cover and let simmer for 30-40 minutes until mixture is nice and thick. If you see the mixture is too thick, add more liquid/beef stock to thin it out but we kind of like it thicker so it's all preference.

Season with salt and pepper, to taste.

Serve generously over a bed of white rice.

This keeps in the refrigerator for at least 7 days!
Recipe Notes
Make sure you buy the right cut of meat. This recipe calls for chuck roast. It will yield the most tender dish if you buy the right cut, otherwise, it could turn out hard as a rock and like you're chewing on some beef jerky! It's easy to just buy 'beef stew cubes' or whatever they're called in store but don't. I've done it before and it comes out horrible. Chuck roast is the best! Ask your butcher if you can't find it.
So the curry cube package has 8 cubes once you break it. It comes as 2 large cubes but at the bottom of the package, you can clearly see lines of where you break them into 4 a pack, if that makes sense. Take a look at the photo. You'll see that I broke it. When I say 'two cubes' in the recipe, I mean two of the broken cubes you see above. If you're making the curry roux from scratch, I would say 2 cubes is equivalent to 2 tablespoons, but I'm not sure as I haven't ever done it that way!
YOUR NOTES
This website provides approximate nutrition information for convenience and as a courtesy only. Nutrition information can vary for a variety of reasons. For the most precise nutritional data use your preferred nutrition calculator based on the actual ingredients you used in the recipe.