This chicken katsu is juicy, crispy, and comforting. It only takes 25 minutes and 7 ingredients to make a dish that just might be better than what your local Japanese restaurant sells.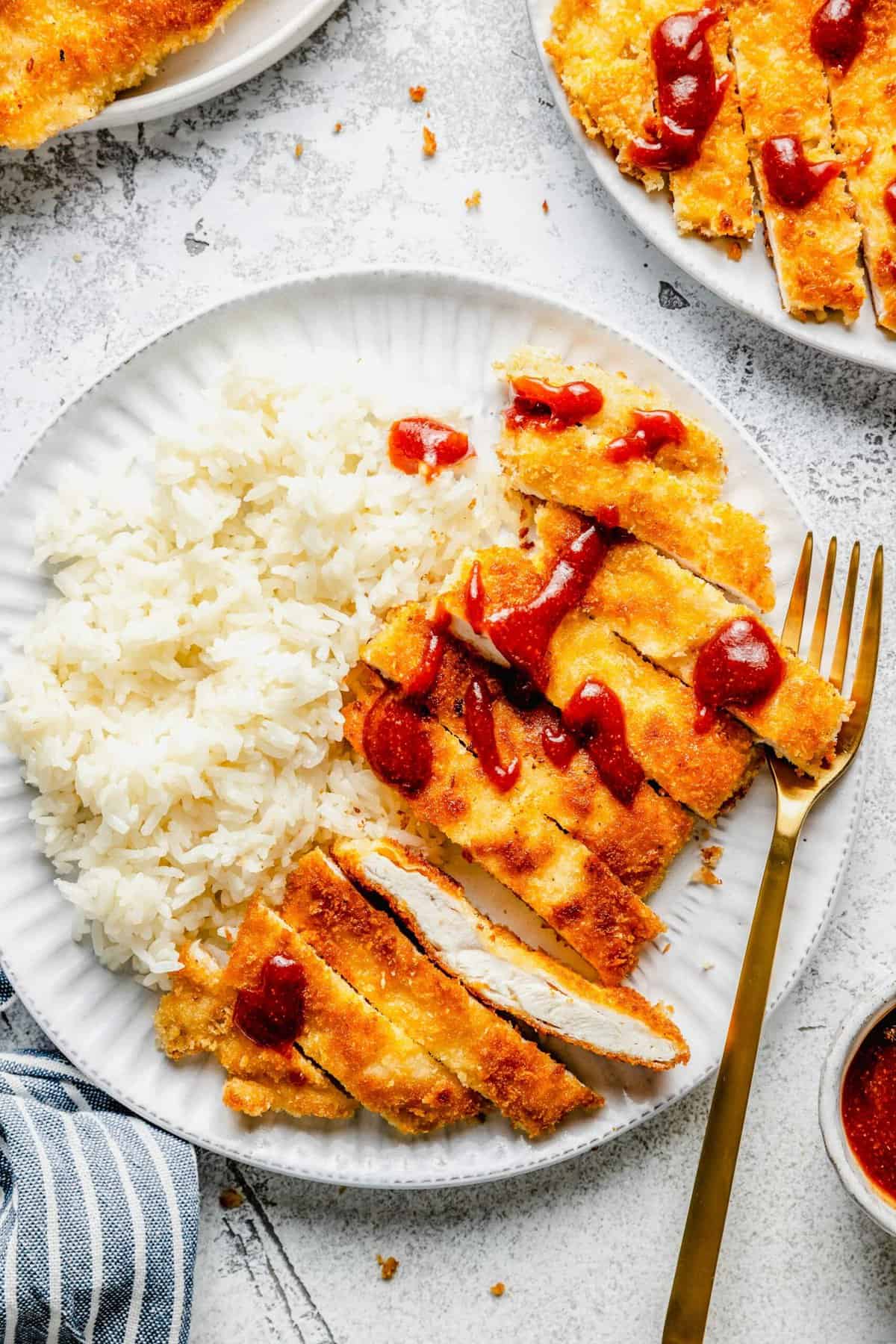 Chicken katsu is an incredibly comforting dish for me. It's so simple, but the simplicity is what makes it perfect. This chicken katsu recipe doesn't have any intense herbs or spices. It's simply moist and tender chicken with a crunchy crust. Top it with some tonkatsu sauce and serve it next to rice and you've got a perfect plate of food in my eyes.
This is a go-to meal for me on weeknights, because it only takes 25 minutes to make, and it uses very basic ingredients. If I have the chicken, then I know I have all the ingredients necessary to make this dish. It's also pretty versatile, as you can eat this katsu chicken in many different ways, including on a sandwich or atop an Asian salad.
What is Chicken Katsu?
Katsu is a very popular food in Japan. The definition is very simple: it's just meat that's been coated in breadcrumbs and fried. It's usually made with chicken or pork, and often served in sandwich form.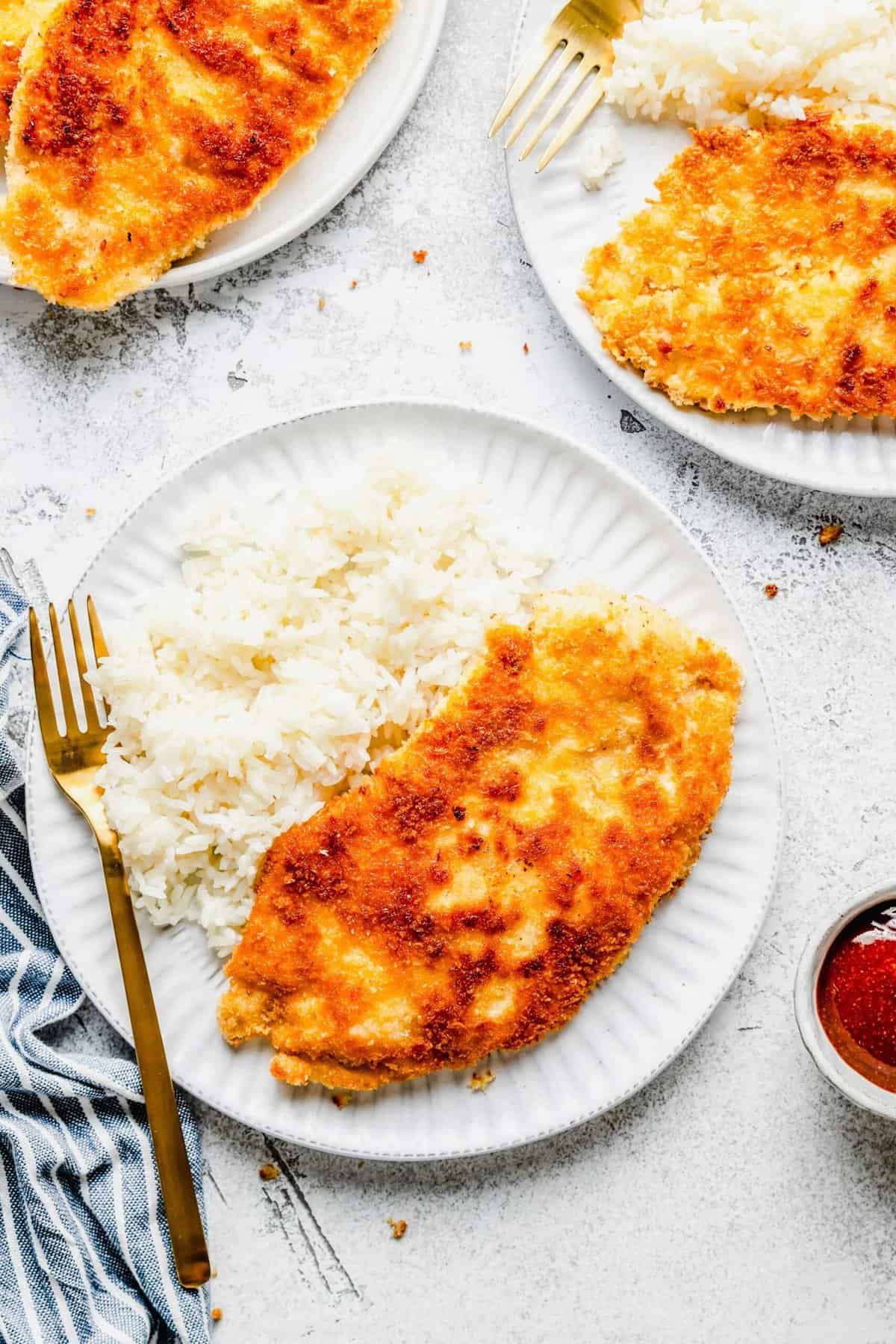 Recipe Ingredients
Here are the ingredients needed to make this juicy and crispy chicken katsu. Check out the recipe card at the bottom of the article for the exact quantities of each ingredient.
Chicken – You want to use boneless, skinless chicken breasts for this recipe.
All-purpose flour
Kosher salt
Black pepper – Freshly-ground black pepper is preferable.
Eggs
Panko breadcrumbs
Vegetable oil – You can use any neutral oil that has a high smoke point.
What are Panko Breadcrumbs?
Panko breadcrumbs are a Japanese style of breadcrumbs. They're made using a specific kind of white bread, with the crusts removed. Panko breadcrumbs are much lighter than the breadcrumbs that are usually used in European and American cooking, and they absorb less oil. As a result, they're able to create an exceptionally crispy, yet still light crust.
How to Make Chicken Katsu
Here's how to make this 25-minute recipe for tender chicken katsu.
Pound the chicken. Place your chicken breasts in a plastic bag and, using the flat end of a meat tenderizer (or a rolling pin if you don't have a meat tenderizer), pound the chicken. Keep pounding until the chicken is much thinner.
Make the flour mixture. Add flour, salt, and pepper to a bowl, and stir to combine.
Prepare the eggs. Crack the eggs into a dish, and beat until well mixed.
Get your breadcrumbs. Pour the panko breadcrumbs into a dish. Line up your dishes so that the eggs are in between the breadcrumbs and the flour mixture.
Heat the oil. Put a thin layer of oil on a skillet, and heat on medium high.
Prepare a piece of chicken. Take a piece of chicken and coat it in the flour mixture, then cover it in the beaten eggs. Add it to the breadcrumb mixture, and shake off any excess breadcrumbs.
Fry. Add the chicken to the pan, and cook on each side until brown but not burnt, which should take about 3-4 minutes. After the chicken is finished cooking, scoop out any excess breadcrumbs from the skillet, then repeat the process until all of the chicken is cooked.
Tips for Success
Here are a few tricks for making the best chicken katsu.
Use the two hand technique. Frying foods can become a sticky, messy hassle. To keep this from happening, use the two hand technique for dredging the chicken. Use one hand to coat the chicken in flour and transfer it to the eggs. Use your other hand to coat the chicken in eggs, and transfer it to the panko. Then use your first hand again to remove the chicken from the breadcrumbs. That way one hand stays dry, one hand stays wet, and you avoid making a gummy mess.
Pound to an even size. When pounding the chicken, make sure that it has a uniform thickness throughout. That way all of the chicken will cook at the same speed, and you won't have overcooked bits.
Check your oil. It's very important to use oil that's at the right temperature. If your oil is too hot, the breadcrumbs will burn. If it's too cold, the chicken won't fry properly, and will be soggy and greasy but not crisp. Before frying, put a drop of water in the pan. If it sizzles in the oil, then it's hot enough. If it doesn't sizzle, let the oil keep heating. If the oil is smoking, add a little bit more oil to bring down the temperature. Repeat this process between each piece of chicken that you fry.
Common Questions
Here are some commonly-asked questions about this restaurant-quality chicken katsu recipe.
Why work in batches?
You want to fry the chicken in batches to keep the oil hot. If you add lots of chicken at once, it will drop the oil in the pan so much that the chicken won't fry. If this happens, the breadcrumbs will absorb the oil instead of frying in it, and the chicken will be greasy and soggy.
Why pound the meat?
The primary purpose of pounding the chicken is to decrease the cooking time. By making the chicken thinner, you make it so it can cook more quickly. The quicker you cook the chicken, the juicier it will be, which is why chicken katsu is a very moist chicken dish.
Can you substitute other meats?
You can use pretty much any type of meat that you want when making katsu. That said, chicken and pork are far and away the most common options. You can also use chicken thighs instead of chicken breasts, if you prefer.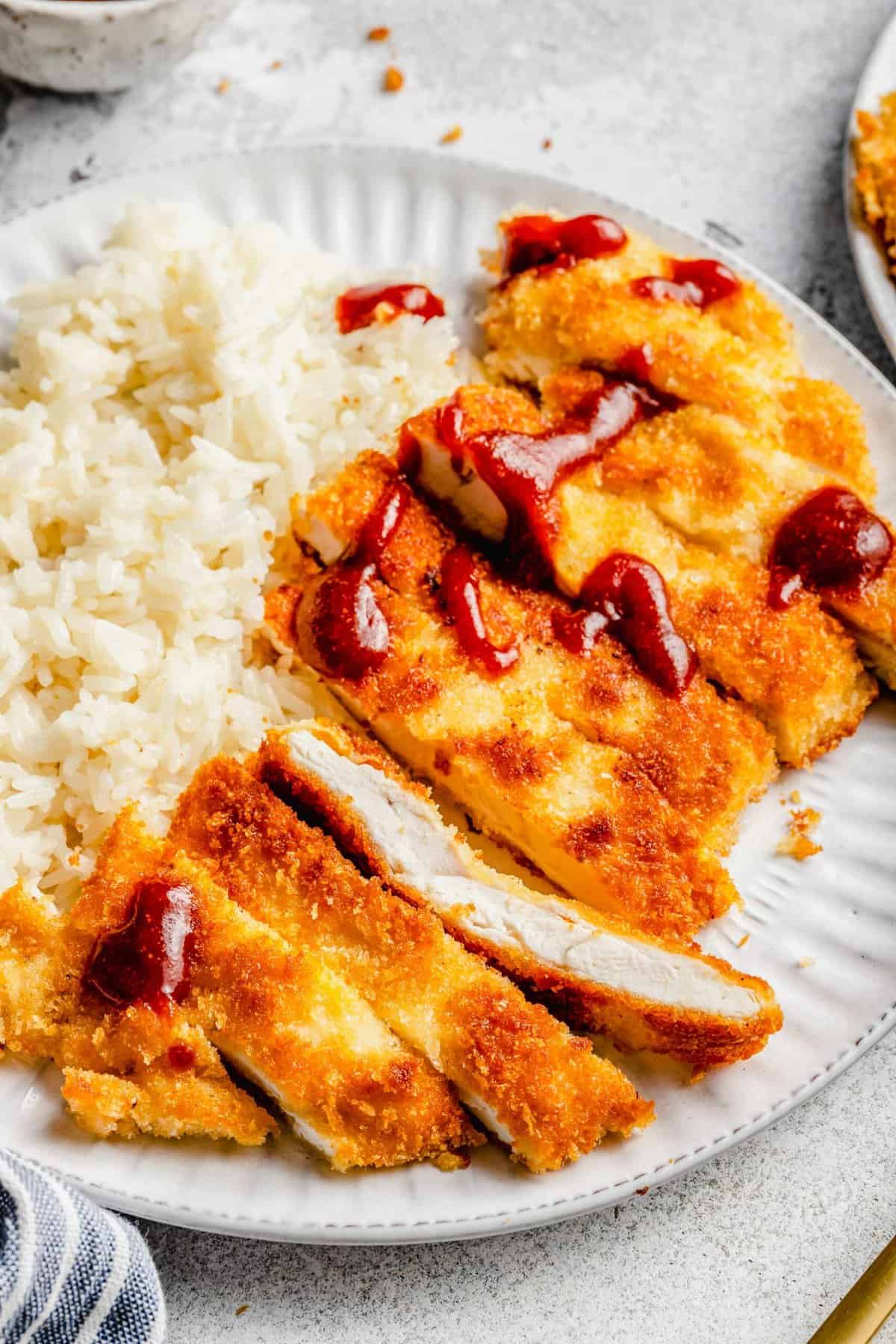 How to Store and Reheat Leftovers
Keep this chicken katsu in an airtight container in the fridge for up to 3 days. You can reheat in a toaster oven, or in a 375F oven for about 6-7 minutes. You can also reheat the katsu in the microwave, but it will lose its crunch.
Can This Recipe Be Frozen?
Yes, you can freeze this chicken katsu in an airtight container for up to 3 months. Thaw in the fridge before reheating.
More Tasty Chicken Recipes to Make
Here are some of my other favorite chicken recipes for you to try.
Chicken Katsu [チキンカツ]
This chicken katsu is crispy on the outside and juicy on the inside. It's quick and easy, and just as good as what you'd find at a restaurant.
Save
Saved!
Rate
Print
Ingredients
1

pound

boneless skinless chicken breasts

,

or thin sliced boneless skinless chicken breasts

½

cup

all purpose flour

Couple pinches of kosher salt

Ground black pepper

2

eggs

⅔

cup

Panko breadcrumbs

Vegetable oil
The default measuring system for this website is US Customary. Unit conversions are provided for convenience and as a courtesy only. While we strive to provide accurate unit conversions, please be aware that there may be some discrepancies.
Instructions
In a plastic bag, pound your chicken breasts to a thin filet, one at a time, with the flat end of a meat tenderizer. If you're using thin sliced, you may not have to do this step as it's already thin enough. Make sure to have padding underneath your plastic bag so you don't break your countertops!

In a shallow dish, add in flour, salt, and pepper. Mix around.

In another shallow dish, beat 2 eggs.

In yet another shallow dish, put your panko in.

Assemble the shallow dishes in the following order: flour, eggs, panko.

In a skillet, turn the heat on medium high and add a thin layer of vegetable oil to the pan, just enough to coat the bottom of the pan.

Take one of your chicken filets, dredge it in flour on both sides, then egg, then cover it in panko and shake off any excess.

Test the oil to see if it's hot by flicking some water in it. If it sizzles, you're good.

With tongs, put your breaded chicken in and cook on each side for about 3-4 minutes or until it's brown (don't burn it).

It shouldn't take long for the chicken to cook all the way through since they've been pounded out so thin.

Before you start on another filet, I would clear out the skillet of straggling panko crumbs. Just take a spatula and scrape them out. They'll burn if you keep them in there for your other filets and your house will smell like disaster :)

Repeat until all your chicken filets are cooked, slice into length-long pieces and serve with white rice. Don't forget to top with katsu sauce!
Recipe Notes
Store in an airtight container in the fridge for 3 days, or in the freezer for 3 months.
NUTRITION FACTS
Serving:
1
chicken katsu
|
Calories:
257
kcal
|
Carbohydrates:
19
g
|
Protein:
30
g
|
Fat:
6
g
|
Saturated Fat:
1
g
|
Polyunsaturated Fat:
1
g
|
Monounsaturated Fat:
2
g
|
Trans Fat:
0.02
g
|
Cholesterol:
154
mg
|
Sodium:
236
mg
|
Potassium:
486
mg
|
Fiber:
1
g
|
Sugar:
1
g
This website provides approximate nutrition information for convenience and as a courtesy only. Nutrition information can vary for a variety of reasons. For the most precise nutritional data use your preferred nutrition calculator based on the actual ingredients you used in the recipe.
Photography by Eat Love Eats