Lightened Up Chicken Salad Sandwich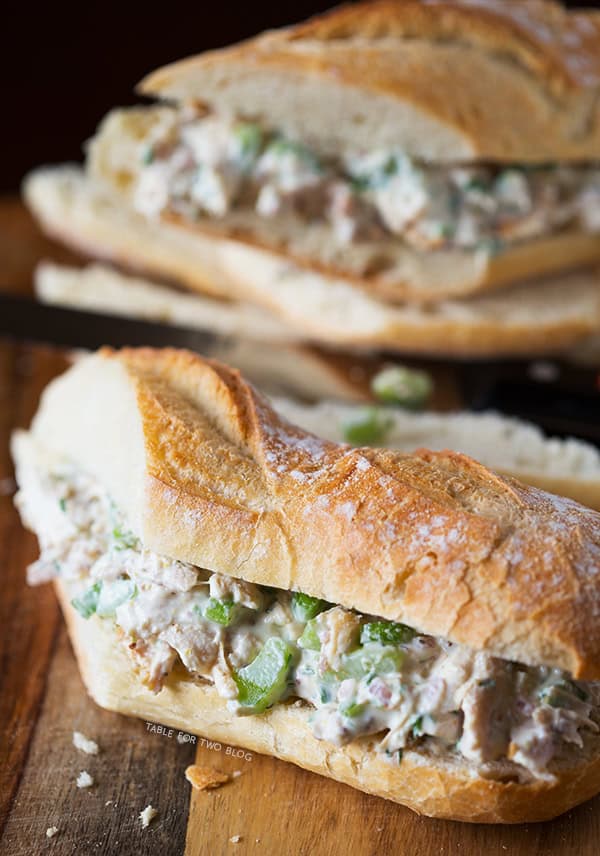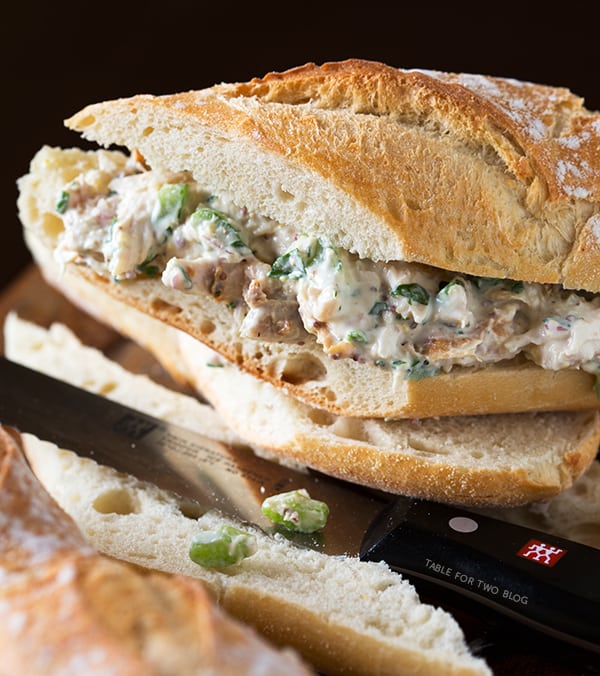 How was your weekend? Jason and I had a pretty hilarious one 'cause on Saturday evening, we went to see The Book of Mormon at the Kennedy Center. Oh my goodness. I love musicals. It's just such an amazing production and the singing, dancing, scenery – just awesome. I sometimes just love musicals strictly to look at the set. The Book of Mormon was, just like everyone says, hilarious but also so crass! Haha, I obviously knew this going into it but man, some of the stuff was like, "did they really just say that?! Did they really just do that?!" Regardless, we totally loved it and Jason is not a huge musical guy!
Are any of you sending kids back to school yet? Schools around here don't start til after Labor Day. Apparently the rest of the country is different because I always get the, "oh really??" question whenever I say that to anyone outside of Fairfax County. If you're one of those parents who are about to send your kids back to school, let's talk about healthy back-to-school items since I know some of you are looking for those recipes! This lightened up chicken salad sandwich is the perfect sandwich to put in your child's lunch for him to bring to school. It's a take on the traditional mayo covered chicken salad, but this sandwich doesn't lose any of the flavor and it's a nice sandwich to jazz up your child's lunchbox. They'll be so happy when they open up their lunchbox at school! The recipe makes a lot of chicken salad – which is great because it's less work for you :) make a big batch and it'll last you all week!
This lightened up chicken salad sandwich is just one way to help draw awareness to growing childhood obesity. As food bloggers, we have the responsibility and the power to influence others in a positive way, especially with our food recipes and helping others make healthier food choices. Of course we sometimes post ooey-gooey bad-for-you dessert recipes (who doesn't love an indulgence every now and then?), we all know that we don't eat like that at every meal and we do add healthier foods into our diets.
You're probably thinking, "but you make all this food but you're still so skinny!" Yeah – well, that wasn't always the case. I was definitely obese when I was high school and my senior year, I made it a goal to lose over 25 pounds. Yup, I was overweight and I lost over 25 pounds. You can believe it or not but I was never that skinny model girl! :)  To this day, I've kept it off (but obviously have gained some back!). You can definitely indulge but I found that I can eat whatever I want if I eat in moderation and exercised. I don't eat an entire batch of cookies myself, I don't eat an entire bowl of mac 'n cheese. I give myself a moderated portion and that's all I have. Eating healthy, is obviously step 1, but the more you become aware of what those healthy choices are, and as soon as you incorporate exercise, everything starts falling into place!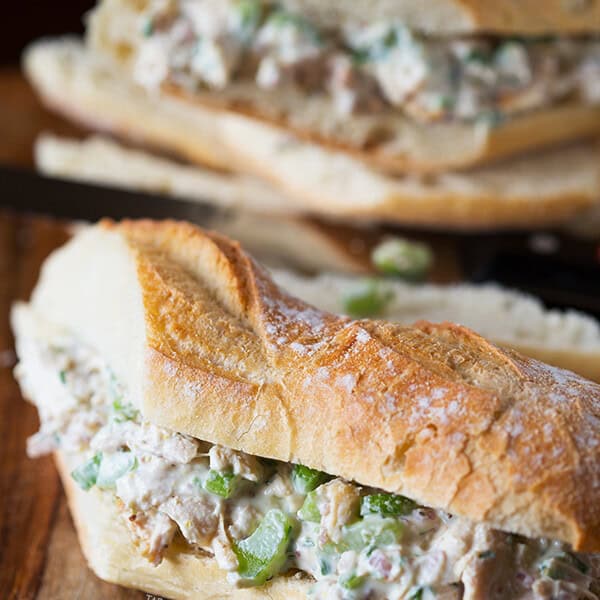 Lightened Up Chicken Salad Sandwich
A lightened up chicken salad sandwich that's the perfect sandwich for a child's lunch or Labor Day entertaining!
Ingredients
1

rotisserie chicken,

shredded

1 1/4

cups

plain Greek yogurt

2

tbsp

Dijon mustard

1

tbsp

stone-ground mustard

1

tsp

salt

1

tsp

pepper

3

stalks of celery,

diced

1

shallot,

chopped

Handful of parsley,

chopped
Instructions
In a large bowl, stir together plain Greek yogurt, dijon, stone-ground mustard, salt, pepper, celery, shallot, and parsley. Mix well until all incorporated.

Add the shredded rotisserie chicken and toss together until chicken is well coated with mixture. If too dry, add more yogurt a tbsp. at a time.

Cover and chill for at least 4 hours before serving.

Serve on a sub roll or between two slices of sandwich bread (or however you want to serve this!)
Posted on August 19, 2013