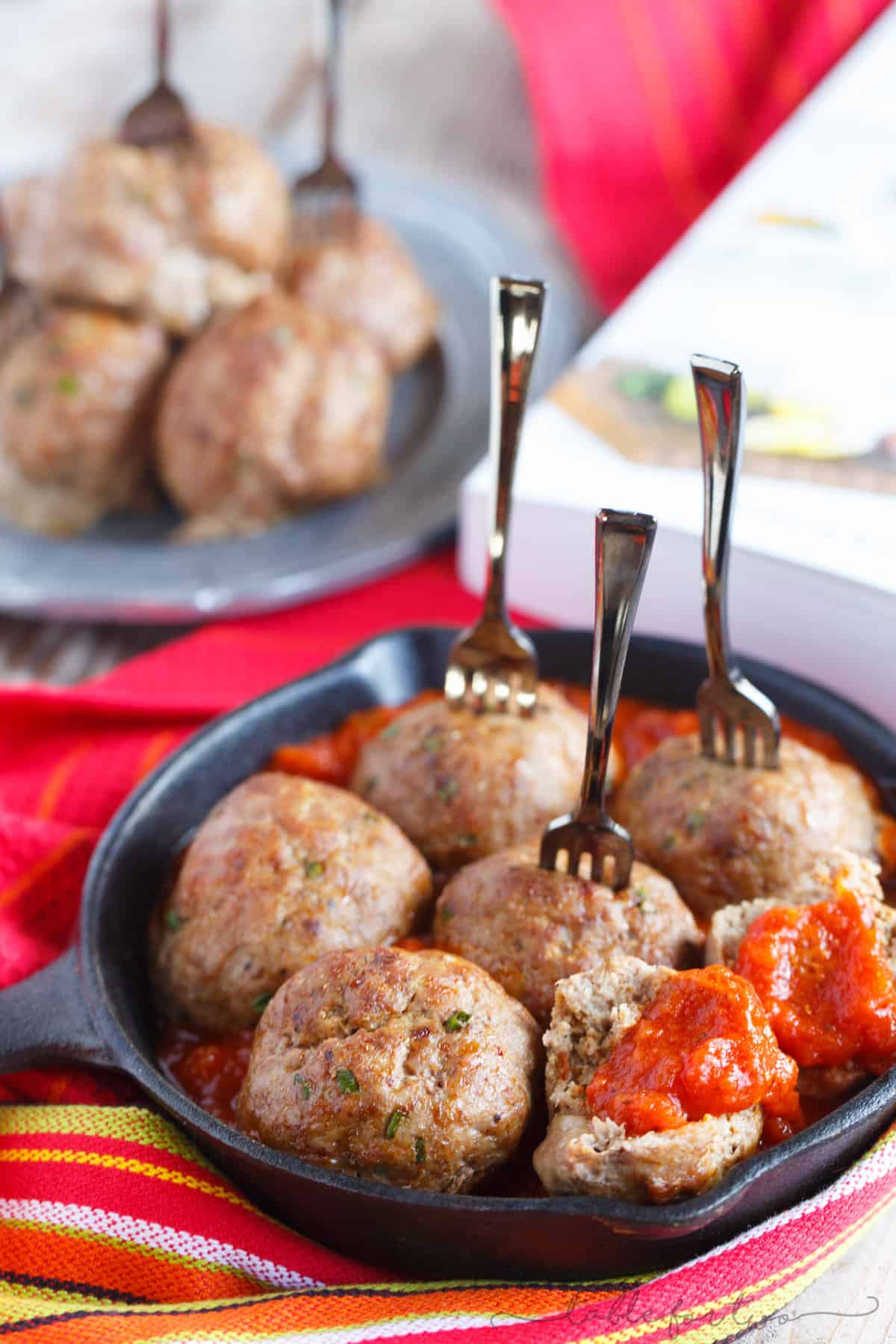 For the past few weeks, my throat has been scratchy. Typically, a scratchy throat for me means that a cold is about to rear its ugly head. However, it lasted for two full weeks and nothing ever came about. It was just a constant tickle and a little bit of sore. Kind of annoying but I was happy it wasn't a full blown cold.
Well, last week the scratchy throat decided to go full blown cold. I ended up losing my voice and had a nasty, nasty cough to go with it. I took DayQuil and NyQuil pretty much every single day for a week and they were my saving graces. Thank goodness for modern medicine. It was a miserable week but thankfully I'm fully recovered and my voice is back.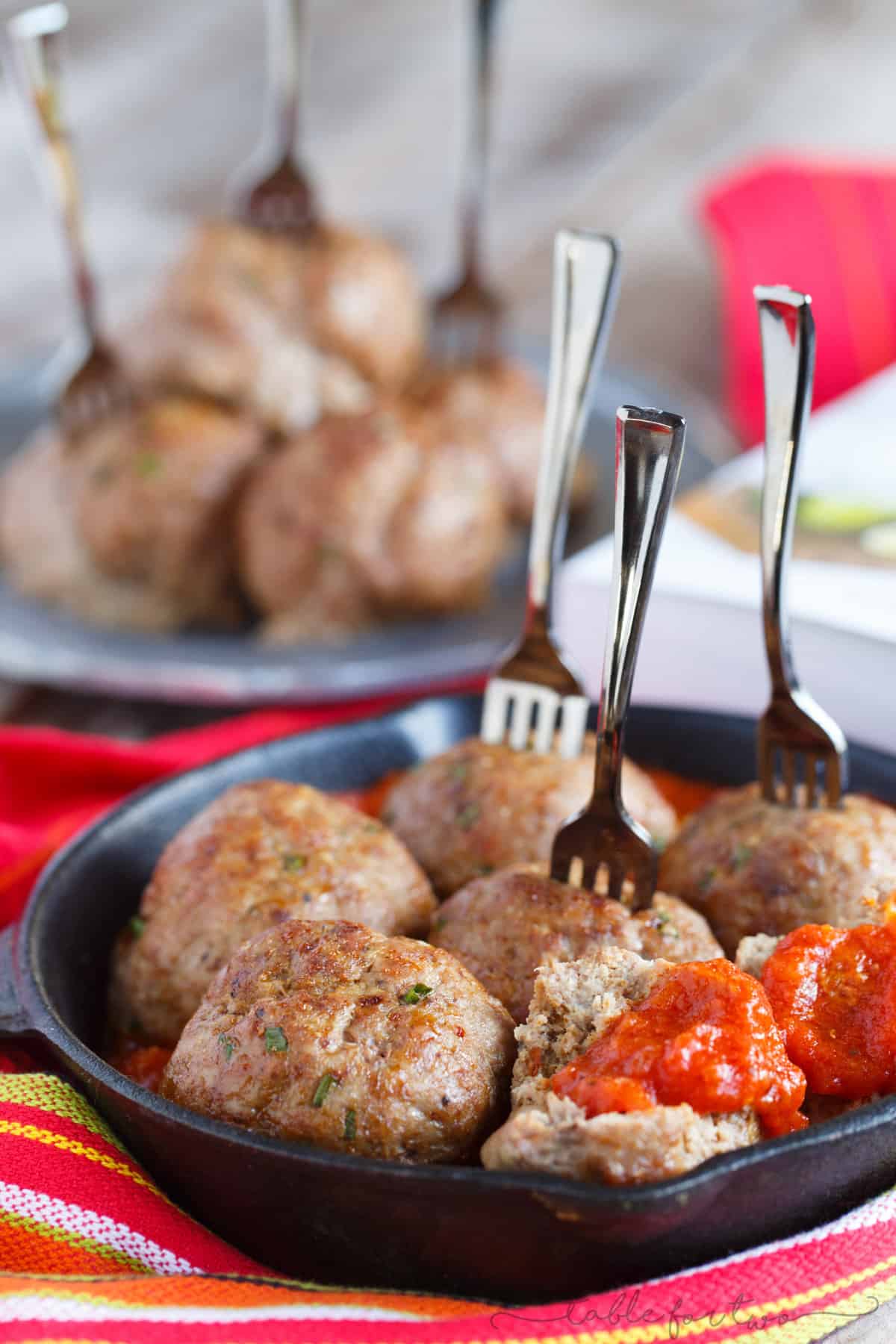 A really good meatball recipe is crucial in your recipe repertoire. They're always a go-to for a quick appetizer for parties or potlucks or even just to throw into a skillet on a busy weeknight.
These Mexican meatballs come from my friend Lexi's new cookbook, Lexi's Clean Kitchen! Her cookbook has honestly quickly become one of my favorites because all her recipes are paleo-friendly and you know since last year, I've been trying to eat cleaner and healthier. She goes back to the basics with a lot of her recipes (like quick sauces and bases) but there are a ton of classic recipes that fit into anyone's diet. You can't tell that they're "healthy." It's just GOOD food.
These Mexican meatballs are packed with flavor but they use either ground chicken or ground turkey to keep them lean. Super moist and a great appetizer!
Grab Lexi's Clean Kitchen on Amazon or any other major book retailer near you. You won't regret this purchase!
Mexican Meatballs
A fun and inexpensive appetizer to throw together in a pinch! Serve these delicious bites with salsa or guacamole!
Servings are adjustable but please note that results, timing, and cookware may vary when adjusting servings.
Ingredients
1

pound

ground turkey or chicken

1/4

cup

chopped scallions

(I used finely chopped chives)

2

cloves

garlic,

minced

1

tablespoon

extra virgin olive oil or avocado oil

1

tablespoon

chili powder

1

teaspoon

kosher salt

1/2

teaspoon

ground cumin

1/2

teaspoon

paprika

1/4

teaspoon

freshly ground black pepper

1/4

cup

shredded cheddar cheese

(optional)
Instructions
Preheat oven to 350 degrees Fahrenheit. Line a rimmed baking sheet with aluminum foil and grease the foil with the oil of your choice.

Place the ingredients for the meatballs in a large bowl then use your hands to gently bind the ingredients together. Do not overmix.

Form mixture into 12-15 meatballs and place on prepared baking sheet.

Bake for 12-15 minutes, until golden brown and fully cooked through.

Serve immediately with salsa or guacamole.
Notes
Reprinted with permission from Lexi's Clean Kitchen.
Nutrition Facts
Mexican Meatballs
Amount Per Serving (2 Meatballs)
Calories 133
Calories from Fat 72
% Daily Value*
Fat 8g12%
Carbohydrates 2g1%
Protein 14g28%
* Percent Daily Values are based on a 2000 calorie diet.
*Nutrition facts are an estimate and not guaranteed to be accurate.
There are affiliate links within this post.