These oatmeal creme pies will take you back to the days of school and lunch boxes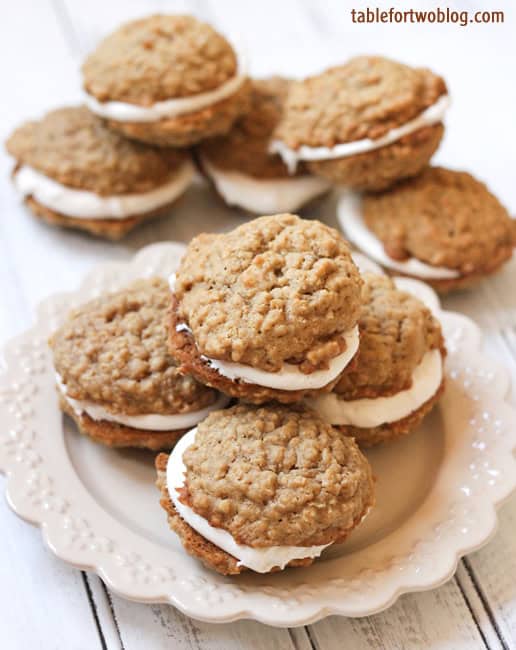 I had a hard craving for oatmeal creme pies last week. You know the Little Debbie ones that you'd get in your lunchbox? I swear to you I could eat 3-4 of them. It was kind of disgusting but I was a kid, I didn't have a care in the world. I knew I had to make these.
But before I get to how delicious they were, let's talk about how I literally almost lost an eye or ruined my cornea making these!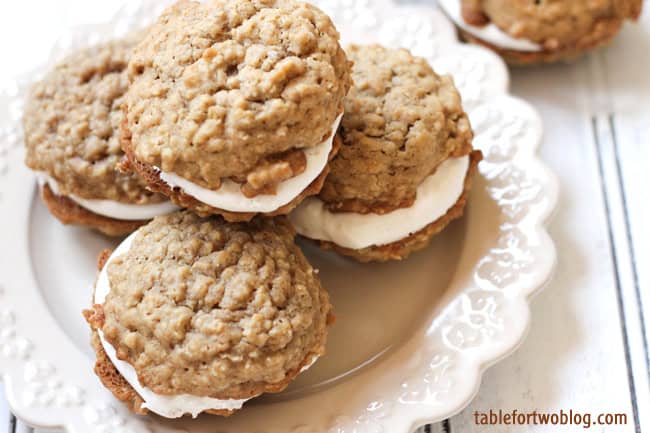 I was getting ready to scoop the cookie dough batter onto my prepared baking sheets. I went to grab the cookie dough scoop out of the drawer and at this point I was looking at the back of the scoop and when I went to squeeze the handles, it didn't budge. I squeezed harder and it didn't budge either. So then I flipped over the scoop so the front was facing me and I squeezed even harder then a hardened piece of sugar or something flew extremely fast in my direction and hit me right between my eyebrows. Seriously, if it had gone any other way, it would've hit me directly in one of my eyes and I bet you I would've had some sort of eye injury because whatever that hardened piece was that hit me right between my eyebrows, it HURT. A LOT. I kind of freaked out. I know, I sound so dumb and making this all traumatic but I really was scared! I couldn't stop thinking if that had gone into my eye!
Moral of the story? Make sure your cookie dough scoop is super clean and if you can't squeeze the handles, don't flip it over and stare at it & wonder why the handles are stuck while squeezing the handles.
Besides that scary incident, these almost-eye-destroying cookies are awesome. I think they taste exactly like the Little Debbie's oatmeal cream pies. They're even better the next day too. The cookies aren't hard like regular cookies. They're really soft in the middle and the creme in the middle is so perfect. It's a pretty big "sandwich" but they definitely hit the spot and cured the craving.
Aren't you glad I survived the cookie dough scoop incident to be able to type this up to tell you & share with you this delicious recipe? :)
Print
Oatmeal Creme Pies
Childhood oatmeal creme pies but homemade!
Servings (adjustable, but please note that results, timing, and cookware may vary when adjusting servings):
12
pies
Ingredients
For the cookies
1

cup

unsalted butter,

softened

3/4

cup

dark brown sugar

1/2

cup

sugar

1

tbsp

molasses

1

tsp

vanilla

2

eggs

1 1/2

cup

flour

1/2

tsp

salt

1

tsp

baking soda

1/8

tsp

cinnamon

1 1/2

cup

quick oats
For the filling
7

oz

marshmallow fluff

1

stick butter,

room temperature

1 1/2

cup

powdered sugar

1

tsp

vanilla
Instructions
Preheat oven to 350 degrees and line baking sheets with silicone baking mats or parchment paper. Set aside.

In the bowl of a stand mixer, cream together the butter and sugars until light and fluffy, about 2 minutes. Then add the molasses, vanilla, and eggs. Beat until well incorporated.

In a medium bowl, combine flour, baking soda, salt, and cinnamon. Slowly add the flour mixture to the wet mixture and beat until all is combined. Stir in the oats.

Drop the dough by the tablespoon onto the prepared baking sheets about 1 inch apart.

Bake for 11-12 minutes or until the edges start to turn brown. Don't overcook them! They will look moist when you take them out of the oven but that's what you want for a soft cookie!

Let sit on baking sheet for 5 minutes before transferring to a wire cooling rack to cool completely.

While cookies are cooling, make your filling.

In another bowl of your stand mixer, cream together the marshmallow fluff and butter for 2-3 minutes. Slowly add the powdered sugar and vanilla. Whip until light and fluffy then set aside.

To assemble the creme pies, use the cookie scoop you used for the cookie (cleaned, of course) and scoop marshmallow fluff on the bottom side of one cookie, then take another cookie and sandwich it together.

Continue until all the cookies have been made into sandwiches.

Store in airtight container up to a week, I suggest putting it in the fridge and then setting them out half an hour prior to eating so the fluff will soften up.
Notes
Cookie recipe from Kids in the Sink
Nutrition Facts
Oatmeal Creme Pies
Amount Per Serving (1 Creme Pie)
Calories 530
Calories from Fat 234
% Daily Value*
Fat 26g40%
Carbohydrates 72g24%
Protein 5g10%
* Percent Daily Values are based on a 2000 calorie diet.
*Nutrition facts are an estimate and not guaranteed to be accurate.