Here we are. The last day of my how to create a holiday cookie box series and we're ending with a classic — raspberry thumbprint cookies!
Of course this doesn't mean that there will be no cookies left to put in your holiday cookie box! I have a bunch of cookie recipes on the blog and you can use the search feature to look for them.
Honestly, any cookie would be perfect in the holiday cookie box but I love how these raspberry thumbprint cookies look.
They remind me of linzer cookies but with just one cookie instead of two. I think it's the jammy center that reminds me of it, haha
Raspberry Thumbprint Cookies
There is no almond flavoring in these raspberry thumbprint cookies. I know some thumbprint cookies have the almond extract added in but I kept it simple because I know some people don't like that flavor.
You could also do half and half. Half almond flavoring, half plain.
You can also use any kind of jam! I personally love raspberry or blackberry but blueberry or grape works too. I would probably stick to jams and not do anything like marmalade. I think that could get too chunky and weird.
Tips for making raspberry thumbnail cookies
You'll definitely want to chill the dough otherwise it'll spread too much and you'll end up with barely any dough to put a well in the center.
Don't poke through the dough otherwise you'll have jammy leakage!
You don't have to make the icing topping if you are short on time. It looks just as gorgeous with the powdered sugar!
More cookie recipes
Sugar Cookie Candy Cane Blossom Cookies
Chocolate Mint Pinwheel Cookies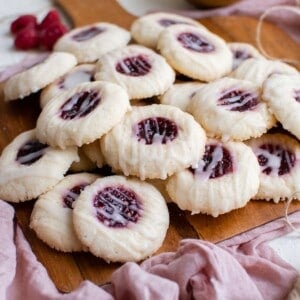 Save recipe
Saved!
Print recipe
Raspberry Thumbprint Cookies
Thumbprint cookies are another classic and the filling can easily be subbed for whatever your favorite preserve or jam/jelly is!
Servings are adjustable but please note that results, timing, and cookware may vary when adjusting servings.
Ingredients
For the cookies:
1

cup

of butter

at room temperature

½

cup

of granulated sugar

divided

1

egg

at room temperature

1

teaspoon

of pure vanilla extract or imitation vanilla flavor

¼

cup

of powdered sugar

1 ¾

cup

of all-purpose flour

½

teaspoon

of baking powder

1/8

teaspoon

of salt

1/2

cup

of raspberry preserves
For the icing:
1

cup

of powdered sugar

2 -3

tablespoons

of milk

½

teaspoon

of vanilla extract
Instructions
Whip the butter with an electric mixer until light and smooth.

Add in ¼ cup of the granulated sugar and mix until light and fluffy.

Crack in the egg and pour in the vanilla extract and mix again for another minute.

Sift in the powdered sugar and mix until smooth.

In a separate bowl, whisk the flour, baking powder and salt together.

Add it into the wet ingredients and stir with a spatula just until combined.

Cover and refrigerate for 1 hour.

Once the dough has cooled, preheat the oven to 350 degrees Fahrenheit. Then prepare a large baking tray with parchment paper or spray with non-stick spray and set it aside.

Heat the raspberry preserves in a microwave for 20 seconds. Remove and stir, then return to the microwave and heat again for 10 more seconds.

Remove the dough from the fridge and form a one-inch ball from the dough. Roll it in the remaining granulated sugar.

Place 9-12 cookies on the pan, spread evenly and press your thumb or a ¼ teaspoon into the cookies quickly (do not let your thumb or spoon sit or the dough will start to stick).

Fill the cavity with preserves just until it reaches the top.

Bake for 10-12 minutes, or until the edges start to turn a light golden color.

Repeat the baking process until all of the dough has been used.

To make the icing, sift the powdered sugar into a medium size bowl, pour in the milk and vanilla extract and stir to combine.

Lightly drizzle the icing over the cookies and let them dry completely for about 10 minutes before serving.
Notes
These cookies can be stored for up to 1 week in an airtight container.