Gina and I spent a day and a half in San Francisco before & after our Del Monte Harvest event and we were able to hit up a lot of popular spots. The key is to keep organized and to map out exactly where you want to go and do it in order. You don't want to be jumping all over the map! Also, find out where you want to eat and if it's in any close proximity to the spots you want to hit up. For the first half day I had in San Francisco, we strictly stuck to downtown San Francisco: Ghirardelli Square, Fisherman's Wharf, Financial District/Pier Building. The second full day, we went to Muir Woods, Sausalito, Crissy Field, and then back downtown again. I felt we did a really good job given the amount of time we had. I highly suggest renting a car. It's the way to get to a lot of places fast. Parking is a big pain but we were able to find lots and garages fairly easily. If you're not much of a city driver or just don't want to drive around, you can always take the cable cars everywhere or taxis or even the ferry's!
I'm breaking this post up into three sections. What to do, where to eat, and where to stay. This is obviously a very image heavy post so you might want to load it and come back to it (if it's loading slow). I've tried to optimize the images for web to give faster loading time :)
What to do
We parked near Ghirardelli Square so we could go get some really good chowder at Blue Mermaid (look below at the "what to eat" section) and then get some chocolate! The area near Ghirardelli Square also has this huge lawn that a lot of people were taking advantage of to catch a glimpse of the Golden Gate Bridge and to also take pictures with the cable cars. This is where the beginning of the cable cars start. The line is incredibly long so get there early if you wanna ride it!
The San Francisco Ferry Building. I didn't get a chance to go in it, but the last time I was in San Francisco, I went in and there's SO much in there. You have to go in. There's all these shops/restaurants/boutiques. They call it the Ferry Building Marketplace, or at least that's what I heard it being referred to the most. You must get a coffee from Blue Bottle Coffee Co. and get reservations to eat at The Slanted Door.
I was most excited about this this time around since the past two times I've been to San Francisco, we didn't rent a car so we couldn't really get anywhere. Muir Woods!! Where the tallest redwoods are! You basically are looking up the entire time towards the sky because of how tall these trees are and how magnificent the view is! You'll want to get there early as parking fills up fast. We got there around 8am on Friday and it wasn't too bad but when we were leaving, around 1030, it started to fill up fast! There were no parking spots left and people were basically hovering over you to take yours. The line of cars coming in was also building. I can't imagine what it's like on the weekends! It's a $7 admission fee that you pay before you enter the park (not before you park, but as you're walking into the park).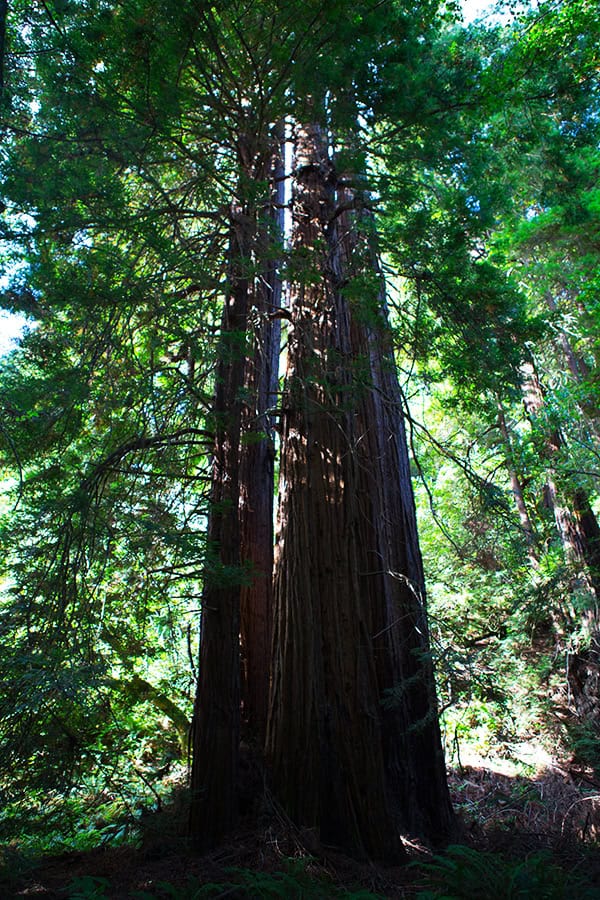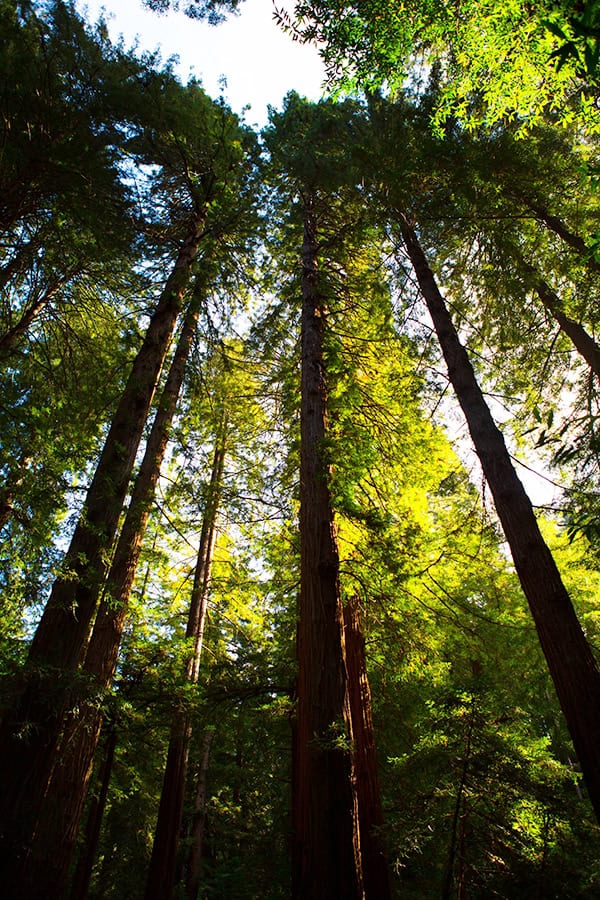 Gina and I!!
Sausalito. Gorgeous, isn't it? This is Cass Marina and it's a the far end of where you would enter Sausalito, but since we were driving down from Muir Woods, we came through Sausalito at the tail end of where everything is (shops, restaurants, etc). It was a picture perfect day. Simply stunning.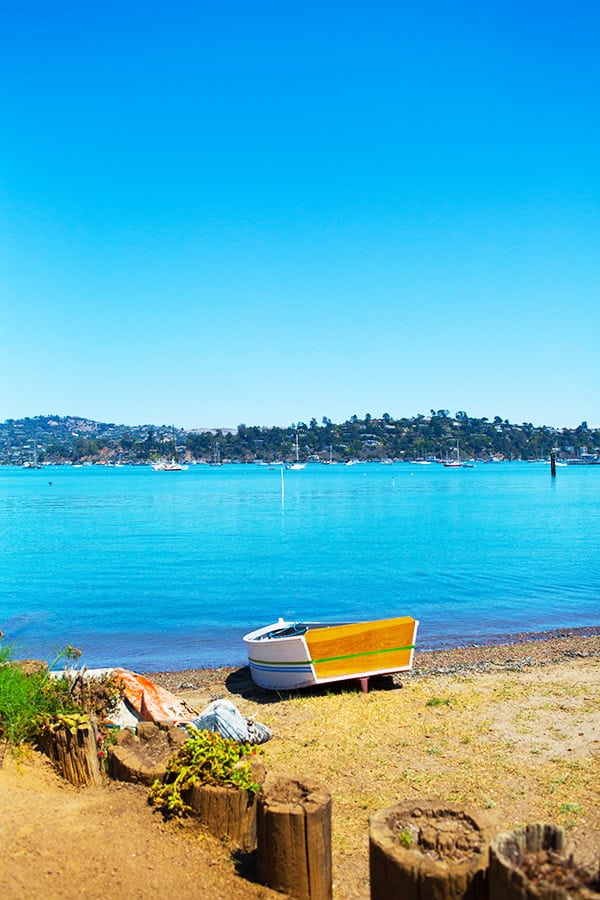 This is at the beginning of the little Sausalito strip (so on the other end of where we started). On a clear day, you can see the Bay Bridge, Golden Gate, and the skyline of downtown San Francisco!
After Sausalito, we drove right on the Golden Gate Bridge!
We were supposed to stop at Battery Spencer, which is this WWII military fort that is RIGHT up next to the Golden Gate and where you get the postcard pics of it, butttt Google Maps was totally lost and it put us right on the Golden Gate and then it goes "you have arrived." Hahaha, yeah so we had to re-route and go to Crissy Field instead. Much easier to get to!
If you can find out how to get to it, the three spots I researched that have great Golden Gate views are (in order of what I think are the best views, but honestly, I'm pretty sure any view is spectacular!):
Fort Point
I've never seen the Golden Gate without fog on top. Maybe my third time there will be the charm..
Where to eat
When we first got to downtown San Francisco, we went to Blue Mermaid. It's adjacent to the Argonaut Hotel. It's got the award-winning crab and corn chowder and the sourdough bread bowl is a must when you get the chowder!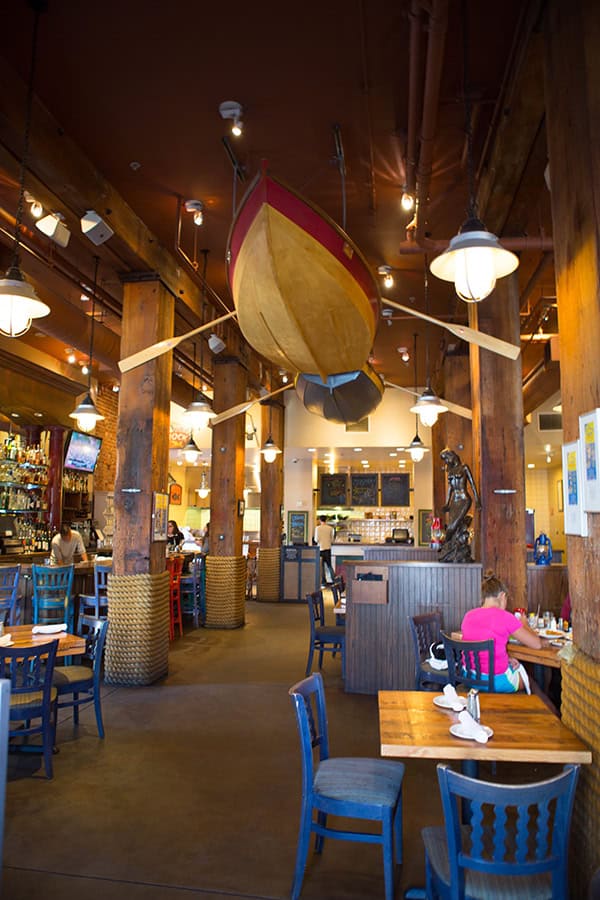 Then, up the street was Ghirardelli Square! Chocolate lovers, you HAVE to go here. It's somewhat of a tourist trap but I don't care – the sundaes are a must and the square has some cute stores too. There's a cupcake shop and another little boutique, amongst other stores!
Oh yes, the cookie bottom sundae. Don't worry – this was shared between 4 of us, although, I'm pretty sure I could've eaten the whole thing myself ;)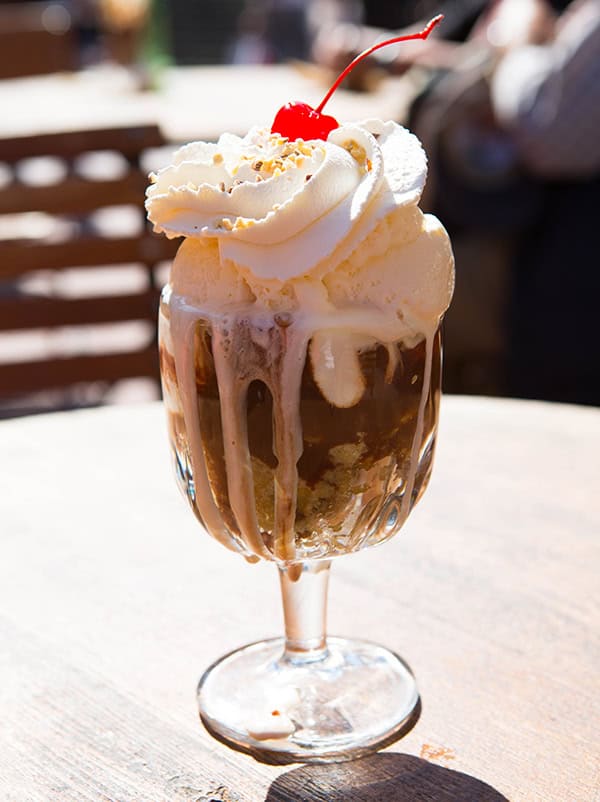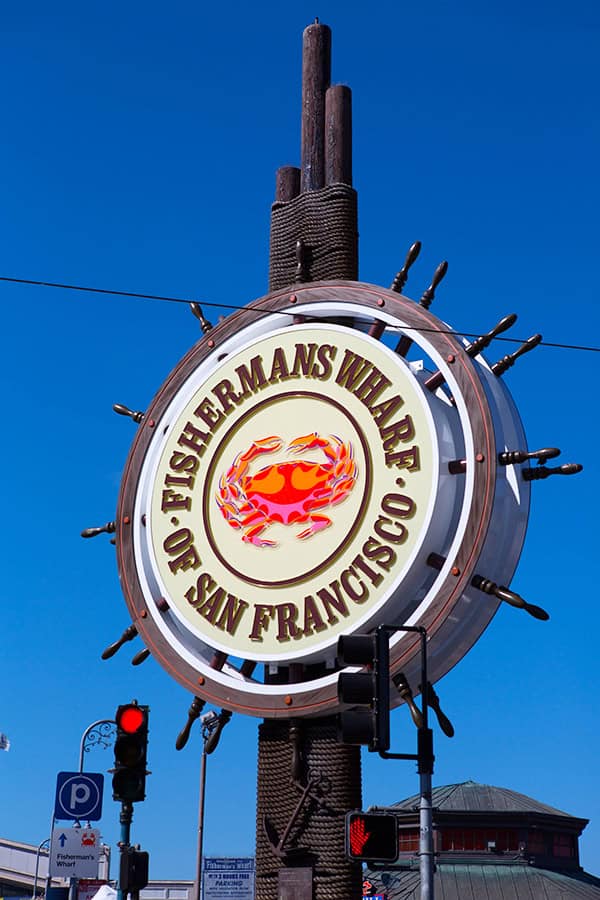 If you're in Fisherman's Wharf, you have to stop at Boudin Bakery. This Boudin is crazy. It's like two stories and there's so much bread and desserts in there. Their sourdough is the original San Francisco sourdough French bread! You have to get a loaf, or if anything, have something off their menu with the sourdough bread. It's seriously so good.
For dinner, since we were already in the Fisherman's Wharf/Pier area, we went to La Mar Cebicheria Peruana. Reservations are highly recommended. It's a Peruvian tapas place and was recommended to us by Jenna! It was SO.GOOD. There was 7 of us and we were all happy and full :) ask your server to help you pick out some appetizers/cold dishes/hot dishes. Our server was amazing and he really was into his Peruvian culture so he loved helping us out! I definitely think that's key when eating somewhere – you need to have a server that is passionate!
You have to get one of their cocktails there. Every cocktail they have there has pisco sour in them. Jenna and I got the scarlet. It had pisco sour, raspberry puree, champagne, and I think lime. It was amazing. It's a dangerous drink though for a light-weight like me ;)

Cheers! Such pretty girly drinks!!
These are their thin fried plantains that are complimentary. Kind of like bread at restaurants, they give you these to eat while you wait for your food.
These are the causas tasting below, which are whipped potatoes (the yellow base) topped with seafood or vegetarian items. I believe one was octopus, crab, beet, and I forgot what the other one was.
Our server demonstrating to us how to eat it. You basically smash the potato and toppings all together with the back of a spoon.
Omg, this burrata, tomato, and quinoa salad was so freaking good.
This was like a paella. The flavors were INCREDIBLE.
We also got an empanada sampler.
We also got anticuchos (Peruvian skewers) samplers.
The ONE dish I didn't photograph (but is in the black cast iron bowl in the back of the last two photos) was this AMAZING quinoa stir fry. You HAVE to get it. It's the most amazing dish I've ever ever tasted. It tastes kinda like fried rice but better.
Oh, and we also got their ceviche sampler (which I didn't take pics of because of how it was placed on our table). They were so fresh and the best ceviche I've ever tasted!
This was the lunch place that Gina and I went to in Sausalito. Bar Bocce. I love the concept. The outdoor seating has a gorgeous view of the beach and there's a bocce sand area in the back, as well! The fire pit would be awesome in the evenings!
Oh, this was also where we saw MTV shooting Real World: San Francisco. There were these big cameras and sound being carried in and then this group of people walking to a table. We didn't realize what it was until we asked our server and he said it was Real World San Francisco. Unfortunately, the manager told them they couldn't eat there (because how many seats they'd be taking up from all the equipment) so they left.

Unreal lunch view.
And this was where you could play bocce ball while you waited for your food or while you had a few drinks.
Roasted heirloom tomato soup. It was ok. I think I was just dying for the pizzas we ordered so I didn't focus too much on this soup.
Speck, burrata, and arugula pizza. This was to die for. It was so perfect.
Then we also got a caramelized onion, fontina, and mushroom pizza. This was pretty good, too, but I was way more into the speck pizza than this one.
For dinner in downtown San Francisco, near our hotel in Nob Hill, was Wayfare Tavern. It's a Tyler Florence restaurant and it did not disappoint!

They give you these amazing, buttery popovers as a complimentary starter and the butter they serve with it is so good. It's got black salt on it and you just want to eat all it, haha
We got two appetizers and shared the entree. This was our first appetizer: kobe tartare. It was really fresh and I loved the egg yolk on top.
I'm so glad we decided to get this. It's a poutine, but unlike the traditional poutine, this was a spin off of shepard's pie. It was braised oxtail and gravy with melted cheese on top of french fries (the potato part of a shepard's pie) and then carrots and peas. This was addicting. We couldn't stop eating it!
We were recommended the buttermilk brined fried chicken. We were a bit skeptical because neither of us really order fried chicken at a fancy restaurant but we're glad we did. The batter was light and the chicken was SO moist. It's got a tang from the buttermilk, too.
The restaurant isn't terribly big. This was the upstairs seating area.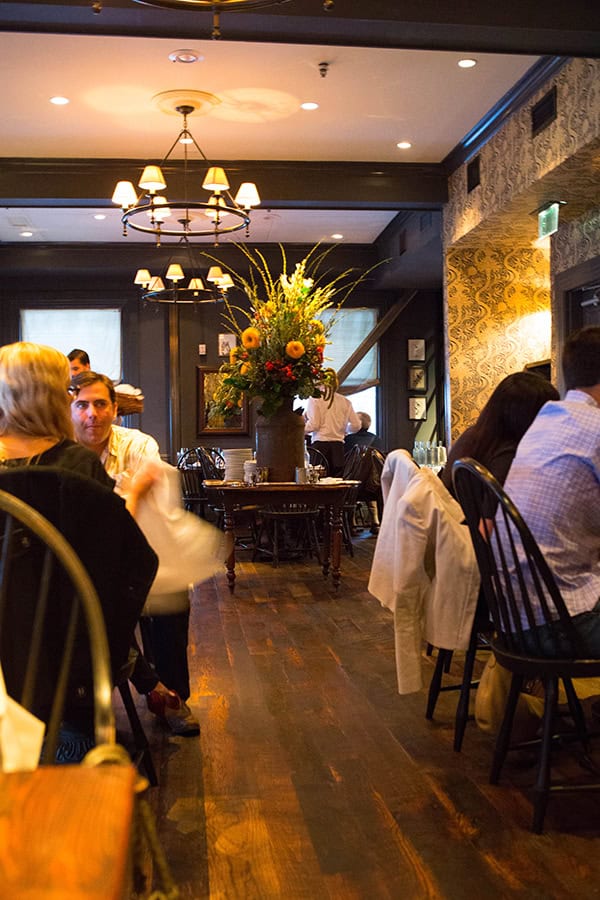 We debated and debated dessert and ultimately, how could you pass on this peach pie with BROWN BUTTER ICE CREAM?! That alone made me want to order it immediately. The rosemary on top was CANDIED. How awesome?! The peaches inside tasted as if they were marinated in amaretto or some liquor. It was such a great decision to order this, haha
Then, before we left, they stuffed us with even more dessert. A sampling of their brown sugar shortbread. Yum!!
Where to stay
We stayed at the Kimpton Hotel Monaco in San Francisco.
They just newly renovated the hotel and the rooms got a beautiful facelift too. The decor is so vibrant and inviting. I love all the little details and I really wanted to take the color palette and some furniture pieces home with me. Obviously I refrained but really, the well-decorated rooms made the stay that much better! It was bright, airy, and clean.
The staff is super courteous and willing to help at all cost. The concierge even stood in the middle of a busy intersection just to hail us a cab! It was beyond appreciative!
I love that Kimptons are pet-friendly and they even welcome your dog right at the front door!
The hotel lobby is GRAND. It is so beautiful and just welcomes you in a grand way.
Can you believe this staircase? Stunning.

This is right in the middle of the lobby when you enter. It's really pretty and just makes you smile.
I believe this was a sitting area where you can just hang out and wait for your friends/family. This was closed off the night we were there because of a wedding reception!
This is the Grand Cafe that serves breakfast, lunch, and dinner under Executive Chef Alicia Jenish. She brings a southern French flair to the food. While we didn't get a chance to dine there, walking into this cafe felt like being transported into a different world. It was literally grand as the name is so well fitting for the restaurant.
We finally retreated back to our suite and was welcomed by this lovely sight. Gorgeous rose colored walls and a comfortable couch with beautiful pillows. This was just the living room.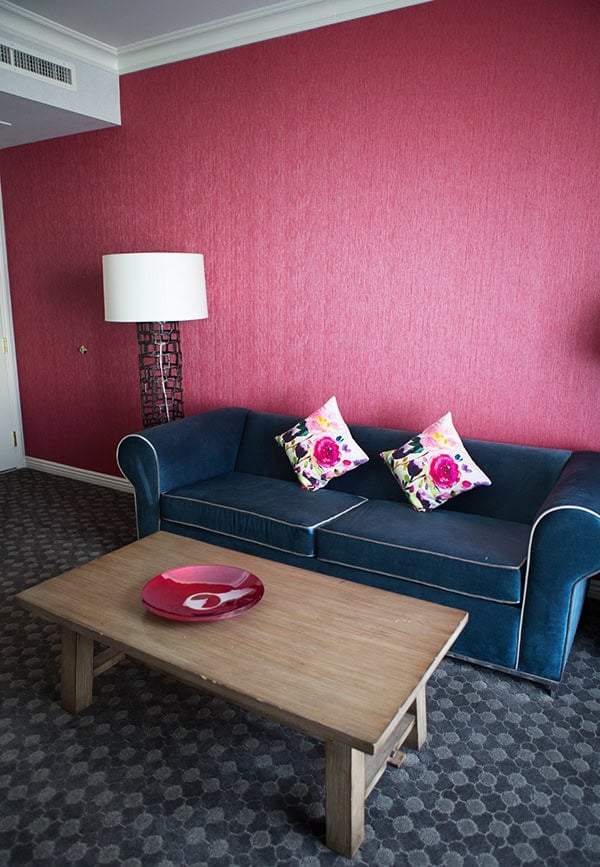 I seriously wanted this chair. The pattern – I can't get over it! It's beautiful!
I also wanted to take the pillows and mirror home with me. Although, we know how impossible that would've been. I'm dying to know where they get their decor from!!
By the end of our day, this bed was just SHOUTING my name!! It was super comfortable and heavenly. I got a really good nights sleep in it!

This bathroom was HUGE!! I mean, HUGE!! It was larger than our master suite and home and the bathtub – oh man, the large soaking bathtub was also calling my name but I didn't have time to get in it. A quick shower it was!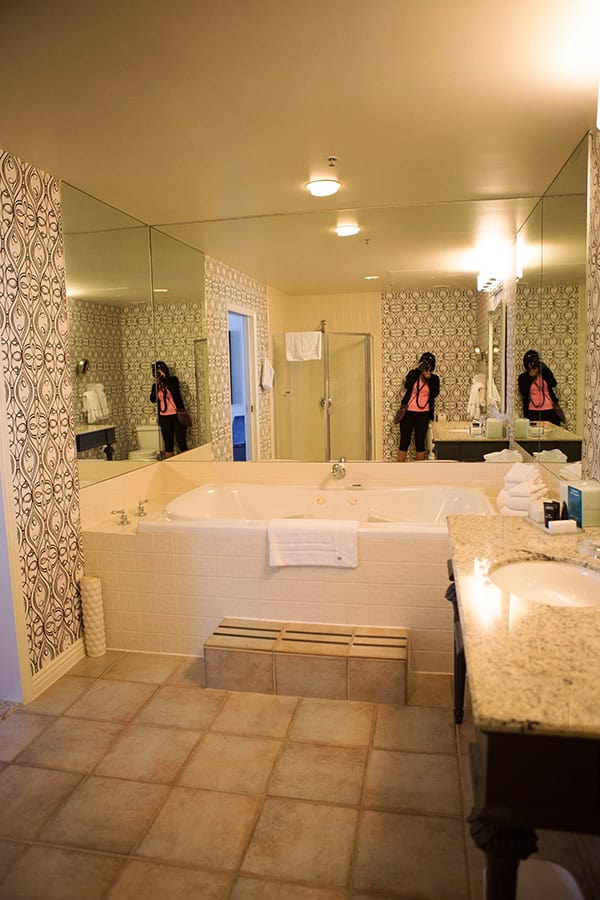 So this night stand is super cute and I love the pattern on it…but wait…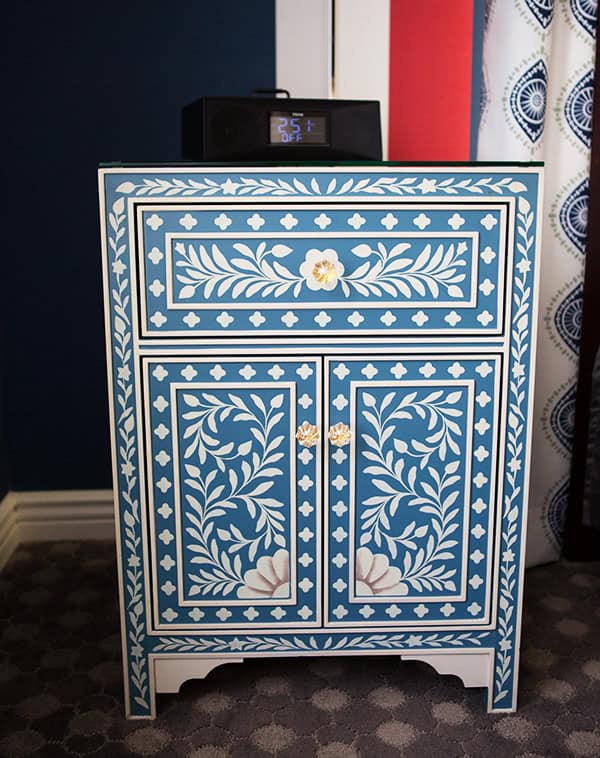 How neat is that?! A little outlet is carved out in the shape of one of the clovers so you can plug your cell phone in next to your bed! One of my biggest gripes about hotels is not enough outlets near the bed, in fact, most of them that I've stayed in don't have them anymore so you have to leave your phone across the room, lol
This nice little business area in the living room was nice and spacious. You could get some business work done!
The staff at Kimpton was super sweet to gift us with this complimentary wine and pudding. Let me tell you – I nearly spoiled my dinner by digging into the chocolate pudding early. It was addictive and the smoothest and most luxurious tasting chocolate pudding I've ever tasted. It was REALLY good chocolate. I'm wondering if it was Ghirardelli ;)
Are you hungry yet? Are you itching to get off your couch and plan your own San Francisco trip?? You know you want to!!
I hope I was able to give you a brief sampling of what there is to do in San Francisco. There is definitely a TON more, but I had a day and a half so I didn't get to do nearly as much as I wanted. Here is a list of some that I didn't get a chance to do:
Alcatraz
Cable cars
Pier 39 (where the seals hang out)
Lobard Street (the curvy road)
Drive by/see the Full House house
Some more restaurant/eatery recommendations:
Bi-rite Creamery
Dynamo Donuts
Miette Bakery
Scoma's
Zuni Cafe (grab reservations early and fast)
The Slanted Door
Incanto
Yank Sing Dim Sum
Do you have any recommendations? Share them below!
Disclaimer: The Kimpton Monaco San Francisco graciously hosted me for a night. All opinions are 100% my own.
All photos taken with Canon EOS 5D Mark III with 24-70mm f/2.8 lens. These are affiliate links.