Spiced Orange and Carrot Whole Wheat Muffins
This is a sponsored post in partnership with Florida's Natural® Brand Orange Juice. All opinions are my own.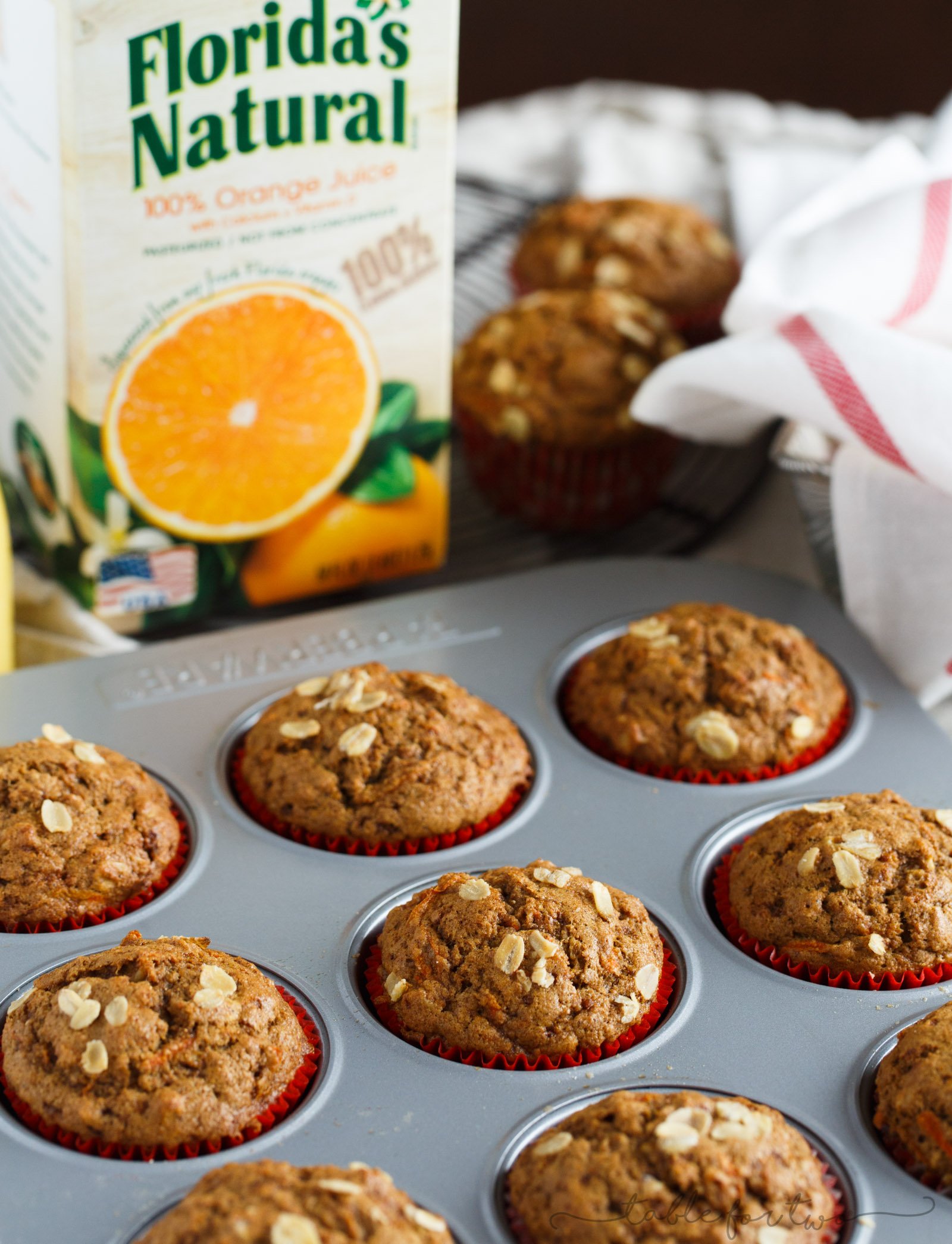 If there were ever a time that I was THRILLED about muffins, it would be now. I developed these spiced orange and carrot whole wheat muffins as part of my new partnership with not-from-concentrate Florida's Natural® Brand Orange Juice (more on that below) and I cannot stop making them. I think these are Jason and I's favorite muffins to date. They're PACKED with flavor and all that healthy goodness you would want in an on-the-go breakfast muffin. Also, can I say that they're SO moist and tender and fluffy? Please give these a try!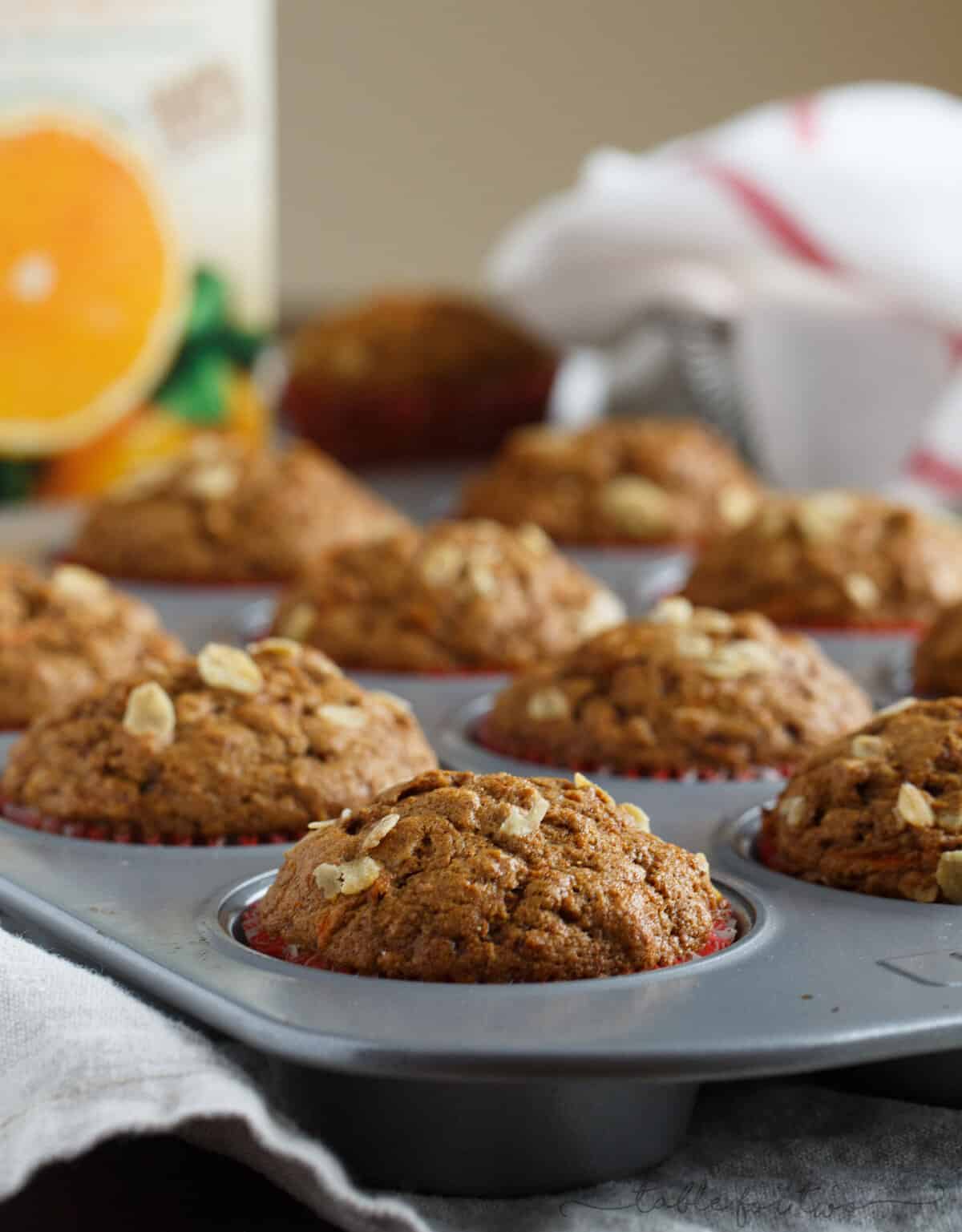 I'm sure you're reading "whole wheat muffins" and thinking, "I bet they are dry like no other." I'm here to prove you wrong! These are the fluffiest whole wheat muffins I've ever developed and look at the dome on them! They rise beautifully and the orange flavor is so prominent, thanks to Florida's Natural.
Let's talk Florida's Natural and why I am so excited to talk about my new partnership with them and my membership into Florida's Natural Brunch Club (a club for brunching? I was basically first in line to sign up)! Myself and other talented bloggers who are a part of this club will be sharing with you lots of breakfast and brunch ideas in the months to come! By the end of this, I'm sure it will be your new favorite meal.
Okay so first, I have always bought Florida's Natural orange juice because it's not-from-concentrate and it has one simple ingredient…drumroll, please. FLORIDA ORANGES. Does that shock you? If you've never checked the label on any orange juice that you've bought, you could be in for the shock of your life because I personally know, through my whole sugar-free course, that there are so many other ingredients that brands like to shove in there. Thankfully, Florida's Natural juices are only made from Florida oranges grown by generations of citrus farmers. No water, sugar, or preservatives. Simply squeezed, flash-pasteurized and poured into cartons. All this ensures that you are getting a straight-from-the-grove taste! Do you know how happy that makes me?
When I was doing my sugar-free course and my paleo challenge, I read labels a lot. Like a lot. And mostly everything contained some sort of added sugar. If you truly think about it – in terms of orange juice – why would you need added sugar (or water and preservatives) if orange juice is literally juice from oranges? It should be just that. Orange juice. It boggles my mind that we have become a society where adding ingredients into natural products is a norm.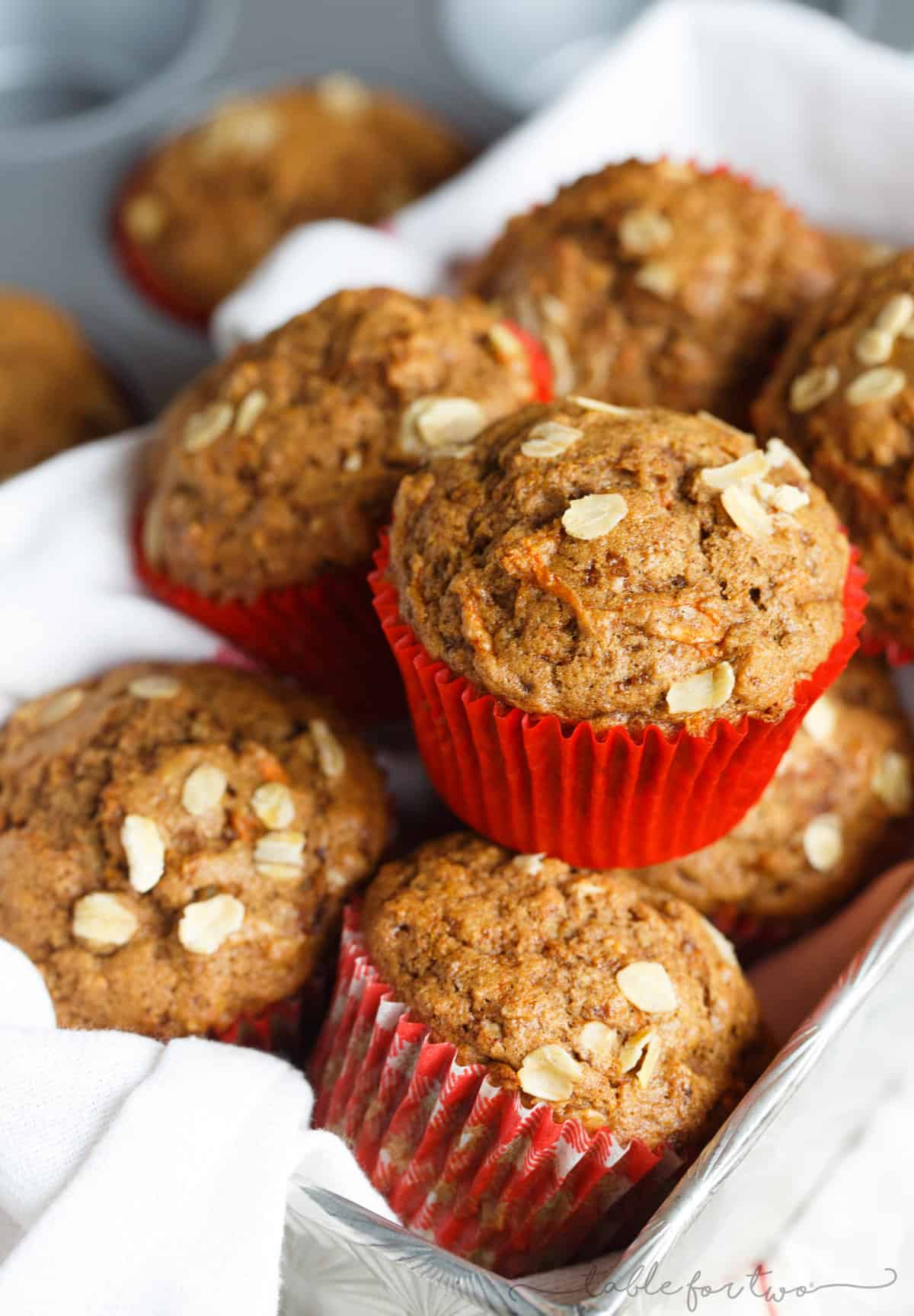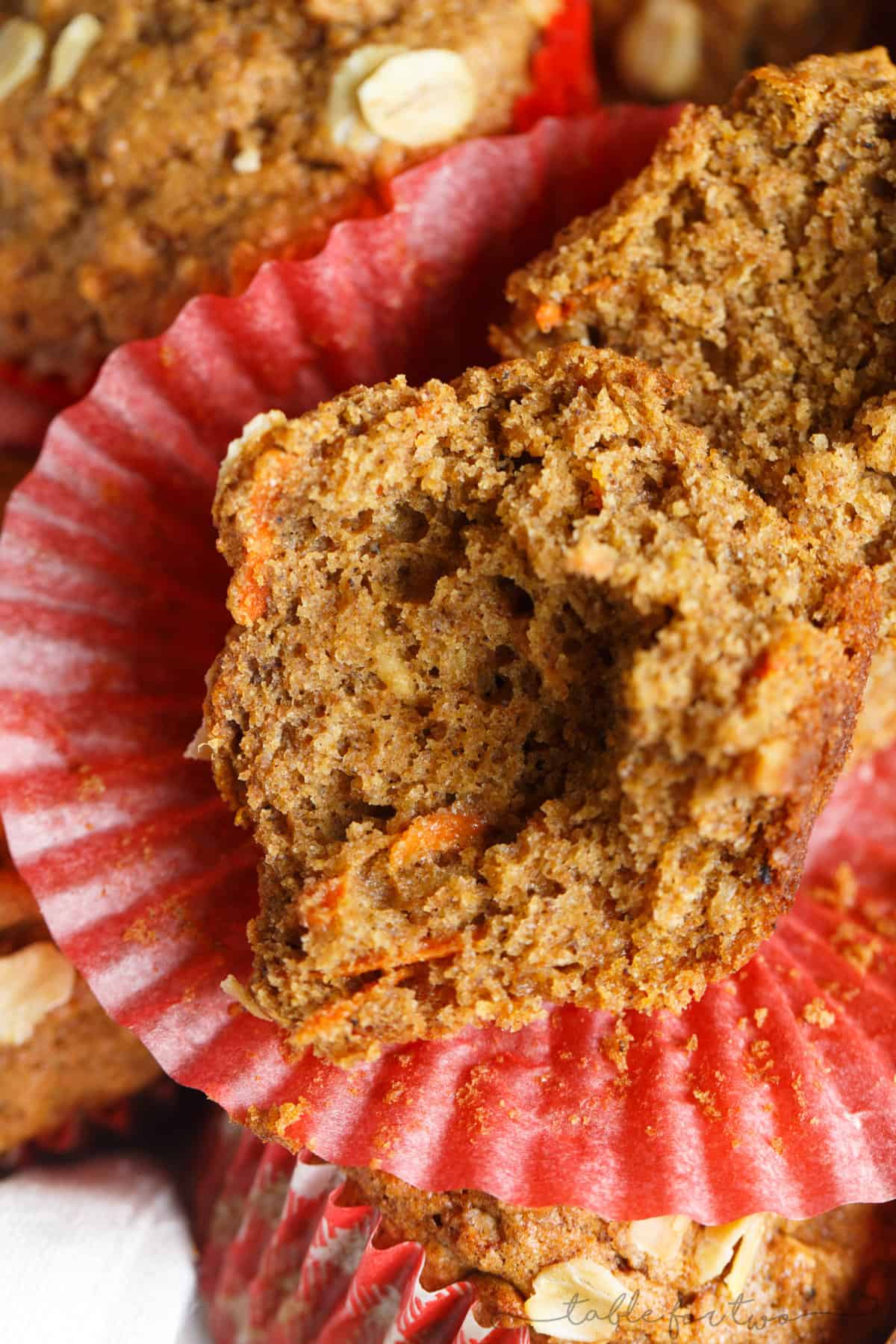 Jason texted me at work one day and said, "these muffins." And I replied, "so fluffy and moist, right?" and he said, "yep." Just LOOK at all those air pockets and the flecks of carrots and oats! I wish you could smell or even taste these. The orange scent is intoxicating.
I'm on batch four of these muffins. Seriously, it's going to be a Sunday tradition now to bake them for the week. They're honest to good the perfect on-the-go breakfast for busy lifestyles! I have even had one half an hour before working out to keep me energized!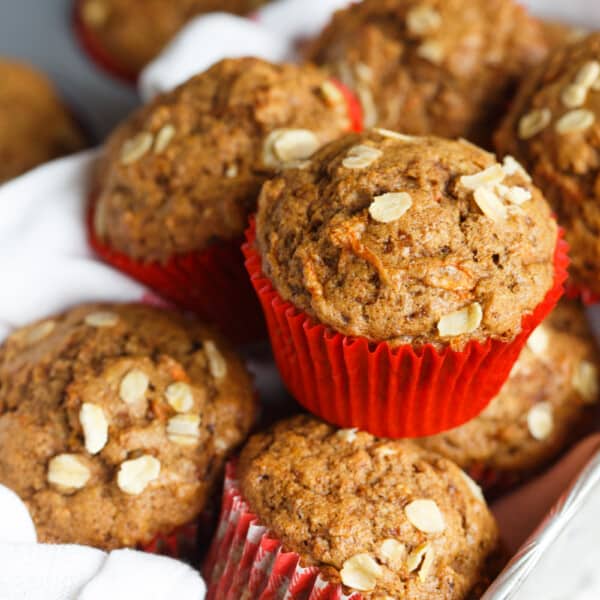 Spiced Orange and Carrot Whole Wheat Muffins
Incredibly flavorful, moist, and fluffy muffins for a quick on-the-go breakfast! Warm spices, orange and carrots make these muffins so tender and full of healthy goodness for your mornings!

Ingredients
1 3/4

cups

whole wheat flour

1/2

cup

old-fashioned oats,

plus more for topping

1 1/2

teaspoon

ground cinnamon

1

teaspoon

ground ginger

1/2

teaspoon

ground cardamom

1/4

teaspoon

ground cloves

1

teaspoon

baking powder

1

teaspoon

baking soda

1/4

teaspoon

kosher salt

3/4

cup

coconut sugar

(you may use dark brown sugar)

3/4

cup

Florida's Natural Brand® Orange Juice

, any variety

1/4

cup

unsweetened almond milk

Zest of 1 large orange, about 2 tablespoons

2

large eggs

1

teaspoon

vanilla extract

1/2

cup

melted coconut oil

1

cup

finely grated carrots
Instructions
Line a 12-cup muffin pan with muffin liners and spray muffin liners with coconut oil cooking spray or your preferred cooking spray. This is a must, otherwise, the muffins will stick to the muffin liner. Set aside and preheat oven to 400 degrees Fahrenheit.


In a large bowl, whisk together all the dry ingredients: flour, oats, spices, baking powder, baking soda, salt, and coconut sugar.


In a large measuring cup, add orange juice, almond milk, orange zest, eggs, and vanilla extract. Whisk to incorporate.


Make a well in the center of the dry ingredients and pour the coconut oil into the center and gently incorporate until mixture is slightly wet; it doesn't all have to be combined.


Pour the measuring cup of liquid ingredients into the batter then using a spatula, mix and fold until everything is incorporated.


Add the grated carrots and fold into mixture.


Using a large ice cream scoop, fill lined muffin cups with batter. I tend to fill right up to the top, more than 3/4 full.


Bake for 20 minutes, or until a toothpick inserted into the center comes out clean.


Let cool in the pan for 10 minutes then transfer to a wire rack to cool completely.


Store in an airtight container for up to 5 days.

Posted on February 22, 2017