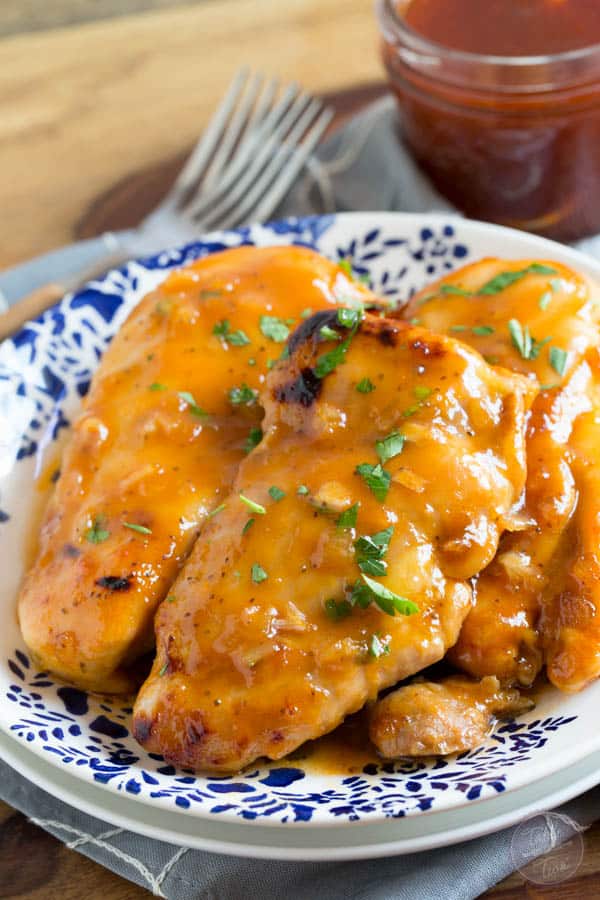 How are we already in mid-August? It's crazy that summer is almost over and Fall is just around the corner. The weather this week in the DC-area has been very Fall-like. I'm talking about waking up to 58 degree weather and having it only be in the mid-70's with a light breeze. We were very lucky to not have gotten the heat and humidity that this area is used to. Haha, now I'm really scared for what winter has in store for us!
I'm starting to see Fall recipes pop up all over my Pinterest feed and while that's all nice and dandy, I just want to halt summer for just a little longer! I feel that it gets cooler so much faster than it gets hot and there's not enough summer warmth to go around. I already feel the days getting shorter :( not going to be a happy camper once it hits daylight savings and leaving work at 4pm is basically like going home at 7pm! I honestly don't mind Fall because I love brisk jean and t-shirt weather, but it just seemed like summer went by in a blink of an eye! I think I need to move to the West coast since I crave sunshine and warm weather. Now, to make that happen is a different story. My brother recently did it! I should follow suit ;)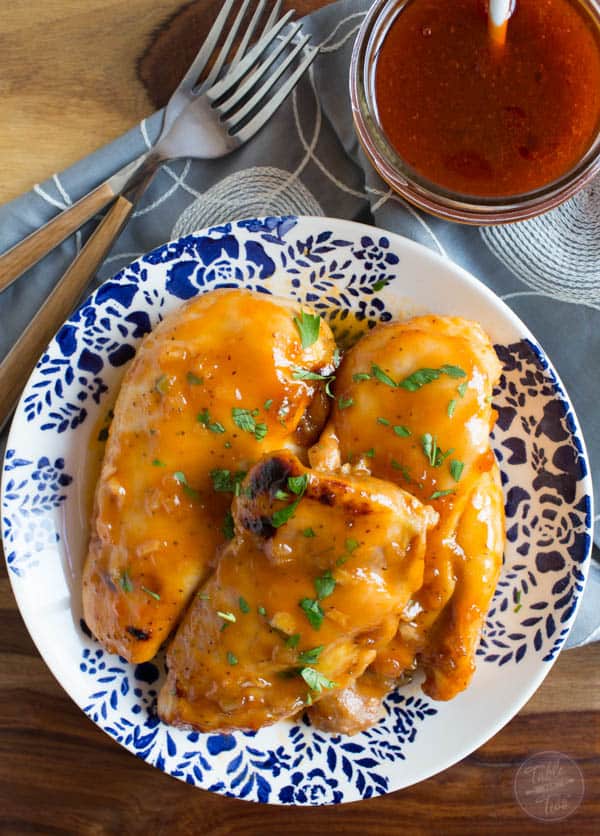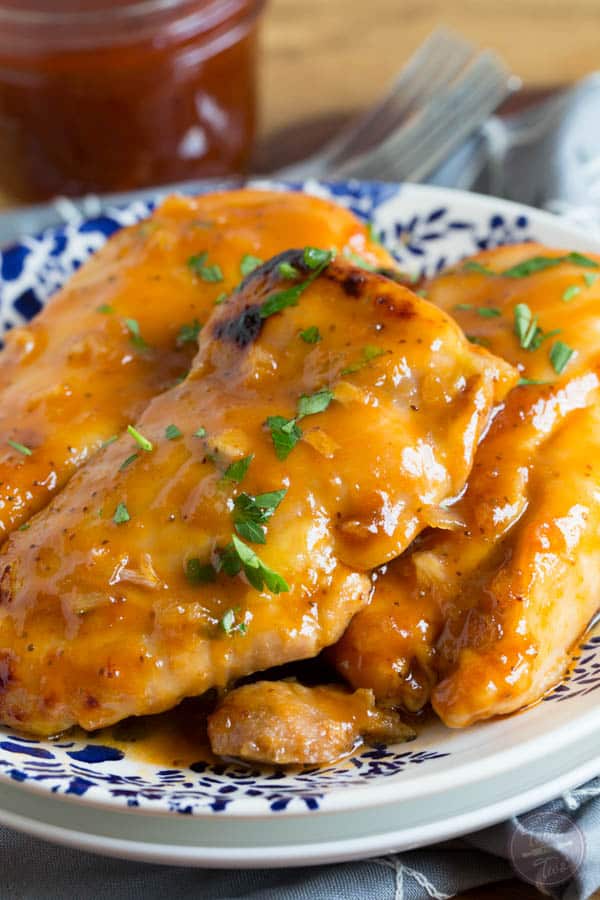 I've heard of this recipe before and it's one of those really quick dinner options for those busy nights. I bought (the wrong) Russian dressing a while back (like, 6 months ago) intending to make this Russian apricot chicken 'cause everyone raves about it but I never got around to doing so until now obviously. What was I thinking waiting so long? I love the sweet and tangy flavor of the chicken and the sauce is plate-licking good! If you like sweet and tangy, you'll love this chicken!
Don't make the same mistake as me and buy creamy Russian dressing (like the one you use in ruebens) – you need to buy the red oily type one that's basically catalina dressing. I honestly don't know why Wishbone calls it Russian dressing when it's really catalina dressing and to make it more confusing, they have both the creamy and the non-creamy version. This recipe won't work if you use the creamy one – I feel like it'd just be like a pepto bismol color and not very appetizing! Since I bought the wrong kind and I didn't want to go back to the store, I ended up making my own catalina dressing for this recipe so that is below and I suggest you make it from scratch so you don't get the wrong dressing :) you'll definitely make the right dressing if you use the recipe below!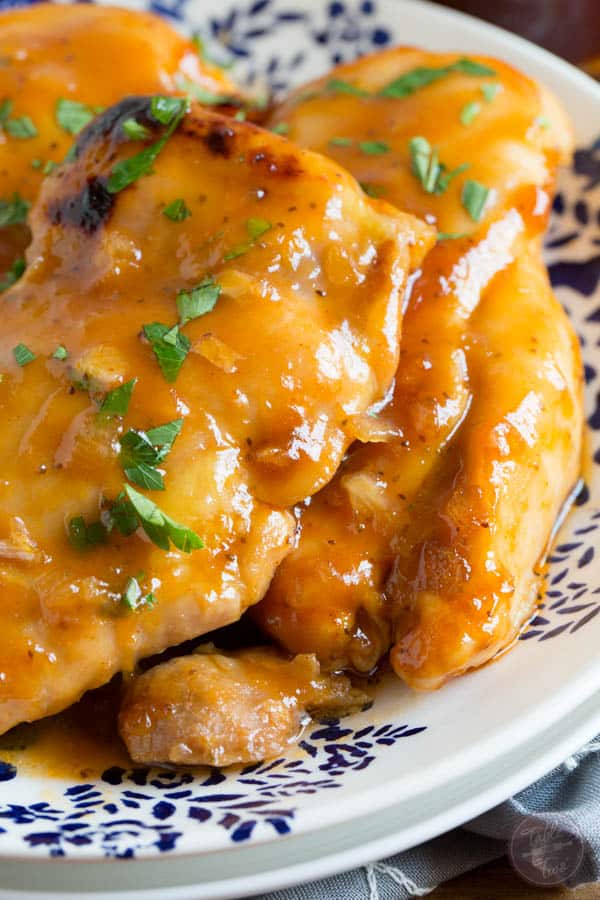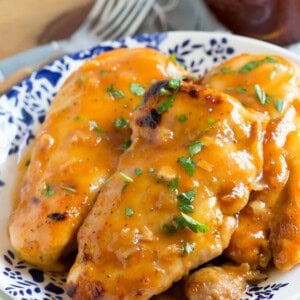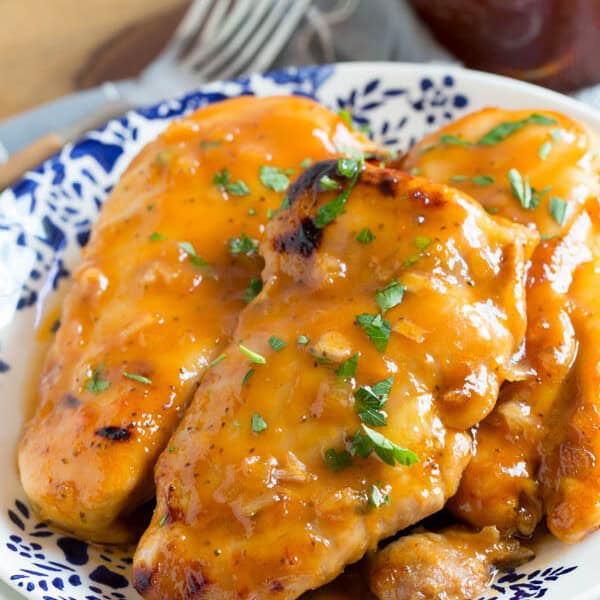 Russian Apricot Chicken
4 ingredients only! If you love sweet and tangy flavors, then you'll love this chicken recipe!
Save
Saved!
Rate
Print
Ingredients
For the catalina/Russian dressing
½

cup

ketchup

½

cup

sugar

½

cup

red wine vinegar

½

teaspoon

onion powder

1

teaspoon

paprika

½

teaspoon

Worcestershire sauce

1

cup

vegetable oil

½

teaspoon

kosher salt

¼

teaspoon

ground black pepper
For the chicken
1 ½

pounds

boneless

,

skinless chicken breasts or thighs (I highly recommend thighs)*

1

package of dry onion soup mix

1

cup

catalina dressing

1

cup

apricot preserves
The default measuring system for this website is US Customary. Unit conversions are provided for convenience and as a courtesy only. While we strive to provide accurate unit conversions, please be aware that there may be some discrepancies.
Instructions
In a large bowl, whisk together all the ingredients for the catalina/Russian dressing.

Preheat oven to

400

°F

and line a baking pan with two layers of foil and place chicken into the pan.

In a measuring cup, whisk together onion soup mix, catalina dressing, and apricot preserves.

Pour the mixture all over the chicken.

Bake uncovered for 40-50 minutes, or when the internal temperature of the chicken reaches

165

°F

While baking, you'll want to baste it often with either a brush or a baster. Just so the chicken gets re-coated with the delicious sauce.

If you want, 5 minutes or so before the chicken is done, you can pop it under the broiler to get the sauce to caramelize a bit on the chicken but this is totally optional.

Serve with your favorite veggies or grains.
Recipe Notes
I used a mixture of chicken breasts and chicken thighs in my dish just to see how it'd turn out and of course, since chicken thighs are dark meat, they turned out juicier and more tender. If I were to do it again, I'd make this dish with all chicken thighs. The chicken breasts were still good and you can definitely still use them if you don't like chicken thighs, but I just personally prefer thighs and thought the chicken turned out better with thighs. There will be a bit of leftover sauce left in the bottom of the dish so definitely use that when you serve your chicken and/or put it all over whatever else you're serving with your chicken!
Catalina dressing makes about 2 cups so store the remaining dressing in a mason jar, or similar, in the refrigerator.
Catalina dressing from Food.com
NUTRITION FACTS
Serving:
1
Serving
|
Calories:
1082
kcal
|
Carbohydrates:
75
g
|
Protein:
34
g
|
Fat:
73
g
|
Fiber:
1
g
|
Sugar:
65
g
This website provides approximate nutrition information for convenience and as a courtesy only. Nutrition information can vary for a variety of reasons. For the most precise nutritional data use your preferred nutrition calculator based on the actual ingredients you used in the recipe.